inXile saving Van Buren trademark for a rainy day
Black Isle's Fallout 3 codename not dead and buried.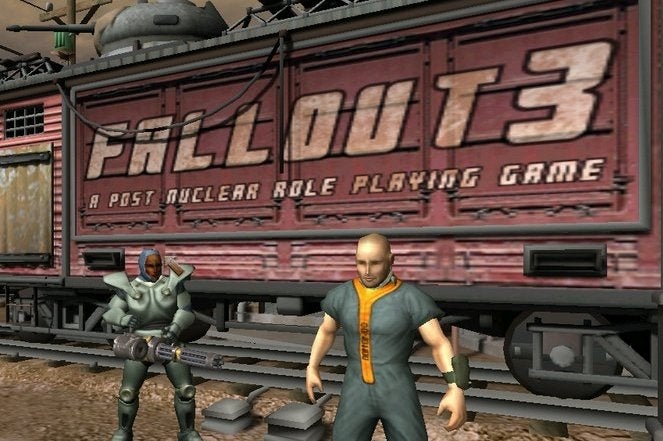 Van Buren was the codename for a game Black Isle Studios intended to be Fallout 3. But in 2003 Black Isle went down with the Interplay ship and the series would eventually be resuscitated by Bethesda - a series that will continue, maybe as soon as this year, with Fallout 4.
Some ideas from Van Buren would find their way into Fallout: New Vegas, made by Obsidian Entertainment - a place many old Black Isle developers call home. Among them are Chris Avellone, one of the key designers of Van Buren. For example Caesar's Legion, one of the organisations in New Vegas, emerged from a pen and paper session Black Isle held for Van Buren. (For more on what might have been, check out the Van Buren FAQ on No Mutants Allowed.)
But Van Buren as an idea hasn't died. In December last year, inXile boss Brian Fargo - founder of Interplay - trademarked Van Buren. inXile, remember, produced last year's excellent Wasteland 2 - a game being tidied up for a console release and PC and Mac re-release this year.
Fargo had only vague confirmation at the time. "The [RPG] codex investigative unit strikes again," he sort of nodded.
I spoke to Fargo recently, however, and he had more to say - implying he intends to make something Van Buren with Chris Avellone, if and when inXile has time. (Avellone retains close ties to inXile, having been involved in Wasteland 2 and, now, Torment: Tides of Numenera.)
I asked if Fargo was doing anything with the Van Buren trademark. "Not yet," he replied. "But there were some things, some ideas, that Chris Avellone had for doing something that made the post-apoc - a twist on the whole what-was-being-done that we really loved. So we talked about it and we thought why not grab the rights so we can entertain this one of these days.
"But nothing now," he stressed. "We have enough on our plate to be doing that right this second."
[Avellone clarified, in a tweet sent after this story first appeared, that Brian Fargo had already secured the Van Buren trademark before he and Fargo talked. "But we chatted about Van Buren (VB first iteration), yes!" he said.]
One of the eye-catching ideas Black Isle had for Van Buren was that the player would run into other players in the game world. You'd have a series of rivals that weren't necessarily enemies - more parties you would compete against, with different goals. They weren't necessarily evil, but they would have a different agenda. You would run into conflict with them over the course of the game.
InXile only last week launched a Kickstarter campaign for new game Bard's Tale 4 - a graphical showpiece in comparison to the retro-styled Wasteland 2. The game is inches away from its $1.2m goal with a month still to go.
In addition, inXile is also making Torment: Tides of Numenera - a thematic successor to the philosophical Planescape Torment from years ago. It has a Q4 2015 release date but Fargo wouldn't commit to a 2015 release when we spoke.
"We have to get to our backers pretty soon, the beta version or Early Access or whatever you want to call it," he said, "and that is coming here late summer. The [final release] date gets determined based upon that."
While inXile now owns the trademark for Van Buren, the developer is unable to use any Fallout-related material in a possible game. Everything brand Fallout is owned by Bethesda, and it keeps a tight ship when it comes to copyright. Perhaps more likely is the Van Buren name is used for a new post-apocalyptic role-playing game unrelated to Fallout.
Beyond those games, and possibly Van Buren, Fargo also has original new ideas for games he'd like to do.
"What's left?" he mulled. "I've got so many ideas of things I'd like to do. I have some pet projects of mine I would love to do that are not sequels to hits in any way. It will be interesting to see how that all works out as we start to get into more speculative titles."