Infinity Ward: it's "better for the industry" if MW3 and BF3 succeed
Studio is "friends" with DICE, producer blasts EA "silly talk".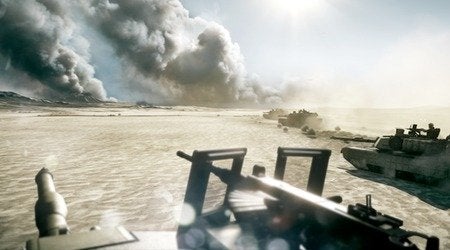 The cold, wet London weather couldn't dampen the spirits of Infinity Ward last night as it celebrated the launch of Modern Warfare 3 at the stroke of midnight.
The game releases after months of verbal warfare between publishing executives at EA and Activision, as the former threw its weight behind Battlefield 3 in an attempt to see Call of Duty, in the words of CEO John Riccitiello, "rot from the core".
But speaking to Eurogamer TV on the green carpet, Infinity Ward exec producer Mark Rubin hit out at the "silly publisher talk", insisting: "When both games succeed it's better for the industry as a whole. It's not just us - we want the gaming industry to succeed because the better the gaming industry does the better we all do. We root for everybody."
He added: "Honestly, it's the fans you want to listen to. They're gamers, they're going to play both games, both games are great. Much respect for everyone involved on the DICE side and I think they feel the same way with us. We're friends with them. It's not what they portray on the EA side."
Rubin also touched on the turmoil that rocked the early days of the project, which saw Jason West and Vince Zampella were fired by Activision over alleged breach of contract, prompting a mass exodus of over 40 IW staff.
"That's what makes this whole event so much sweeter," he said. "We really did struggle through a very difficult time, we powered through it, we got a lot of great help from the Sledgehammer guys to be here not only with a finished game, but a game we feel is the best we've made yet."
Rubin also defended Modern Warfare 3 against the latest controversy to be sparked by the series, following the leak of footage depicting a young girl and her mother being killed in an explosion.
"It's out of context so it's hard to say," he said. "When you play the game you'll realise why it's there and where it sits. When we design our single-player we've always gone for movies as our inspiration and not necessarily other games and so everything we do is geared around storytelling, and that sort of cinematic experience and the 'No Russian' level and anything you've seen in the leaks is the same thing."