If you want the original Doom 3 from Steam you have to pay £76
UPDATE: Bethesda: "We're looking into options" for those who want to buy the original Doom 3.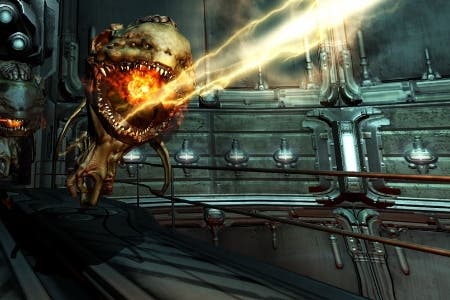 Update: When contacted about this, a Bethesda rep offered the following reply:
"We do realise that there are fans that would like to purchase the original version of the game, and we're looking into options for them. When there's new info to share, we'll let everyone know."
The publisher also noted that those who already own the original versions of Doom 3 and Resurrection of Evil can still access them from within their Steam library.
Original story: If you want the original Doom 3 from Steam you have to pay £76.
That is, £75.99, the cost of the Super id Software Pack, which includes 24 items, one of which is Doom 3.
Google shows that, as late as 10th October, 2004 game Doom 3 was available to buy on its own for $20/£14. Also available then was the Doom 3 Pack, which included Doom 3 Resurrection of Evil and Doom 3 for $24.99, and the Doom Pack Complete, which included Ultimate Doom, Final Doom, Doom 2, Doom 3, Doom 3 Resurrection of Evil and Master Levels for Doom 2. All these offerings are now off of Steam.
Why? It no doubt has to do with the launch of Doom 3: BFG Edition, which released on Friday 19th October. On Steam it costs £20.
Gamers on the Steam forum have complained about the move, particularly in light of widespread struggles in getting BFG Edition, which does not support mods, to run smoothly. One user, Glaice, called the move "bullcrap". "Nice way to alienate your loyal fanbase," he said.
One consolation though is that the Super id Software Pack is often in sale.
After further investigation, it seems the original version of Doom 3 is hard to find in digital shops. GreenManGaming lists the BFG Edition only. From what we can see, your best bet is GameFly, which still sells the original Doom 3 along with Steamworks for £14.99.
Bethesda declined to comment when contacted by Eurogamer.