Huge range of PlayStation 2 Classics storm European PlayStation store
Mass Effect 3 and Binary Domain demos also land today.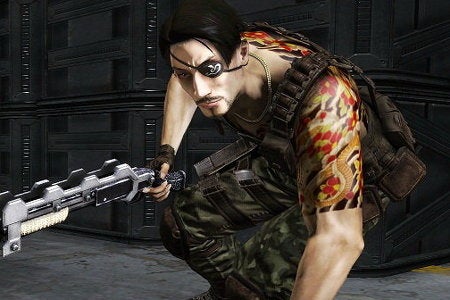 A huge range of PlayStation 2 Classics will be made available to download from the EU PlayStation Store today, Sony has revealed.
27 titles are initially on offer, including God Hand, Maximo and SSX On Tour.
BioWare's Mass Effect 3 demo also releases today on PlayStation 3, alongside a sample version of Sega tactical shooter Binary Domain.
This week's PS3 sale brings savings on Mafia 2 DLC and Far Cry 2. PlayStation Plus subscribers get the latter completely free.
You can also now download Grand Theft Auto 4. It's priced £19.99, or £27.99 for the Complete Edition, which includes the game's DLC episodes.
The list of new releases lies below, courtesy of the EU PlayStation blog.
PS3 Games
Move Street Cricket (£11.90/€14.99)
Worms Ultimate Mayhem (£9.99/€12.99)
James Cameron's Avatar The Game (£14.99/€19.99)
Grand Theft Auto IV: The Complete Edition (£27.99/€34.99)
Grand Theft Auto IV (£19.99/€24.99)
The House of the Dead III (£4.79/€2599)
The Adventures of TinTin: The Secret of the Unicorn (£19.99/€29.99)
Scary Girl (£7.99/€9.99)
PSOne Classics
Fear Effect 2: Retro Helix (£5.49/€6.99)
PS2 Classics
A Train 6 (£7.99/€9.99)
Arcade Classics Vol. 1 (£3.99/€4.99)
Bust-A-Bloc (£3.99/€4.99)
Cel Damage Overdrive (£3.99/€4.99)
Chicken Little (£7.99/€9.99)
Disney Princess Enchanted Journey (£7.99/€9.99)
God Hand (£7.99/€9.99)
Golden Age of Racing (£3.99/€4.99)
Gungrave Overdose (£3.99/€4.99)
International Super Karts (£2.99/€3.59)
Kim Possible: What's the Switch? (£7.99/€9.99)
Maximo (£7.99/€9.99)
Maximo vs Army of Zin (£7.99/€9.99)
Meet the Robinsons (£7.99/€9.99)
Mr. Golf (£5.49/€6.99)
MX World Tour (£3.99/€4.99)
Neo Contra (£7.99/€9.99)
Noble Racing (£3.99/€4.99)
Road Trip Adventure (£3.99/€4.99)
Seek & Destroy (£3.99/€4.99)
Skyscraper (£1.99/€2.49)
SSX On Tour (£7.99/€9.99)
Swords of Destiny (£7.99/€9.99)
The Chronicles of Narnia: The Lion, The Witch and The Wardrobe (£7.99/€9.99)
Walt Disney's Donald Duck Quack Attack (£7.99/€9.99)
WWI: Aces of the Sky (£3.99/€4.99)
WW2: Battle Over The Pacific (£3.99/€4.99)
PS3 Demos
Mass Effect 3
Binary Domain
PS3 Special Offers
Far Cry 2 - (Was £15.99/€19.99 - Now £7.99/ €9.99) *100% Discount for PS Plus members*
Mafia II - Additional Content Bundle (Was £17.49/€21.99 - Now £8.79/€10.99)
Disney G-force (Was £7.99/€ 9.99 - Now £3.99/€ 4.99)
Tron: Evolution (Was £7.99/€ 9.99 - Now £3.99/€ 4.99)
PSP Pirates Essentials Bundle (Was £11.99/€ 14.99 - Now £7.99/€ 9.99)
PSP Disney Pixar Double Pack (Was £11.99/€ 14.99 - Now £7.99/€ 9.99)
Hannah Montana - Rock Out the Show (Was £7.99/€ 9.99 - Now £3.99/€ 4.99)
Toy Story 3 (Was £7.99/€ 9.99 - Now £3.99/€ 4.99)
PlayStation minis (PS3/PSP)
Bermuda Triangle (£1.99/€2.49)
World Ping Pong Champion (£2.49/€2.99)
PS3 Add-Ons
Ace Combat Assault Horizon - Aircraft Skin Pack 3 (£4.79/€5.99) (Includes the following content, also available separately) F-22A 'Flash' (£2.39/€2.99), F-15E 'Tiger Pattern' (£2.39/€2.99), F-15C 'Patriot' (£2.39/€2.99), Aircraft Skin Pack 4 (£6.49/€7.99), Includes the following content, also available separately), Su-34 'TEKKEN ALISA & XIAOYU' (£2.99/€3.59), F-22A 'Warwolf' (£2.39/€2.99), PAK-FA 'Akula' (£2.39/€2.99), F-2A 'NAGASE' (£2.39/€2.99), Compatibility Pack 7(Free), Ka-50 Hokum (£3.99/€4.99), YF-23 Black Widow II (£3.99/€4.99)
Dance Star Party - Dance Star Party Mix 7 (£5.49/€6.99)
Dungeon Defenders - The Quest for the Lost Eternia Shards: Part 1 (Free)
Soul Calibur V - Downloadable Music Pack 3 - Soul Calibur II (£1.59/€1.99), Downloadable Music Pack 4 - Soul Calibur III (£1.59/€1.99)
Phineas and Ferb - Level Pack (£3.99/€4.99)
Zen Pinball - Epic Quest Table (£1.59/€1.99)
Disgaea 4 - Classroom Map (£0.79/€0.99), Death Saber (£2.39/€2.99), Getter Mao (£1.59/€1.99)
Dynasty Warriors 7 - Legend Stage Pack 1 (£3.19/€3.99), Excel Stage Pack 3 (£2.39/€2.99)
Dynasty Warriors 7 Xtreme Legends - Legend Stage Pack 1 (£3.19/€3.99), Excel Stage Pack 3 (£2.39/€2.99)
Saints Row The Third - Funtime! Pack (£1.99/€2.49), Money Shot Pack (£1.99/€2.49)
UFC Undisputed 3 - UFC 3 Ultimate Knockout Artist Boost Pack (£1.59/€1.99), UFC 3 Early Access Pass (£1.19/€1.49)
Rock Band
Rock Band 3 - Creedence Clearwater Revival Pack 02 (£2.49/€3.99), Gold Star My Heart Pack (£3.49/€5.29) (Includes the following content, also available separately), Alone - Heart (£0.99/€1.49), Every Rose Has Its Thorn - Poison (£0.99/€1.49), To Be With You - Mr.Big (£0.99/€1.49), Never Gonna Give You Up - Rick Astley (£0.99/€1.49)
Rock Band Network - Potential for Anything - Magnus 'SoulEye' Pålsson (£0.59/€0.79), So Let Us Create - Jukebox the Ghost (£0.99/€1.49), 30 Lives - The Motion Sick (£0.59/€0.79), All I Want Is You - Jerry Naylor (£0.99/€1.49), My Only Star - Amberian Dawn (£0.99/€1.49)