Huge Call of Duty: Black Ops 4 leak reveals Zombies Easter eggs players were still trying to work out
There may be spoilers ahead.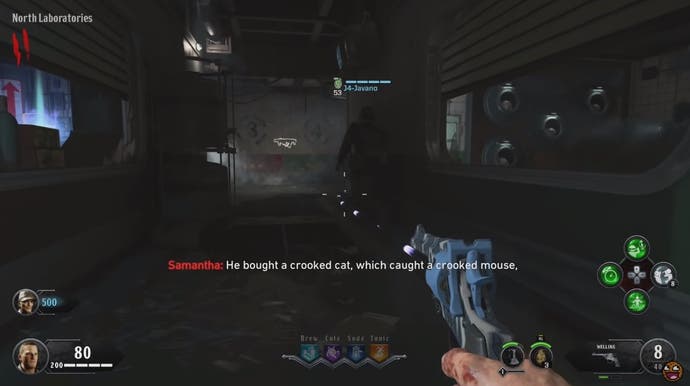 Call of Duty: Black Ops 4 players were left reeling from a huge leak over the weekend that spilled Zombies Easter egg secrets.
On Saturday, 10th November, a person who claimed to be a recently-fired quality assurance tester at developer Treyarch took to reddit, using the CallofNobodyCares username, to reveal solutions to Zombies Easter eggs that had befuddled the Call of Duty community ever since the game came out in October.
THERE MAY BE SPOILERS AHEAD.
This account has now been deleted, but as you'd expect all of their reddit posts have been collated on Imgur and rounded up elsewhere on reddit. Of note, the remaining steps for the Viking Boat puzzle on the IX mission as well as the solution for the Samantha "Crooked Man in a Crooked House" Easter Egg on the Classified mission were revealed. There's more: the Engine Room valves mystery in the Voyage of Despair mission was solved, and how to upgrade the Golden Spork to the Sporkfire in the Blood of the Dead mission is now known.
All of this was verified by players over the weekend, and there already a raft of guide videos from Call of Duty YouTubers.
Digging into the detail, CallofNobodyCares also leaked future plans for Black Ops 4 Zombies DLC and title updates.
There's also a snippet about the planned campaign for Black Ops 4, which was ditched. According to the leak, this campaign was worked on at Treyarch until around mid-2017, and it involved a 2v2/co-op race to finish missions. But this was scrapped as time and resource issues arose and work on Blackout, the battle royale mode, and other multiplayer content began.
This tallies with information Eurogamer had heard from our own sources about the development of Black Ops 4. Back in April, we reported Black Ops 4's campaign was originally called a "career" and featured co-op missions with another player.
In May, Treyarch co-studio head Dan Bunting told Eurogamer Treyarch "never had set out to make a traditional campaign".
"Throughout the course of development we tried a lot of ideas, a lot of things that challenged convention, that might be a different kind of twist on how we might think of a Call of Duty game in the past, or a Black Ops game in the past. As we did that, some things make it, some things don't."
Since the leak occurred, the Black Ops 4 community has called on Treyarch to address growing concern about the future of Zombies mode specifically, which has come under fire for ill-timed crashes. So far, the developer has yet to respond to the leak. We've asked Activision for comment.