How we tried (and failed) to recreate Neymar's world record transfer in Football Manager 2017
Que sera, Neymar.
Neymar's transfer to Paris St Germain from Barcelona was a landmark moment in the history of football. The £198m transfer fee made the Brazilian forward the most expensive footballer in the history of the game, more than doubling the amount Manchester United coughed up for Paul Pogba in July 2016.
However, despite the fact that the transfer has gone through and he's made his first appearance for the club, it all still feels like fantasy football. The ludicrously large transfer fee gives the whole deal an air of artificiality, as if this deal could only have happened in a football video game.
But would it? I decided to turn to my favoured footballing alternate reality generator, Football Manager 2017, to find out. I set myself the challenge of signing the Brazilian forward in the summer of 2017/2018 to see whether I could repeat the real world feat. And the result was a touch unexpected.
Laying the foundations
At the start of the French season in the winter update of FM, PSG has a starting balance of £56m, a transfer budget of £39m and £190k per week spare in the wage budget. This is a significant amount of money to play with, but it felt like chump's change next to Neymar's likely demands.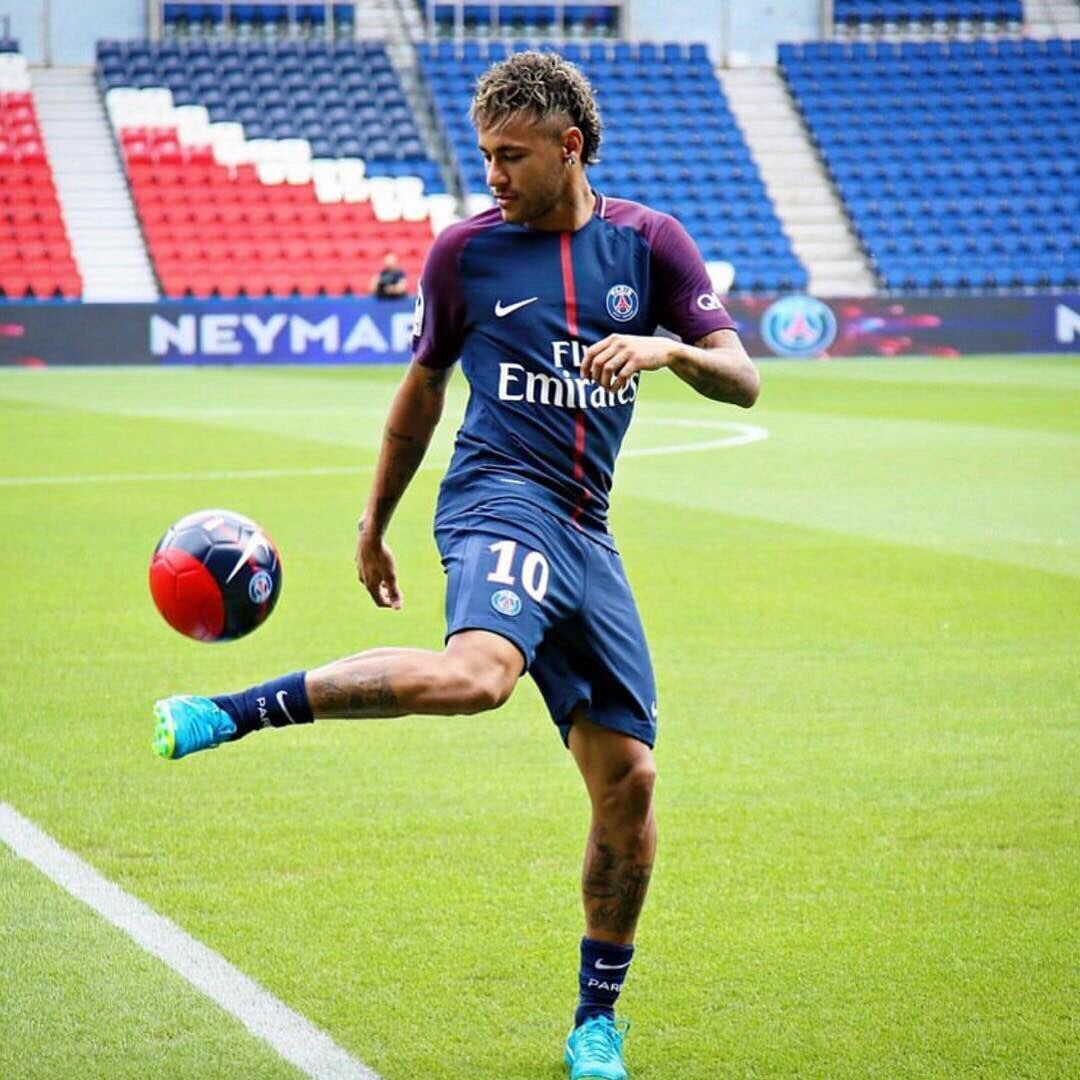 The forward starts the game with a minimum fee release clause of £172m (about £25m below the real world figure) and a wage of £500k a week. This meant grabbing an extra £133m in transfer budget and £310k in wages, if not a couple of hundred grand more than that, to stand a chance of landing him.
Funnily enough, I wasn't that concerned about getting enough cash to sign him. PSG's transfer budget at the start of the save has been slightly depleted to reflect the cash they splashed on players in January, so it would either be restocked in summer by the board or by me selling star players. But the wage budget was a concern because the gap to Neymar was essentially two Angel Di Marias, so I had to play smart.
I therefore took the reins PSG through the 2016 summer transfer window to put the team in the best possible position for a grand spending adventure the following year.
First, I took all but £10m out of the transfer budget and sunk it into wages. This raised our budget to £750k per week, while also leaving us a bit of cash to play with in case of injuries.
I then flogged Javier Pastore for £15m, getting an extra £150k for my wage budget in the process, and attempted to plug the gaps in my squad by promoting younglings from the reserves.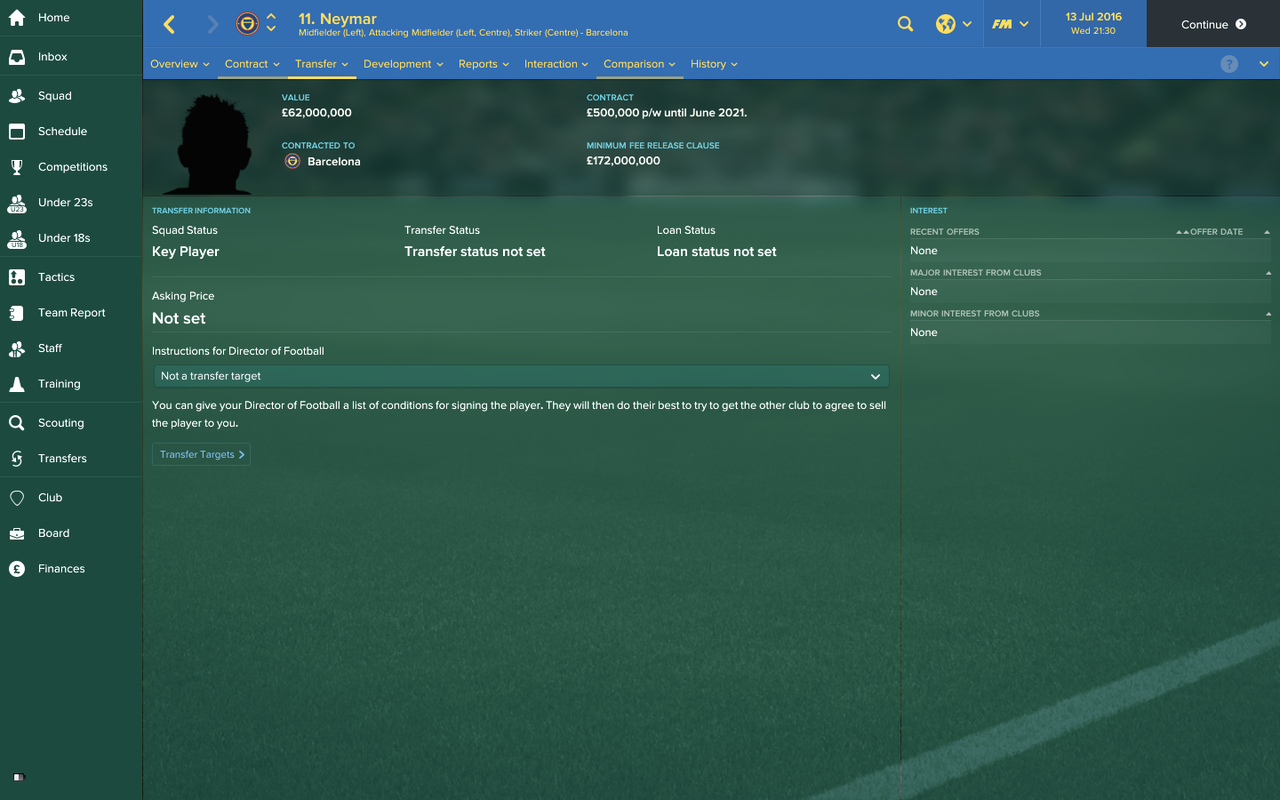 But a glut of injuries - including long term problems with Thiago Silva and Thiago Motta - forced me to strengthen the squad. I spent £12m of Pastore's transfer fee on three under 21s to boost our strength in depth, unfortunately eating back into the wage budget a bit.
Generally though, I was pleased with my work. As the transfer window slammed shut in the early hours of September 2016, we only had £3m in the transfer budget but we had the best part of £850k in wages. I was ready to make the signing of the century.
On the hunt
With that done, I resigned as manager of PSG and sped the game forward to the end of May 2017. Once I was there, I retired my manager and created the person who I thought would be best placed to bring the Brazilian to Paris: Neymar's Dad. I'll admit he didn't look like his Dad, or was even the right age to be his dad, but he was determined, Brazilian and an ex-international footballer so I was excited by the idea of how successful he could be.
I felt even more excited about our prospect when I saw our transfer budget. My careful management of our finances saw the board give me a transfer fund of £200m and an excess wage budget of £1.15m - more than enough to do the deal.
Cash in hand, I immediately declared my interest in Neymar. Instantly, the press came calling. Wasn't I being a bit optimistic chasing him? Yes, I calmly replied. But I was optimistic I could make PSG the biggest side in the world by signing him, so why not give it a go?
Initially, Neymar didn't respond to my overtures. No worries, I thought, I'll force his hand by immediately making a bid for him.
I went to Barcelona with a derisory £64m bid that matched Neymar's basic valuation to see what could be done. So I was naturally stunned that they only negotiated me up to £118m, £80m under his asking price. I, of course, accepted that absolute bargain outright and waited for the deal to be done.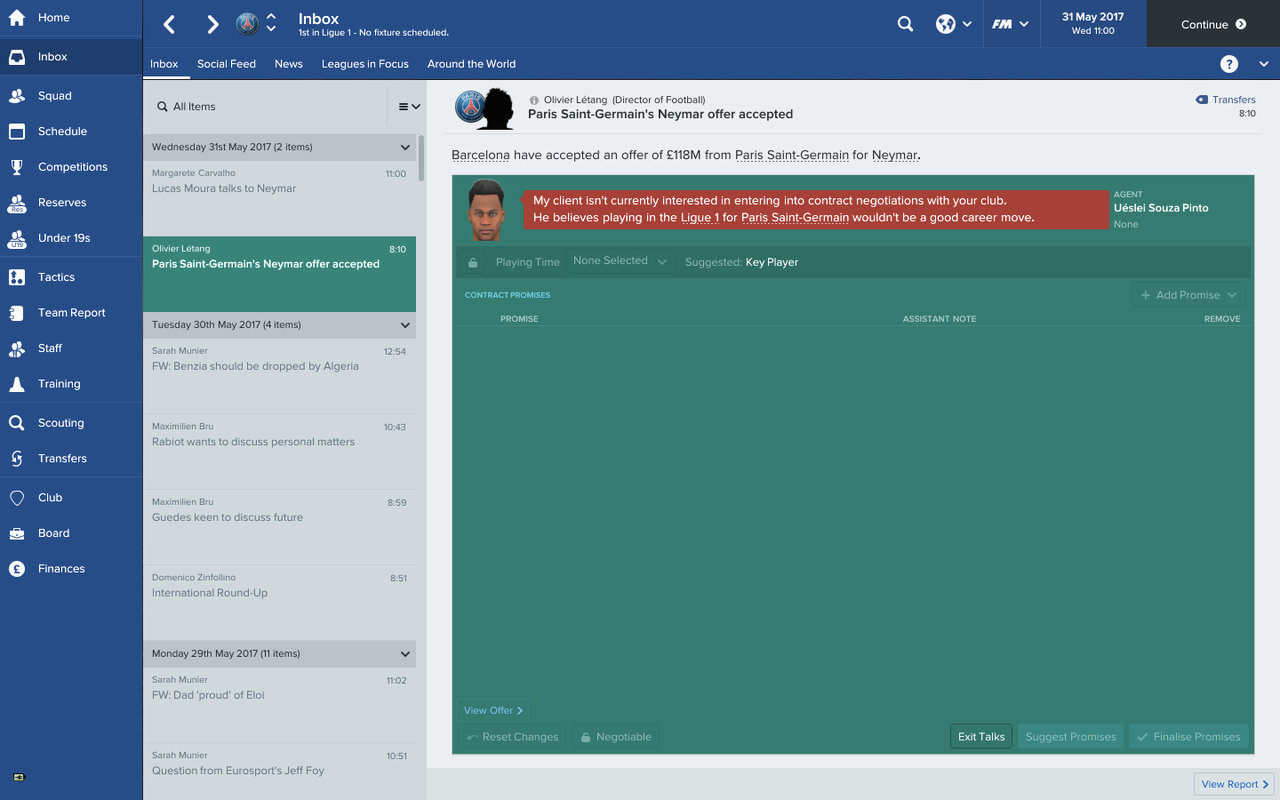 And that's where it all went wrong. Even though the bid was accepted, Neymar's agent refused to even talk to us. We weren't a big enough team for him and so he refused to talk to me. I asked Lucas Moura and Dani Alves - both his mates and both now at the club after transfer dealings - to talk to him and he refused. He wasn't interested and that was that.
I slunk away from the negotiations feeling despondent, before splashing £182m on Thibaut Courtois, Dele Alli and Alex Sandro to make me feel better about everything.
Realer than reality
So that was that. I did everything right to prepare for the transfer: I got the funds, I got the wage bill in place and I even got a couple of his mates into the team to coax him along. But, in the end, it was no dice. I couldn't replicate the Neymar transfer in real life.
The question is what that tells us about the game of Football Manager. On the one hand, it shows it isn't "realistic" in the way it mirrors the world of football. It couldn't match the behind the scenes intrigue. that led to the Neymar transfer, meaning that I couldn't benefit from PSG's Qatar sponsored spat with Barcelona or the footballer's extended family pressures.
Equally though, Football Manager stopped me from making the deal because it was realistic. On paper, the transfer shouldn't have happened: the fee was astronomical, the player was mostly happy at Barcelona and PSG were a noticeable step down. It was, in all honesty, right to block me from doing it.
And yet, it still happened in the real world. My failure to land Neymar showed me the limitations of simulation games. But it also showed me that the absurdity of football knows no limits, leading to a situation where a video game is realer than the reality it is based on.
Will you support Eurogamer?
We want to make Eurogamer better, and that means better for our readers - not for algorithms. You can help! Become a supporter of Eurogamer and you can view the site completely ad-free, as well as gaining exclusive access to articles, podcasts and conversations that will bring you closer to the team, the stories, and the games we all love. Subscriptions start at £3.99 / $4.99 per month.