Football Manager 2017 review
Perfect pitch.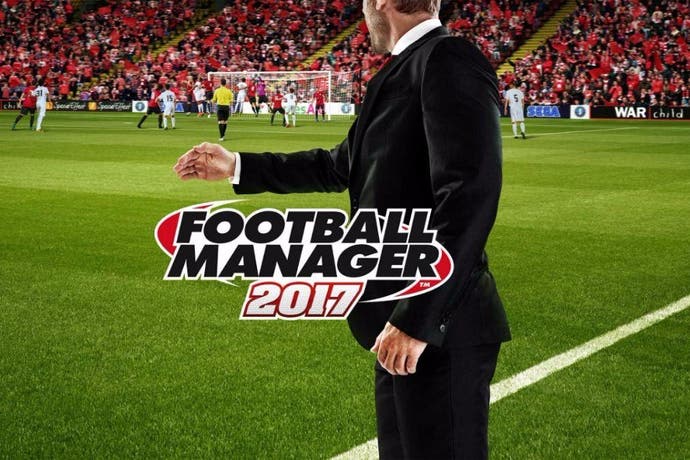 By focusing on its match engine, FM17 presents an impressive step forward for the series.
There's an unwritten agreement between you, the player, and Sports Interactive that sits at the heart of every Football Manager. The manager agrees to invest completely in the game world, both in terms of time and emotional energy. No save-quitting, no adding dummy managers, no downloadable "cheat" tactics. SI, meanwhile, agrees to create the most robust and realistic match engine possible, ensuring that this investment never feels wasted. When the agreement works, it's a beautiful relationship - creating gaming experiences of unrivalled richness and depth. When one party welches on the deal, however, this arrangement can turn sour very quickly.
FM16, by and large, was a success. Across three long career saves I invested as much, if not more time in this iteration as any of its predecessors since my student days. Hundreds of hours with dozens of memorable highlights, from snatching an Algerian wonderkid from under the noses of Valencia playing as League One Chelmsford City, to winning promotion to the Football League as Weston-super-Mare thanks to a last-minute 30-yard volley.
There were, however, enough wrinkles in the match engine to occasionally tarnish the experience. Across dozens of seasons my right-back, invariably, was the best player on the team, delivering assist after assist - usually crosses tapped in at the far post by my left winger. It'd be fine if I had set up the team to play this way, or if I kept stumbling across the Vanarama South's answer to Cafu. But I hadn't.
At the other end of the pitch, my defenders seemed to be outpaced too often by opposition attackers, even when the stats suggested no mismatch in speed. I'd regularly see a fullback just suddenly slow down when chasing a long through ball, leaving a forward to nip in for an easy one-on-one.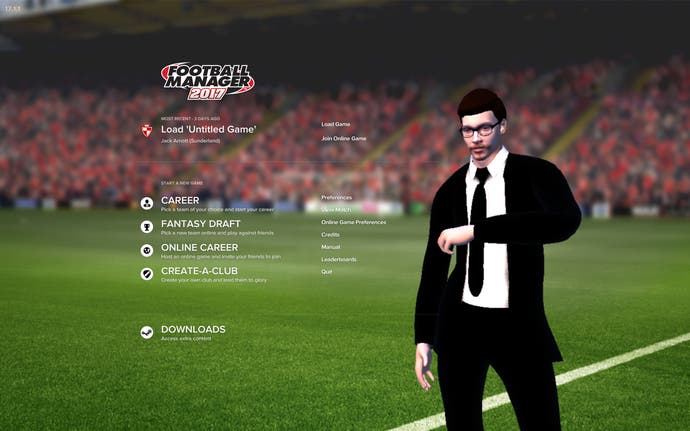 Small flaws that became magnified over time, perhaps, but ones that could cause maddening frustration. If I won a game thanks to two right-back assists, or lost one thanks to my left-back suddenly losing interest in intercepting a pass, the experience felt cheapened, or unfair. Football Manager is as compelling as it is because it mirrors real-life. Accepting a devastating play-off final loss is just that much harder when you fear the competition has been compromised.
If SI have appreciated the importance of this, most fundamental part of the game, they've not always shown it. New features - ones that are, perhaps, easier to advertise - have taken priority, and too often the action on-pitch has felt rough around the edges, particularly at launch.
But not this year.
Start a new match and, for the experienced Football Manager, it's apparent within minutes how much has improved in such a seemingly short space of time. Players think more on the ball, and make much better decisions when presented with clear choices - squaring the ball to a team-mate when through on goal, say, or taking the time to pass the ball out of defence rather than hoof it back into midfield.
There's also a lot more variety in the type of goals scored after two or three years in which the same four or five sequences of play (often the result of crosses) will have dominated your match highlights. I've seen deflected efforts, curling volleys, slide-rule pea-rollers that nestle softly into the bottom corner. Even at lower levels, players seem capable of more ingenuity around the penalty area, and it makes for a richer experience.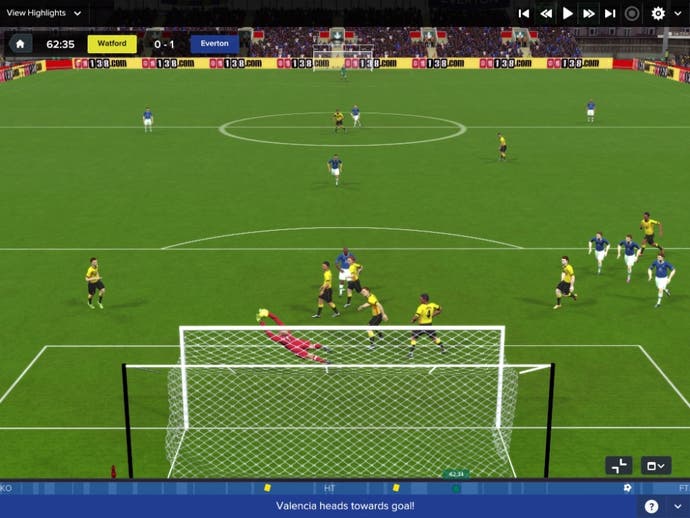 Your team also seem to more clearly react to on-pitch instruction, and the opposition AI, in turn, seem more likely to make tactical shifts mid-game. Match-days are more involving than ever, and the graphical polish and new camera angles compound these changes to bring a fresh feeling to what, ultimately, is the very essence of playing Football Manager.
With so much attention seemingly focused on match engine improvements, legacy problems understandably persist with some of the older parts of the game. Media interactions remain a bore, with a relatively small pool of questions and little incentive to ever stray from conservative, polite answers. Team talks, similarly, offer the same shallow handful of options we've seen for years - and there seems to be no situation in which your players don't respond positively to be being told you 'have faith' in them.
The tactical interface remains unchanged and, while I'm still a big fan of the use of shouts and player roles over sliders, I still feel that too often you end up feeling your way in the dark. The new data analyst staff role is little more than a glorified scout, and when you're leaking goals, or struggling to score, a clearer way of knowing your team would be better off set up as 'Structured' than 'Flexible' would still be of tremendous benefit to most players, especially in those lower leagues where staff advice is often best distrusted.
What changes have been made to the club management side of the game are largely positive. The introduction of streamlined scouting reports and a powerful new staff feedback system - which essentially allows you to carry out dozens of small items of squad admin with a single click - removes much of the grind that characterises the day-to-day life of a Football Manager. Although some of these screens feel a little poorly designed, the time saved as a result is more than worth it.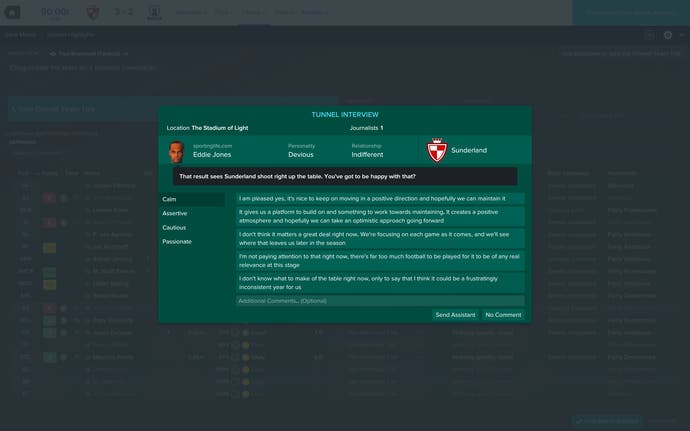 These improvements - both to the menu system and game engine - have come at no cost to the game's performance, even on my relatively limited Macbook. In fact, it runs a fair bit faster. Simply put, you can fit more matches into a smaller amount of time, and that'll be music to many players ears.
Let's touch on a couple of the headline features. The inclusion of Brexit as a randomised event in the game was something of a marketing masterstroke by the studio - I've don't think I've ever seen so much Football Manager coverage in mainstream media. And it's hard to argue with the way it's been implemented in the game. To ignore it would be to ignore a real-life event which could well have a profound effect on football in this country, and SI have done their best to reflect the most realistic outcomes of the process - and, I might add, without any political bias.
It'll be frustrating if your all-conquering, multinational team requires dismantling a few years into the save. But then it's also always been frustrating when your club gets taken over and you get prevented from making transfers or sacked, for no reason. The risks of the game have always been inherent to its appeal, and, whether it's FFP, the Qatar World Cup or Brexit, the scale of events shouldn't mean they get ignored.
Social Media is another much talked-about new addition, offering a new newsfeed screen amalgamating updates from across the football world with instant fan reactions to results and signing. The feed works well as a repository for football news from other leagues - indeed, I've always found it strange in Football Manager that huge transfers and high-profile managerial changes can so often go unnoticed, and it helps add to the depth of the game world to feel more in touch.
However, much like every other mode that relies on a finite repository of pre-scripted text, the fan reactions are shallow and quickly become repetitive. While it's initially amusing to see your name dragged through the mud when you lose a game, the novelty wears off quickly, and the reactions are often slightly odd - heavily criticising a 17-year-old debutant, for example.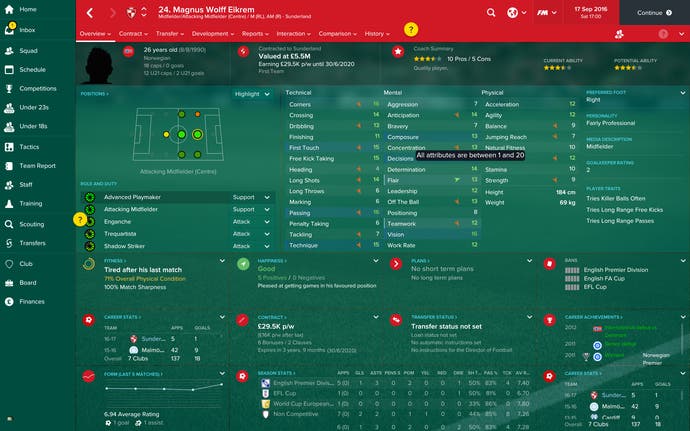 Fantasy Draft mode, meanwhile, something of a forgotten feature last year, has been revamped, and offers a hugely enjoyable bitesize multiplayers experience for those who struggle to coordinate lengthy games. It's perfect for testing your skills against a friend in short space of time, and its fun to throw the shackles off from the real world every now and then.
Online play still suffers from poor implementation, though I've been able to find open games to take part in simply enough. Too often you're waiting left drumming your fingers, waiting for opponents with no idea whether they're sat at their desk or down the pub with their game left idle. Once more it remains a side of the game that caters for organised groups of friends rather than casual matchmaking.
Football Manager Touch has been split completely from the game this year, but incorporates many of the changes described above, albeit in a more limited fashion reflecting its slimmed down functionality. Although, in my eyes, it remains an imperfect experience when controlled via touch-screen, with two many menus requiring the accuracy of a mouse, it still provides an excellent alternative for those who don't want to read 30-page pdfs on the intricacies of midfield partnerships.
So can we describe Football Manager 17 as a return to form? That would be doing last year's conservative yet serviceable edition a disservice. But it certainly offers more tangible improvements to the critical areas of the game than we've seen since Football Manager 14. The game is richer, more varied and, thanks to the menu and performance improvements, more enjoyable to play than it's been for many years. I can't think of a better way to spend a few more hundred hours.