Brexit is in Football Manager 17
We told you there would be penalties.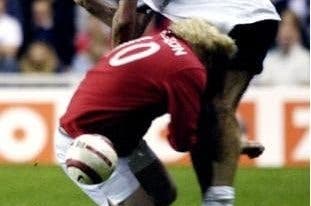 Brexit is in Football Manager 17.
Developer Sports Interactive has built a Brexit simulator in this year's game that models the consequences of the UK leaving Europe, Miles Jacobson told The Daily Telegraph.
Because it's currently unclear how Brexit will go, Sports Interactive has included every possible outcome in Football Manager 17 so each game is different.
Perhaps it was all part of the plan, eh Boris?
Here's how it works. At some point in the game between two and 10 years in, the player is told trade negotiations have begun. A year later there's a news bulletin that details the extent of Brexit, with three main scenarios: soft exit, footballers are granted the same special exemption that are currently given to entertainers; and hard brexit.
Obviously hard Brexit makes Football Manager 17 harder, because it has implications on who would be eligible for a move into the Premier League.
"If we already had these rules in place, players such as N'Golo Kante and Dimitri Payet would not have been able to gain work permits to move to the Premier League," Jacobson said. "That's two of last season's three best players."
There's also the possibility of limiting the number of non-UK players British clubs are allowed from anything as high as 17 to as low as four.
"If you only had four non-UK players per squad, that's going to make things difficult," Jacobson said, explaining the potential impact on the game.
"All of a sudden Championship-quality players are moving into the Premier League to fill up slots. That could mean the overall quality drops, and that means the TV money goes down.
"Meanwhile, transfer fees go up: foreign players are worth more to British clubs because you need to make sure you make the most of those four slots, and the best British players become more valuable, and so more expensive, too.
"Footballers could decide against playing for their home nation because doing so could reduce their chances of ever making it to the Premier League. Newer nations such as Kosovo could suffer, with players holding out to become naturalised and play for a higher ranked country.
"There is even the outside chance that non-UK players could end up having to apply for work permits to remain in the UK the day after Brexit. It's a tiny chance but it could happen in your game."
Jacobson tweeted a screenshot of FM17 to show how Brexit can impact the game. The image shows a news alert that tells the player that footballers coming in from the European Union need to apply for work permits to play in Great Britain.
Reaction to the announcement of Brexit being in the game has been interesting. Some have praised SI for adding the mechanic, others have suggested politics has no place in the game.
"We usually try and keep politics out of the game because nobody wants it rammed down their throat," Jacobson said.
"But we were left with an interesting situation this year when the people of Britain voted to leave the EU and it wouldn't have felt right to leave that out. It's something we had to reflect in the game."
Currently playing Football Manager 2017? Read our best Wonderkids in Football Manager 2017 guide for a ranking of the best potential players.