Hotline Miami hits PS3 and Vita next week
Priced at £7.29 / €8.99 / $9.99.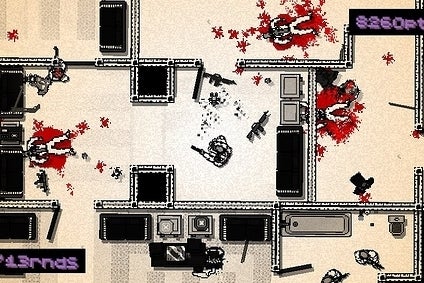 Everyone's favourite top-down f***-'em-up Hotline Miami is due on PS3 and Vita as early as next week for £7.29 / €8.99 / $9.99, developer Dennaton Games has announced.
North America gets it on Tues, 25th June, while Europe has to wait until the following day.
Hotline Miami will be a Cross Buy title, so buy it on one Sony platform and get it on the other for no additional charge.
New features include a mostly black & white mode when new bull mask, Russell, is selected. Even in this mode, the text and blood will remain in vibrant neon colour - as seen below.
Also new is touch support for lock-on targeting in the Vita version.
Dennaton Games recently revealed the sequel to its cult classic with Hotline Miami 2: Wrong Number, which I had the pleasure to check out last week at E3. Read more about it in my Hotline Miami 2 preview.