Hey! Pikmin and Miitopia now have demos
Olimar's upcoming adventure plants its first seed, but is it garden variety?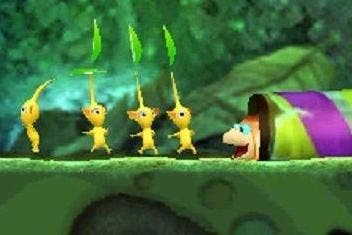 Nintendo's upcoming 3DS offerings Hey! Pikmin and Miitopia have received demos on the eShop.
Hey! Pikmin is a 2D spin-off in the popular strategy puzzler series. Developed by Yoshi's New Island studio Arzest, Hey! Pikmin should not be confused with the upcoming Pikmin 4, which series creator Shigeru Miyamoto recently confirmed to Eurogamer is still in development.
Eurogamer contributor Stace Harmon recently had a go with Hey! Pikmin and suggested in his preview that it "doesn't offer a great deal to be excited about."
Miitopia, meanwhile, is a very different affair, offering a turn-based RPG successor to Tomodachi Life. Here, players use avatars of themselves and their friends to do battle with the faceless minions of the Dark Lord. Defeat them in battle and you'll restore their mugs.
Both Hey! Pikmin and Miitopia will launch 28th July exclusively on 3DS.