Here's what Monster Hunter World's Day One microtransaction prices look like
Wondering how much Uragaan to have to pay?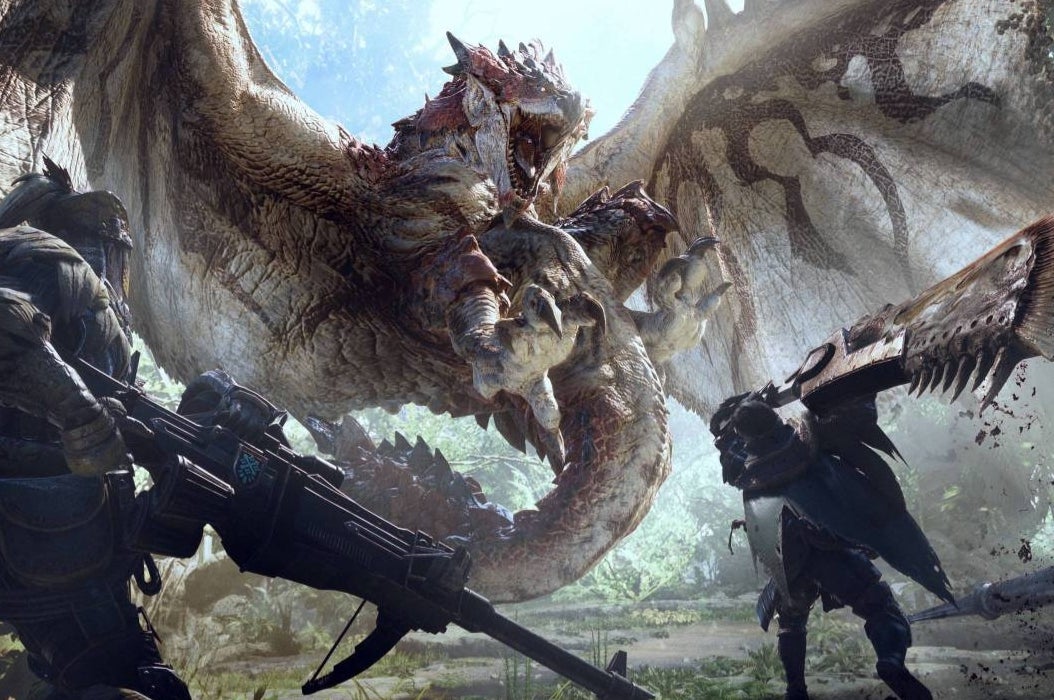 Monster Hunter World is out today on Xbox One and PlayStation 4, and that - as Martin Robinson explained in his recent review - is well worth celebrating. With its launch, however, comes Capcom's initial wave of microtransactions - the first time that cosmetics have ever come with a real-life price tag attached in a mainline Monster Hunter game.
Capcom hasn't been shy about the fact that microtransactions for cosmetics would be part of World, of course, and, importantly, all future monster additions are still expected to be free. Even so, how does the first wave of DLC fare? Does it consist of reasonably priced frivolities, or should Capcom's new pricing structure be a cause for concern?
As a quick note, before we continue, the following prices are all taken from the UK PlayStation Store; you'll pay more or less the same on the Xbox Store, although a few items - face paint, gestures, and the Guildmarm Costume - cost 10p less.
As of launch day, there are 17 downloadable items available on the PlayStation Store and Xbox Store, ranging in price from totally free to £11.99.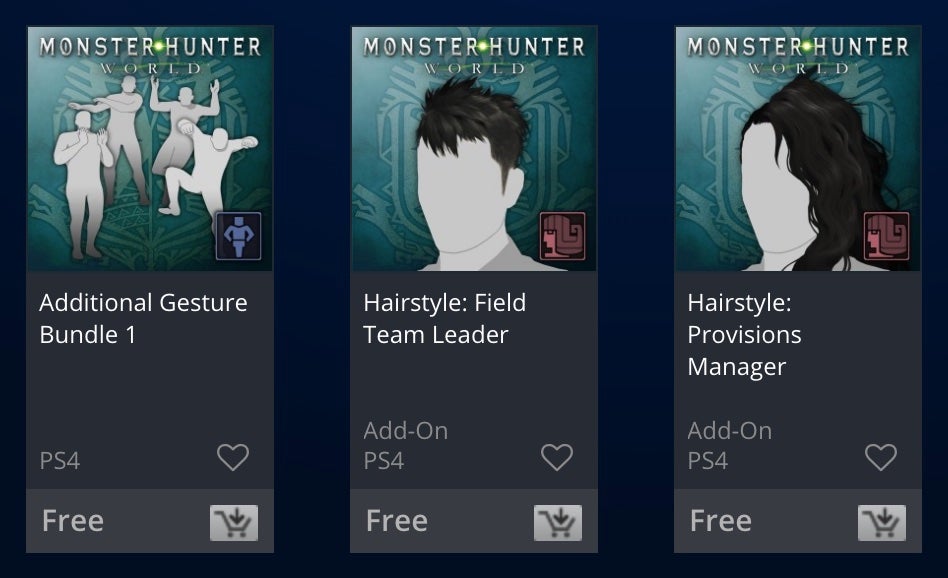 At the free end of the spectrum are two new hairstyles - Provisions Manager and Field Team Leader - plus what's known as the Additional Gesture Bundle 1. This contains the Dance, Rant, and Clap gestures, as well as the Monster Hunter series' legendary Prance gesture - so thank goodness it's free, otherwise there probably would have been a riot.
There is, however, also a second Gesture Bundle, which includes four more gestures - Play Possum, Kowtow, Sleep, and Kneel - for £3.99. These are also available to purchase individually at £1.69. It seems a little cheeky charging money to expand a system that's proven to be a surprisingly useful, language-independent communication tool in Monster Hunter circles, but I guess it still technically falls on the side of "cosmetic".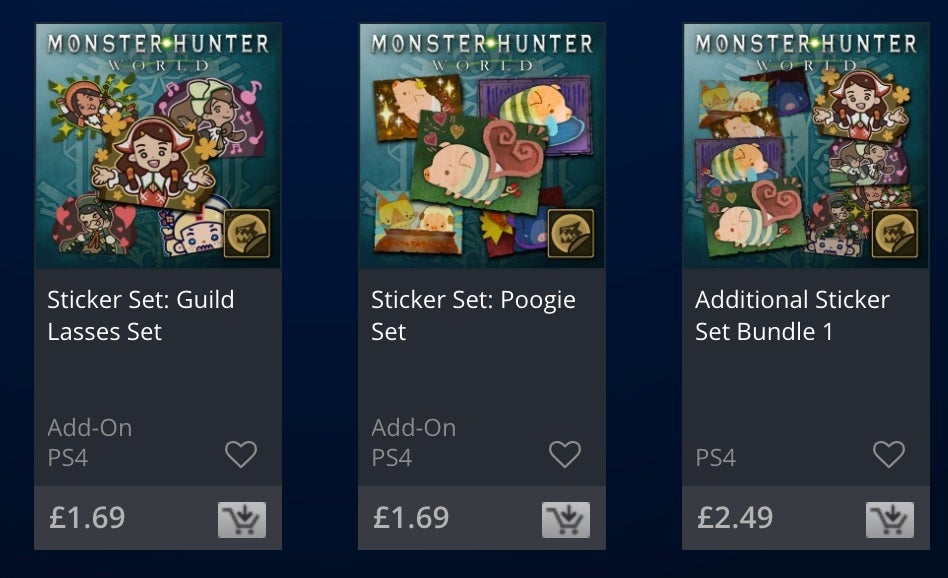 Moving on from gestures though, there's far less scope for controversy. Day One also sees the release of three new face paint designs - Heart Shape, Shade Pattern, and Eye Shadow - for 79p each, or in a bundle for £1.69. And let's be honest, it's unlikely that there'll be too many occasions when having a heart on your cheek is essential to a successful hunt.
Elsewhere, there are two purchasable sticker sets that can be used to spruce up your chats. The Guild Lasses Set and Poogie Set each cost £1.69, or £2.49 together in the Additional Sticker Bundle 1. Then there's World's only current bit of standalone costume DLC: the Handler's Guildmarm Costume. This lets you to don the garbs of Monster Hunter World's quest giver, but you'll have to pay £2.49 for the privilege.
Last but not least is Capcom's priciest, but most substantial DLC offering. The Deluxe Kit (which was originally part of the Deluxe Digital and Collector's versions of World) costs £11.99 and includes eight items not available separately.
There's the Samurai Set costume, the Zen, Ninja Star, and Sumo Slap gesture, the Monster Hunter All-Stars and Sir Loin sticker sets, Wyvern face paint, and finally, a rather fetching Topknot hairdo. Whether all of that is worth almost a quarter of the full game's retail price depends entirely on your personal perspective, of course.
All in all then, given the industry's current fondness for randomised loot boxes, Monster Hunter World's early foray into microtransactions could be considerably worse. I might be tempted to argue that monetising gestures in Monster Hunter is just on the cusp of acceptable, but, beyond that, there's little here likely to rankle. Let's hope it stays that way.