Here's the nifty title sequence for Double Fine's animated Costume Quest TV show
Series finally airing next year.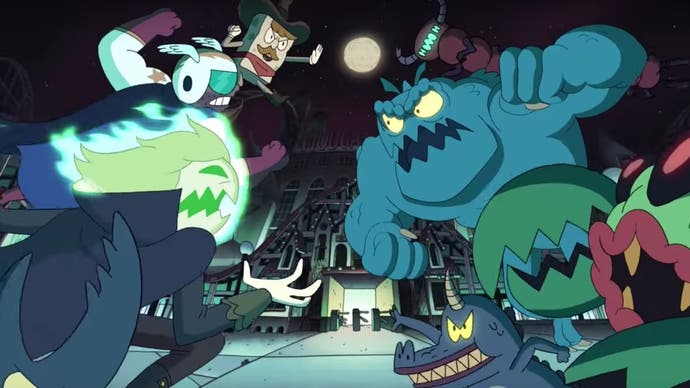 As you might recall, last year brought the news that Costume Quest, developer Double Fine's delightful trick-or-treaty Halloween RPG, was to be turned into an animated TV series. That's still a thing that's happening - and if you need further proof, it now has an opening title sequence!
Costume Quest's TV adaptation is the work of Frederator Studios (also responsible for Adventure Time and Netflix's Castlevania), and is scheduled to air on Amazon Video next year.
Unsurprisingly, it doesn't sound like the show will doggedly adhere to the (very slight) stories told in Double Fine's original Costume Quest or its 2014 sequel, but the fundamentals are more or less the same. According to Cartoon Hangover, the TV series "stars four kids facing off against the dark forces lurking in the shadows of their sleepy town of Auburn Hollow."
"They must learn to use their imaginations to unlock the magical powers built into their homemade costumes," says Cartoon Hangover, "and save the universe on a night where monsters reign... Halloween". And here's what the show's main title sequence will look like:
If anything, it seems a tad darker than Double Fine's wonderfully nostalgic originals, with some appropriately ghoulish monsters and some appealingly silly costume transformations.
There's no additional word on when we might see the finished series, beyond that vague 2019 release date, but this briefest of new looks certainly shows plenty of promise. Now, Double Fine, how about that Costume Quest 3?