There's more than a bit of Football Manager in FIFA 21's Career Mode
Man-to-man.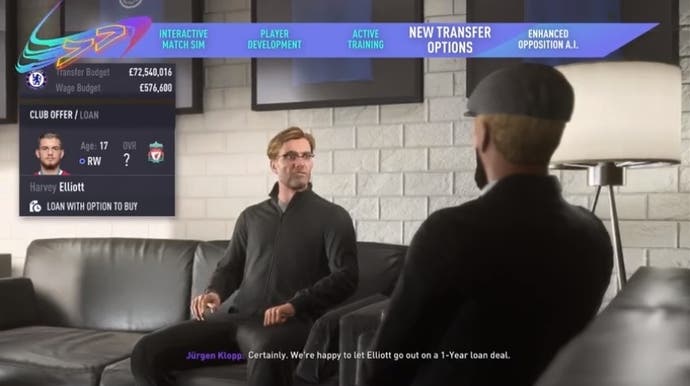 EA has fully unveield FIFA 21's Career Mode - and it looks like Football Manager has been a clear inspiration.
After the disastrous launch of FIFA 20's Career Mode, EA Sports has added a raft of new features for this year's version, chief among them a Football Manager-style interactive match sim. With this interactive match sim, you're able to switch between the standard FIFA match view and this new sim view at will.
This means you can jump in and out of Career Mode matches to take charge of key moments, such as penalties and free kicks. You monitor match data and make changes directly from the sim based on the match stats and your players' performance levels and stamina. It's nowhere near as detailed as Football Manager's match sim, of course, but it certainly looks inspired by it.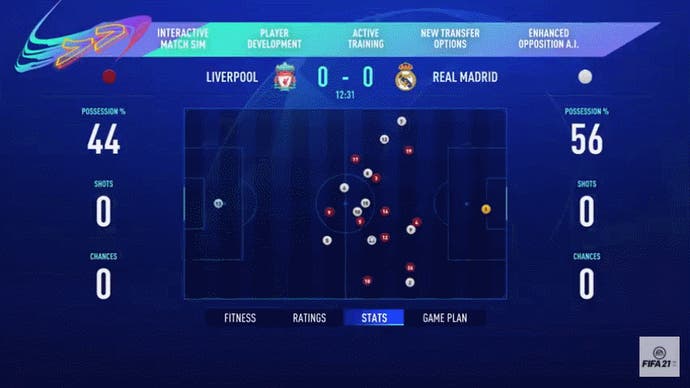 "We worked together with the gameplay team to build an amazing new feature that bridges the gap between playing matches and simulating matches," Alex Constantinescu, senior game designer on the FIFA team, told Eurogamer during a recent virtual preview.
"Playing a match in FIFA is quite demanding in terms of the time required, and even more so in Career Mode where you have to play through an entire season. We know our players like to mix and match between playing matches and then simming them. But we always felt like there's something we can do in between, something that gives users more agency towards the fate of matches rather than put everything in the hands of the AI and getting an instant result."
This new interactive match sim involves matches running at twice the speed of a standard game of FIFA, and clock in at around two minutes and 35 seconds, give or take depending on interruptions for set-plays such as throw-ins and corner kicks.
Unfortunately, it is not possible to speed up the simulation, because, according to Constantinescu, the sim runs the gameplay in the background. "And that brings up difficulties with speeding up physics more than would be possible," Constantinescu explained, "so we have set it to twice the speed."
FIFA 21 includes a raft of Career Mode improvements and new options that will be welcomed by fans, and I certainly got the impression EA Sports is keen to avoid the kind of PR disaster it saw with the launch of FIFA 20.
However, it's worth noting FIFA 21's Career Mode does not include the stadium customisation feature Ultimate Team has, which is a shame. This is FUT exclusive, Constantinescu confirmed, because of licensing. "Most popular teams have licensed stadiums, which should be put in Career Mode as that mode has more authentic roots.
"FUT is a fantasy mode in many ways and customisation is much more open in there, and that's why it was a good opportunity to start using these types of options in FUT.
"But it is something that we are looking to add more and making customisation even more flexible in the future, which would allow some career mode integration as well."
Nor will Career Mode have female football leagues, despite their growing popularity in the real world. "Female football club leagues are starting to pick up more and more and become more popular," Constantinescu said. "And I would expect that somewhere in the future we will start getting more and more integration of those leagues in the game."