Here we go: Numbani map trashed and Doomfist gauntlet stolen on Overwatch PTR
UPDATE: Orisa unveiled, live on PTR.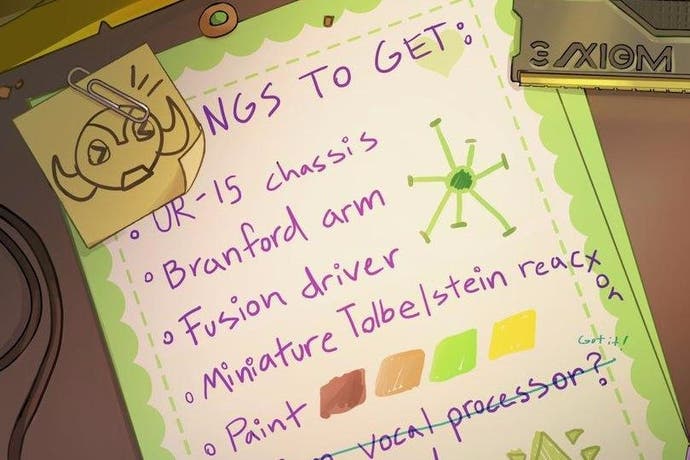 UPDATE 3rd March: It has happened. We are at the end of the week and a new Overwatch hero, Orisa, has been revealed and released on the Public Test Realm (where we've played her/it). Bish bash bosh done. No ARG fanfare this time.
According to Overwatch lore, Orisa is one month old and made by 11-year-old Efi Oladele following a Doomfist attack on Numbani. So it was Doomfist who punched a robot so hard it made a crater in a wall at Numbani airport. Heck of a right hand.
More importantly, most of the speculation was correct; the 24th Overwatch hero is a quadruped tank, as that 4chan leak from January said it would be. Given Orisa is described by Blizzard on the Overwatch website as "the central anchor of her team", the Anchora codename could well have been correct, too.
So what else does the leak say will happen? It says we will have a Mei animated short and that Doomfist will be the next hero, which seems like a no-brainer, and he will be a black man, which given the African Numbani link makes sense.
All we need to know now is who the heck put the Doomfist gauntlet on.
UPDATE 28TH FEBRUARY 7.30PM: Overwatch live servers have been patched with a minor update which introduces the game browser and Capture the Flag to the Arcade selection of modes. There are major adjustments to Bastion and to Roadhog, which aim to make Bastion more manoeuvrable and Roadhog's hook less of a foregone killing conclusion. Patch notes are available on the Overwatch Battle.net site.
UPDATE 28TH FEBRUARY: Another piece of art related to Efi Oladele, creator of presumably the new Overwatch hero, has appeared on the Overwatch Twitter account. It's Oladele's to-do list for building a robot, listing various parts she needs as well as her planned colour scheme. Interestingly, she intends to include a miniature Tobelstein (is it purposely misspelt Tolbelstein?) reactor, the gravity-related energy Zarya uses in her gun.
"The tweet reads: "Genius grant recipient and Numbani local Efi Oladele posts curious image on her holovid channel, declaring: 'Time to get to work!'"
Remember, today's the day something could happen but not, probably, until late afternoon.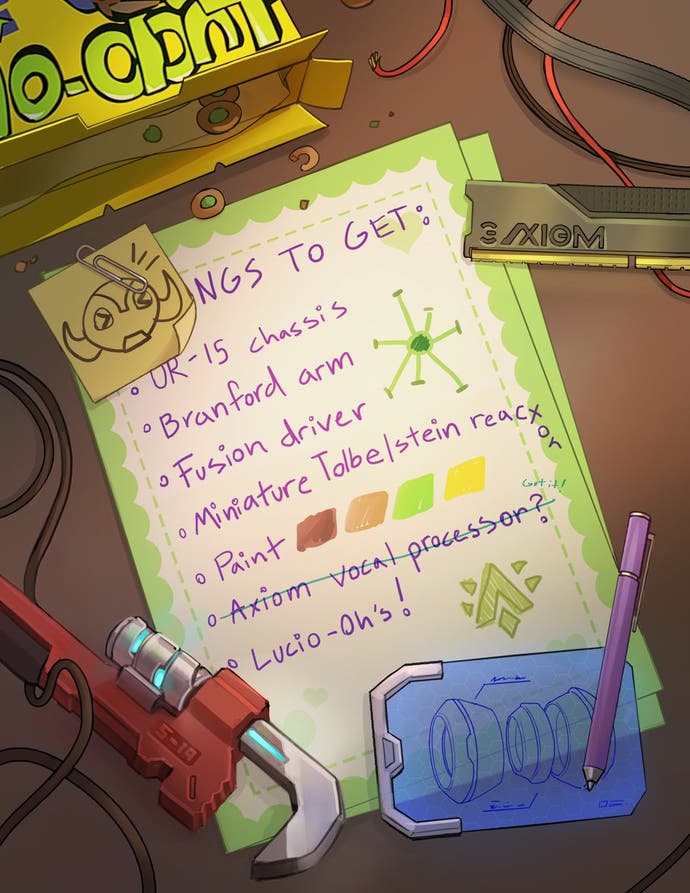 ORIGINAL STORY 27TH FEBRUARY: After weeks of speculation, the Numbani Overwatch story event - which we expect will introduce one, if not two new heroes to the game - has begun. The Doomfist gauntlet has been stolen.
On the Public Test Realm, the Numbani map has changed. The airport starting area for the Attack team has been trashed following "a major confrontation" that ties into a picture piece of lore tweeted on Friday by the Overwatch Twitter account.
More importantly, the Doomfist gauntlet is missing from the Numbani payload.
The tweeted lore picture is taken by Efi Oladele, the 11-year-old girl genius we were introduced to recently. It shows us the OR15 defense robots, albeit destroyed. One, particularly has been flung with such force into the wall it has produced a kind of crater.
Who could do such a thing? The game's main villainous force, Talon, employs Reaper, Widowmaker and Sombra, when willing. None of those characters have abilities capable of a forceful smash. But the Doomfist gauntlet is said to have that kind of power...
But if it were a Talon attack, why wouldn't fictional Overwatch news network Atlas label it a 'terrorist attack' as it has done other Talon attacks? They are fairly commonplace; Talon has been the main enemy as long as the game has been going.
We don't know when the Numbani changes will carry over to live Overwatch servers, but there is maintenance scheduled for tomorrow, Pancake Day. There is even the tenuous suggestion that timings will coincide with Paris Fashion Week, which begins 28th February, ends 8th March. It's to do with a poster on the walls of Numbani. The idea is that the new content will hit PTR 28th February and then launch 8th March.
If Blizzard were to go whole hog and drop a new hero reveal package tomorrow - hero plus lore trailer plus animated short - it would be a marked departure from the ARG build up Sombra had before launch. It would be a relief.
Do bear in mind that a new Overwatch hero will likely spend at least a week on the Public Test Realm before going live.
Who are the new heroes? One we expect to be Doomfist, perhaps voiced by Terry Crews - it would be a missed opportunity if not. The other? We simply don't know. Water has been poured on the robo-spider idea, although the idea of something robotic, something connected to Efi Oladele, still stands.