Hearthstone player VKLiooon becomes first woman to win BlizzCon championship
"If you believe in yourself, forget your gender and go for it."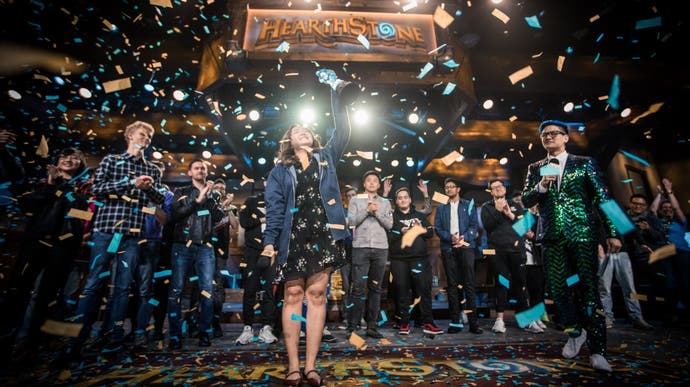 Xiaomeng "VKLiooon" Li broke three esports records at BlizzCon this year by becoming both the first woman and the first Chinese player to win a Hearthstone Grandmasters championship, as well as being the first woman to ever win a grand finals trophy at BlizzCon.
Li achieved this by defeating US opponent Brian "bloodyface" Eason 3-0 in the final of the Hearthstone Grandmasters event, earning her world champion title and taking home winnings of $200k (around £154k).
Esports has long had a problem with the number of women who make it to the highest professional levels, and in an emotional speech after her win, Li had an encouraging message to send to women aspiring to get into the pro scene.
"Two years ago I remember when I was competing in a huge tournament, I was waiting in line for a sign up and there's this guy telling me you should not be waiting in line here, it's not for you," she said. "Now today I'm here with all the support from the fans."
"I want to say to all the girls out there who have a dream for esports, for competition, for glory - if you wanna do it and you believe in yourself, you should just forget your gender and go for it."
"This is the best way to strike back at those people who doubted me only because I am a girl. It proves that girls can be strong pro players, just as guys do." - Xiaomeng "VKLiooon" Li pic.twitter.com/1PQczUHwim

— Hearthstone Esports (@HSesports) November 2, 2019