Hearthstone bug is manifesting way too many duplicate cards
UPDATE: Hotfix released, affected players to receive free card packs as compensation.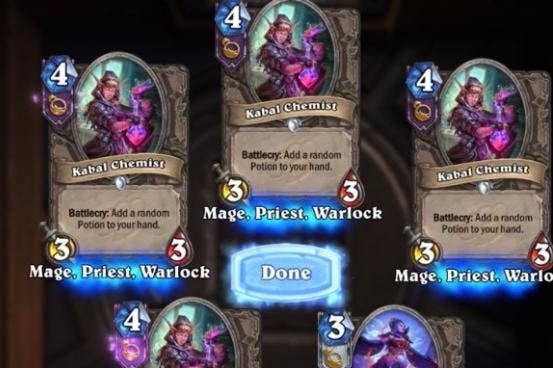 UPDATE 01/12/2016 11.40pm: Blizzard has released a "hotfix" for the card duplication issue that plagued Hearthstone players earlier this afternoon.
"A hotfix was rolled out to all players on the Americas server at 2:30pm PST, which corrects this issue," Blizzard said on its blog. "Players on the Americas server will now see tri-class cards appear at a drop rate that is consistent with other cards of their rarity."
To compensate for this, Blizzard will offer free packs to compensate for a third of the already opened packs that potentially fell victim to this bug.
"Any player on the Americas server who opened Mean Streets of Gadgetzan packs before 2:30pm PST will receive additional Mean Streets of Gadgetzan packs as compensation. The affected players will receive 33 per cent of the total amount of Gadgetzan packs opened before 2:30pm PST, rounded up, to a minimum of one, regardless if the player acquired packs through gold, Quests, or real money," Blizzard explained. "Since cards are generated upon pack opening and not pack purchase, packs purchased before the hotfix but opened after the hotfix will not experience this bug and will not be a part of the compensation roll out."
Since the bug only plagued the game while it was out in the US, other territories will not be affected.
"This fix will also be added to the release of Mean Streets of Gadgetzan before packs are available to open in all other regions, so players will not be affected by this bug when Mean Streets of Gadgetzan goes live in their region," Blizzard stated.
ORIGINAL STORY 01/12/2016 6.46pm: Hearthstone's Mean Street of Gadgetzan expansion just launched today, but there's a problem: cards packs are dishing out a disproportionate number of duplicate cards.
"We are currently aware of reports of players having a higher chance of opening tri-class cards in MSOG packs and are looking into it," Blizzard tweeted. Many replies have shown this error in action, with some poor folks getting four of the same card in a pack of five.
Mean Street of Gadgetzan is currently live in the US, and will arrive in the UK in the next few hours. We'd recommend not opening any card packs until Blizzard issues a fix.
For more Hearthstone tips and tricks, check out our Hearthstone focused sister site Metabomb, which offers a guide for adapting to Mean Street of Gadgetzan's multitude of changes.