GTA 5 arrives on PS5 and Xbox Series S|X: a roundup of pieces to read
Heist aches.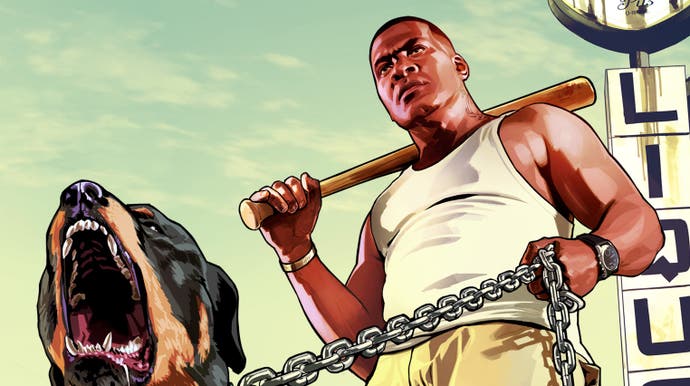 Grand Theft Auto 5 comes to PlayStation 5 and Xbox Series S/X tomorrow, 15th March. Yes, the game that once launched on PlayStation 3 and Xbox 360 nine years ago lives to see yet another release on yet another generation of hardware. And its reincarnation comes with significant improvements like 4K crispness, 60 frames-per-second silkiness, texture upgrades, draw-distance upgrades, HDR options and ray-tracing. Whew.
How much it will cost you depends on where you buy it. Suffice to say 'it's complicated'. In summary, there are two products - GTA 5 Story Mode and GTA Online - and they're available separately or bundled. PS5 has the better deal but there are discounts on both console ecosystems, explained in another article on the site.
In this article, I want to draw your attention to nearly 10 years of Grand Theft Auto 5 by compiling some of the best pieces we've written about it. It's a game that - courtesy of GTA Online - has lived on and on. Prospered, even. And what we've written about it reflects that. Without further ado, then, here the pieces are.
Here's Tom Bramwell's original GTA 5 review from all the way back in 2013. Do you remember the anticipation? Such was the clamour for any information that eager fans managed to map Los Santos, using a single screenshot, before Rockstar had even properly revealed the game.
The game's launch being so long ago means people have had plenty of time to play GTA 5 through more than once, too, and their objectives get more, um, specialised each time they do.
Oh and I know you won't need these by the way, but here's our GTA 5 guide, our GTA 5 cheat's page, and our quick way to make a lot of money in GTA 5 page, just in case you do.
Isn't it funny to think that GTA 5 launched without GTA Online all that time ago? The impact of the online mode on the game, and Rockstar's pockets, has been colossal. That's why GTA Online was one of our Games of the Decade.
A large part of the appeal is collaborative Heists you can play with your friends, the stand-out Diamond Casino Heist being among the best of them, but the more recent Cayo Perico Heist less so. Though it's not all about being a gangster. In an online world of such lawlessness, some people are stepping up to police it, while others are foregoing violence entirely.
Another part of the appeal are the almost absurd races in GTA Online, where players switch from car to jet and back again to nail gargantuan ramps on mind-bending racetracks.
Other times, it's just about having a jolly nice ride on a jolly nice bike.
On a more sober and serious closing note, and on a slightly broader tangent, the attention to detail in Rockstar's worlds has always been incredible, one of the hallmark features of the studio's games. But what do those games tell us about the American history they're so often based on? And what if one day those games were to be used as teaching tools (they'd be fun lessons wouldn't they?)?
That's it! Go and have fun with GTA 5. Enjoy!