The Cayo Perico Heist is a testament to GTA Online's lukewarm immortality
Metal Gear Stolid.
GTA Online is like a Xenomorph, in a lot of ways. It's an iconic behemoth, one that creates a parasitic relationship with its hosts and refuses to die. It also thrives unexpectedly during quarantine.
Grand Theft Auto 5 celebrated its seventh birthday during this noxious year, but Los Santos has never been busier. The game sold 400,000 copies in under four months in the UK, in the midst of our first national lockdown. That success might have had something to do with the *ahem* player-driven alien gang war that consumed the game (and most of social media) in April.
But if you need a stone-cold example of GTA Online's enduring relevance, Sony led with the damn thing during its PlayStation 5 reveal conference. In 2021, Rockstar's service sandbox will land on the monolithic mini-fridge and its router rival, the first of its kind to span three generations of consoles.
So, having hoovered up an army of pandemic dust bunnies, Rockstar has just given them something new and expensive to do. Enter stage left, The Cayo Perico Heist. Debatably described as GTA Online's "biggest update yet", Rockstar has added an entire tropical island to explore - in theory, this sounds amazing.
Fans had begged Rockstar to expand the map for years and the trailer made Cayo Perico look like a new social space, an apocalyptic Fyre Fest where players could get up to all kinds of community-driven hi-jinks. Sadly, that's far from the truth. With up to four friends, you can take part in a dangerous, seemingly endless high-energy set like the Raving Dad from Limmy's Show (the pulsing DualSense haptics are pretty cool!) but there is no official open-world free roam on Cayo Perico. Armed guards will turn you away if you try to explore.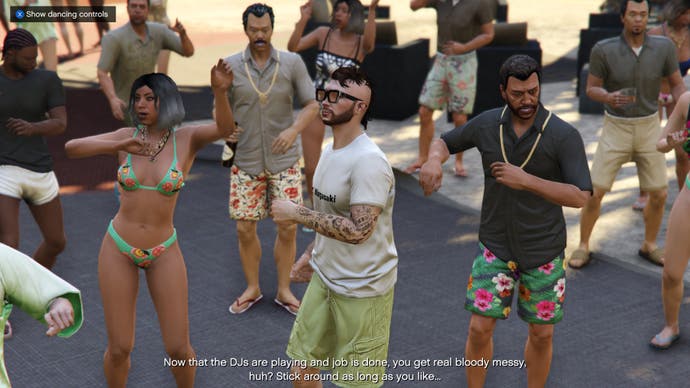 If you do want to see more of it, Miguel Madrazo is your point of contact for this heist, found in a VIP nightclub underneath The Diamond Casino. He can't get the word optics out of his mouth fast enough, harping on brilliantly like one of the suffering sycophants from HBO's Succession. In order to prove himself to his estranged father, he needs *you* to rob Cayo Perico and retrieve an incriminating Madrazo family dossier from the drug lord kingpin who owns it. You're the Cousin Greg to his Tom Wambsgans, if you follow.
Premise engaged, you can start setting up the big score, which mandates the purchase of a $2.2m submarine, as well as an office building or a motorcycle club. If you don't have those already, they will set you back another cool million. Without any bells and whistles, that's £31.99 in real money if you need to purchase a Shark Card.
Unfortunately, the additional content struggles to justify the price. The submarine is kind of a dead weight because it's so hard to get to. You start all of your Cayo Perico missions from its nerve centre - but this is inevitably frustrating. Especially when missions are timed, you have to spend at least three minutes just getting to the shore to retrieve your personal vehicle. It's a consistent slog that, as you might expect, you can fix with more money.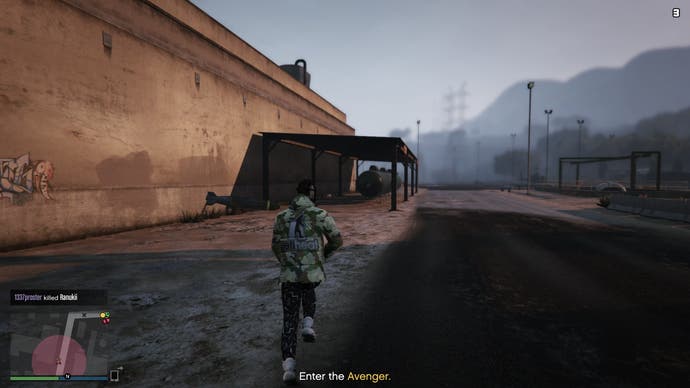 At the very least it's a lot more interesting than The Diamond Casino Heist's mandatory Arcade, given you can scour the briny deep with it or store optional vehicles inside. And depending on whether you're a sadist or not, the submarine's homing missiles may justify the spend. This is another optional upgrade and perhaps the most callous addition to a griefer's arsenal since the Orbital Cannon. It's kind of like getting hit with a V2 Rocket or an ICBM. You don't even know you're dead or what happened when you get smacked by one, and antisocial crews sit on the coast haunting the proletariat.
During one of the many dull prep missions, I had to contend with a guy in a helicopter hovering and dropping bombs the size of a motorbike on my head while his two mates fired an unstoppable barrage of missiles at me in between deaths. It was a hilarious testament to the human condition - and a bit like being bullied by NATO. Let's just say I left a lot of sessions and was very glad to escape to the tropics when the finale arrived.
Arbitrary submarine in tow, you actually head to the island in a private jet, getting quote "twatted off your chops'' with my favourite GTA Online character, Dave the Rave. Cayo Perico's 30 minutes of cutscenes do a lot of the heavy lifting in this expansion. Led by impressionable characters such as Soviet shipmate Pavel, they really made me long for the next modern Rockstar game. The writing is typically caustic but often incisive, lampooning our current cultural moment in the fleeting narrative that these irregular updates allow. The nature of the files you're sent to steal is kept from the player until the very end to support a long-winded joke, and trust me when I say the pay-off almost makes up for the rigmarole of playing this troubled expansion.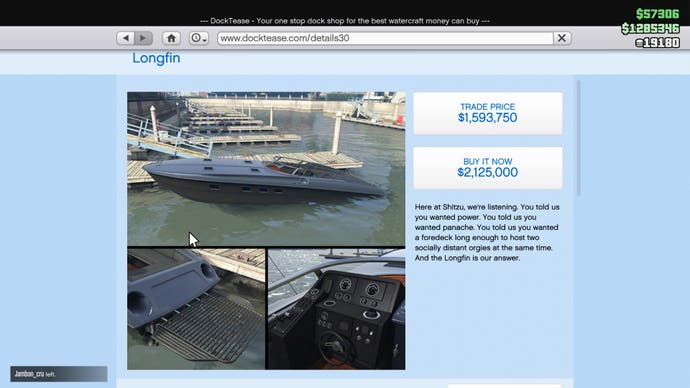 To trick El Rubio into letting you visit Cayo Perico, you disguise yourself as the tour manager of the real-world Berlin DJ collective Keinemusic, who are playing a set on the beach. To get into the spirit of things, I got a mullet and shaved a tram into my eyebrow like I was off to my Year Six disco. But Kwenchy Kups and VO5 is not the vibe on Cayo Perico, nor the whole update's impressive musical focus, for that matter. Rockstar has once again added some serious names and songs to the game. There are three new radio stations and several exclusive tunes, including an unbelievably good (still unreleased) track from Burna Boy which you can hear in the update's trailer.
UK Drill gets a look-in via Joy Orbison's Still Slipping Los Santos, and Strokes frontman Julian Casablancas heralds his own station Kult FM. This one is stacked with songs from New Order, Ariel Pink and even The The's 'This Is The Day', which is introduced by Mr. Show's David Cross before Mac DeMarco interjects with in-universe spiritual skits about a cosmic commute.
The new takes on old stations stick out the most though, with huge tunes from Tierra Whack and Zack Fox's 'The Bean Kicked In' making the cut in an updated mix of FLYLO FM. Show me a game with a better range and quality in its licensed music than GTA Online. Don't try, because you can't.
Yet the high heights of the musical refresh can't save this update from its lukewarm monotony. Beyond the finale, the precursor prep and the on-island gameplay don't match with the promise of this new location.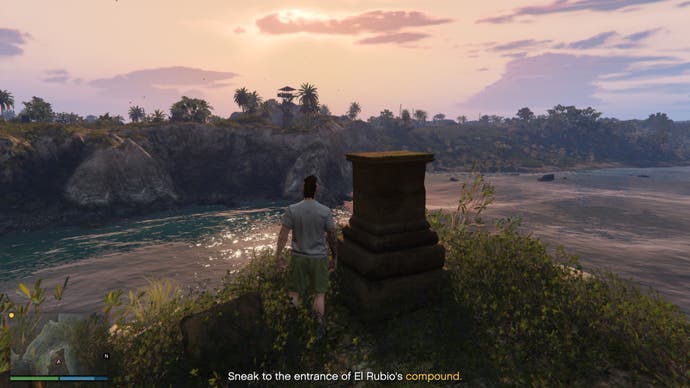 The forced stealth scoping mission has you running around the lush, detailed landscape of Cayo Perico taking pictures. But you're on-foot without weapons, and always under the cosh. It's difficult to enjoy the environment Rockstar has created with so many vision-coned guards breathing down your neck. It's like Metal Gear Solid 5's Afghanistan without any of the mechanical nuances.
You could spend hours looking for cutting powder to poison the guard's water supply, or grappling hooks to scale El Rubio's inner sanctum, but in the end, your mission is likely to devolve into chaos regardless, so it feels somewhat fruitless, beyond the extra fiscal benefits. Breaking out of your on-site habits feels like a lot of effort for little reward, especially if you're keen to make your money back as fast as possible.
One of the few genuinely game-changing aspects of The Cayo Perico Heist is that for the first time ever you can complete it solo, which is great news for the many lone wolves in the GTA Online community. I really appreciate this, but as I found out on my first visit, you can only fit two stacks of optional loot into your duffel, so my hours of scoping out secondary targets felt pointless. I understand why group play is still being incentivised, but if solo completion is being offered, there should be a way to put the work in (with reflective difficulty) and be rewarded for your efforts. Payday 2 executes this really well, by letting you stash or zipline bags during a solo infiltration. The co-operative play remains fun, but the option is there if you want to do it all on your own without compromise.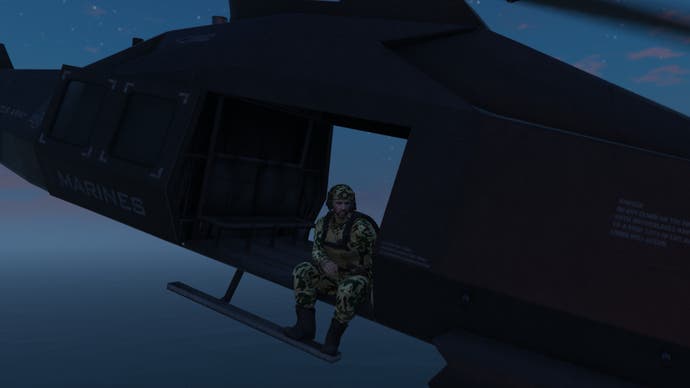 In my best run of Cayo Perico, I found a drainage tunnel and sourced a cutting tool from Los Santos to get inside undetected, then made my way through the entire mission with my silenced pistol. I felt rewarded for my efforts - I didn't regret what it took to pull off, but once I got back to Los Santos I felt no need to rush back to this so-called paradise. Once you've beaten the system, there's no fun in being one wrong step away from being caught and thrown off what is an otherwise interesting new location.
It's a real shame because there are even some neat Easter eggs to uncover on Cayo Perico that would have been perfect for free roam shenanigans. El Rubio has portraits of his ancestors in his compound - who happen to be real characters in Red Dead Redemption 2. There's plenty to dive for in the water around the island also, such as an alien egg and even The Loch Ness Monster for the eagle-eyed. I had envisioned group dives with my pals, treasure hunts or even simple bike races with strangers through the jungle, but none of that is officially possible without the use of a glitch that will most likely be patched out soon.
It really baffles me, because Rockstar doesn't stand to lose anything from letting players explore this place once they've finished the missions. It's just another arbitrary blockade in a game that is full of them. High production values aside, I was hopeful that leaving the mainland meant more meaningful and replayable gameplay experiences in GTA Online, especially ahead of its next-gen release. I think what I'm trying to say is that we need another alien civil war...