Gruesome be-the-monster "reverse horror" game Carrion is coming to Xbox One
Alongside PC version next year.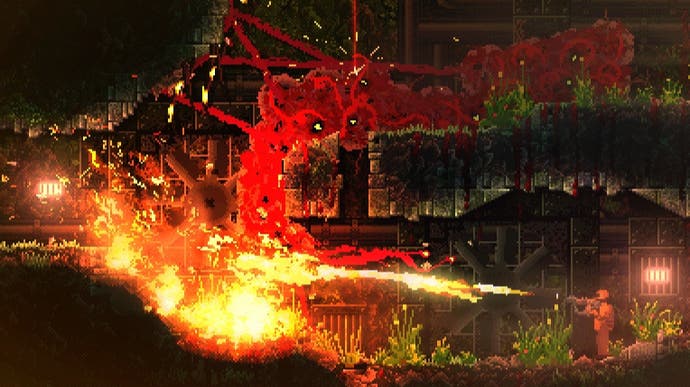 Phobia Game Studio's "reverse horror" game Carrion - in which players are the oozing tentacle monster, and humans are their tiny squishy prey - will be heading to Xbox One alongside the previously announced PC version when it launches next year.
Carrion, the follow-up to Phobia's gruesome side-scrolling action game Butcher, casts players as an "amorphous creature of unknown origin", then sets them loose through the shadowy, claustrophobic corridors of a labyrinthine industrial complex.
"Stalk and consume those that imprisoned you to spread fear and panic throughout the facility," explains Phobia, "Grow and evolve as you tear down this prison and acquire more and more devastating abilities on the path to retribution."
Dicebreaker's Johnny Chiodini found the ensuing tentacle-flailing shower of blood and limbs both delightful and disgusting when he grappled with Carrion at this year's E3.
"The influence of John Carpenter's [The Thing] is abundant," he wrote, "from the genuinely unsettling creature movement and buckets of gore to the frankly excellent sound design...The noises you hear as you slither, dismember and gorge your way about the place are genuinely disgusting, provoking a strange thrill that's part elation and part revulsion at your own actions."
There's no release date for Carrion just yet, but publisher Devolver Digital says to expect it on PC and Xbox One some time in 2020.