Yakuza Kiwami 2 and Grounded lead a busy few weeks for Xbox and PC Game Pass
Plus Carrion, The Touryst, Forager, and more.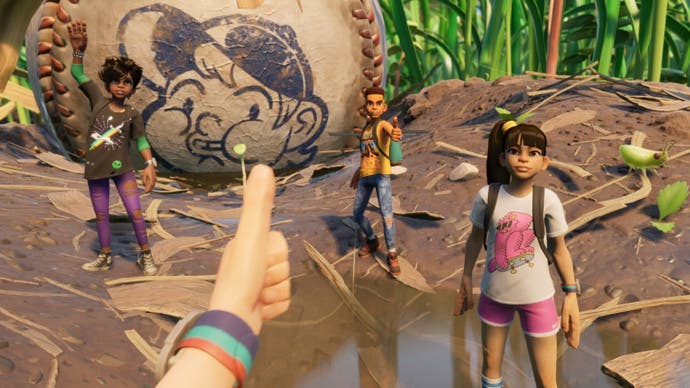 Xbox Game Pass subscribers on console and PC have a busy few weeks to look forward to in the second half of July, with Microsoft now having set arrival dates for the likes of Yakuza Kiwami 2, Grounded, Carrion, Forager, and more.
First out the gate is developer HopFrog's exceedingly compelling island expansion and exploration adventure, Forager, which is sort of what you might get if you combined Zelda, Stardew Valley, and a resource-hoovering idle game. It comes to Xbox One and PC Game Pass tomorrow, 16th July, and is accompanied by medieval battle RPG, Mount & Blade: Warband, (albeit for console only) on the same day.
There are two more Game Pass additions to contend with on 23rd July: PC and Xbox One gets promising reverse-horror game Carrion - which casts players as a marauding tentacular blob trying to escape an underground prison bunker by way of extreme violence - while daft multiplayer mini-golf lark Golf With Friends arrives on PC.
Obsidian's bug-high survival game Grounded enters Game Preview early access for PC and Xbox One on 28th July, and the month comes to a strong close with three more Xbox One and PC Game Pass additions on 30th July. There's Yakuza Kiwami 2 (the celebrated remake of 2006's Yakuza 2), acclaimed post-apocalyptic single-player card game Nowhere Prophet, and, finally, Shin'en Multimedia's delightfully odd island-hopping vacation adventure The Touryst.
And to summarise all that in handy at-a-glance list form:
16th July
Forager (Xbox One and PC)
Mount & Blade: Warband (Xbox One)
23rd July
Carrion (Xbox One and PC)
Golf With Friends (PC)
28th July
Grounded (Xbox One and PC)
30th July
Yakuza Kiwami 2 (Xbox One and PC)
Nowhere Prophet (Xbox One and PC)
The Touryst (Xbox One and PC)