Devolver's bootlegging its own games and making a $5k arcade light gun machine
The zaniest E3 conference returns in full force.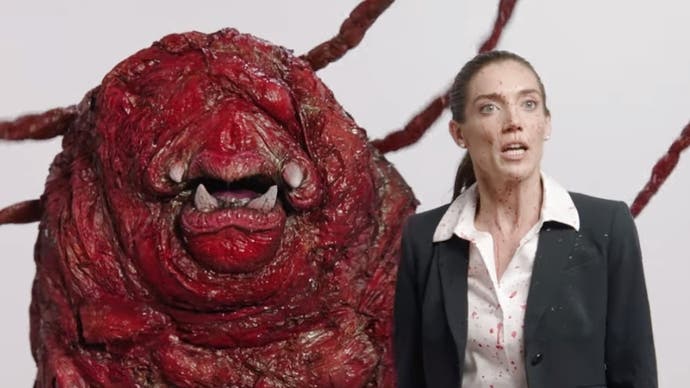 The annual Devolver E3 conference-slash-shortfilm aired late last night and was wonderfully anarchic and grotesque, as always. This time it rounded on Nintendo Direct broadcasts as we ventured inside the maniacal mind of barely-saved-from-the-dead character Nina Struthers (brought to charismatic life by actor Mahria Zook).
But amid the brutal satire were announcements too, and some outlandishly trendy ones - very on-brand for Devolver - at that. An actual, $5000, Enter the Gungeon: House of the Gundead light gun arcade machine, for instance, shipping early 2020; and Devolver Bootleg, an 8-in-1 collection of self-rip-off games on Steam right now for £4. Among the rip-offs, Hotline: Milwaukee, Enter the Gun Dungeon, and more.
There were more traditional game announcements as well. Two things caught my eye. The first was a very colourful and entertaining-looking 100-person online multiplayer romp called Fall Guys: Ultimate Knockout. It's a bit like Takeshi's Castle or Total Wipeout, whereby 100 people go through round after round of obstacle challenges in the hope of being the last one standing - the winner.
It's made by Mediatonic and comes to PC and PlayStation 4 in 2020.
The other eye-catcher was Carrion, which I actually played a year ago at a Polish conference called Digital Dragons and it stuck in my head ever since. In Carrion, you're the monster in a pixely, side-scrolling action platformer. The real joy, though, is the way the beast moves - the unctuous way it oozes and clings with tentacles through ventilation shafts and down onto helpless prey, ripping them apart.
Carrion comes to PC and console in 2020.
Devolver also announced a free expansion for retro ninja game The Messenger, called Picnic Panic and arriving 11th July, and reiterated the 20th June release date for balletic gun platformer My Friend Pedro - the one with the banana.