Grand Theft Auto: San Andreas rated for PlayStation 3 release
Follows digital release of GTA3, earlier Vice City listing.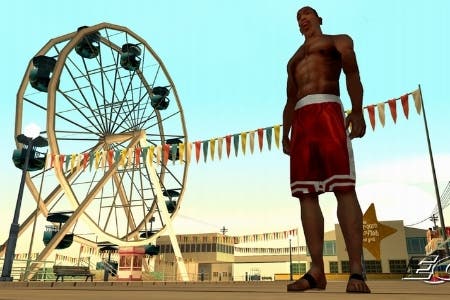 Grand Theft Auto: San Andreas is being readied for release on PlayStation 3, a new ESRB listing suggests.
It follows similar PS3 listings for Grand Theft Auto 3 and Vice City earlier this year. GTA3 was then released as a no-frills port via PlayStation Network in September.
All of that means a digital re-release of San Andreas is likely on the cards. It would also help drum up hype for the San Andreas-set Grand Theft Auto 5, supposedly due next spring.
Developer Rockstar has yet to make any announcement on the matter.
The new GTA: San Andreas ESRB listing (spotted by Gematsu) notes the game contains "blood and gore, intense violence, strong language, strong sexual content, [and] use of drugs".
It follows Rockstar's official reveal of the Grand Theft Auto: Vice City 10th Anniversary Edition, due this autumn for iOS and Android. Grand Theft Auto 3 was similarly released for mobile devices in December last year to a mixed response.