Grand Theft Auto 5 release date spring 2013, publisher confirms
UPDATE: PlayStation 3 and Xbox 360 named as launch platforms.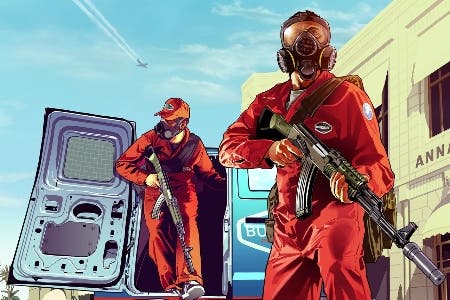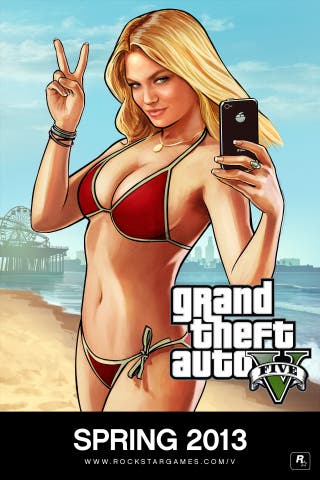 UPDATE #2: Grand Theft Auto 5 will launch during spring 2013 for PlayStation 3 and Xbox 360, publisher Take-Two has confirmed.
The news backs up multiple leaks from retail sources, below.
There's yet another piece of fresh artwork, too.
"Grand Theft Auto 5 is the largest and most ambitious title in the series to date," a statement on Take-Two's investor site noted.
"Set in the sprawling city of Los Santos and the surrounding area, Grand Theft Auto 5 delivers a world of unprecedented scale and detail bursting with life, from mountaintops to the depths of the ocean."
Submarine level confirmed?
UPDATE #1: The Brighton branch of GAME has also published a similar picture of Grand Theft Auto 5 artwork on Twitter, again showing a spring 2013 release date.
The promotional material shows off a new set of artwork for the game, including a female cop arresting a blonde woman, and a gun-toting man on a quad bike. ORIGINAL STORY: Grand Theft Auto 5 will launch during the spring of next year, leaked promotional artwork suggests.
PlayStation 3 and Xbox 360 logos are clearly visible in the store adverts - but there's no mention of other platforms such as PC or Wii U.
The artwork (posted online by GTA-Five.pl via NeoGAF) gives the first indication of when Rockstar's upcoming epic will launch.
It includes a recently-released piece of artwork showing a gun-toting duo dressed as pest exterminators (a nod to the game's first trailer), as well as an unseen illustration of a thug with a baseball bat and an angry-looking dog on a chain.
Grand Theft Auto 5 is, somewhat unsurprisingly, rated with a PEGI 18 stamp.
The posters suggest the game will soon be available to pre-order.
Rockstar has stated it will reveal more about the game in the coming weeks. Progress on the open-world adventure has been kept largely under-wraps since its reveal late last year.