Google Street View turned into an FPS
Ad firm lets you turn an assault rifle on your hometown.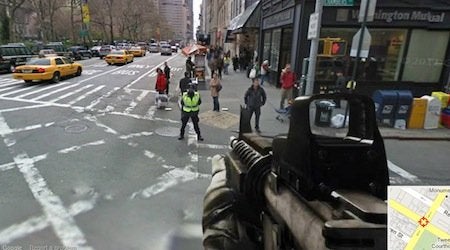 Google Street View has been transformed into a distinctly ghoulish first person shooter by a Dutch ad firm.
As reported by VentureBeat, Google Shoot View, the brainchild of Pool Worldwide, lets you roam the streets of your hometown blasting away at passers-by with an M4A1 assault rifle.
Pool hasn't figured out a way to make people actually keel over on-screen when shot at, but it's the thought that counts, right?
Pool's website currently seems to be out of action, so you'll have to make do with the Battlefield 3-aping trailer below for the time being.