Get Slay the Spire and Squad for £10/$12 in the September Humble Monthly bundle
Steep savings.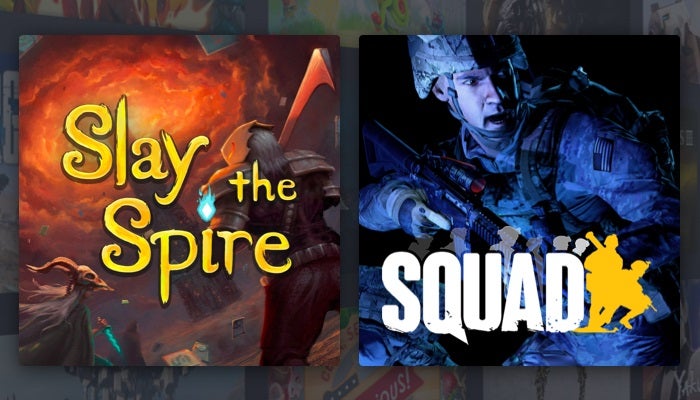 Terrific card-based roguelike Slay the Spire and tactical FPS Squad have been revealed as the two headline games in the September Humble Monthly bundle.
You can pay £10/$12 to get access to both Slay the Spire and Squad immediately, while the remaining games in next month's bundle will stay as a secret until they unlock on 6th September.
As someone who has lost countless hours in repeated attempts to scale the towering edifice of Mega Crit's expertly-crafted deck builder, I cannot recommend Slay the Spire enough. I'm still waiting for the day I master The Defect.
Anyway, it's currently 50 per cent off on Steam too, but you'd usually be expected to pay around £20. Plus, in the Humble Monthy bundle, you'll get another half dozen or so games included as well.
One of those that we already know about is Squad. Aiming to sit in that sweet spot between arcade shooter and military sim, it offers large scale multiplayer battles with an emphasis on combat realism, co-ordination and communication. Incredibly, it's currently over £30 on Steam so there's a huge saving to be had if the early access title is on your radar.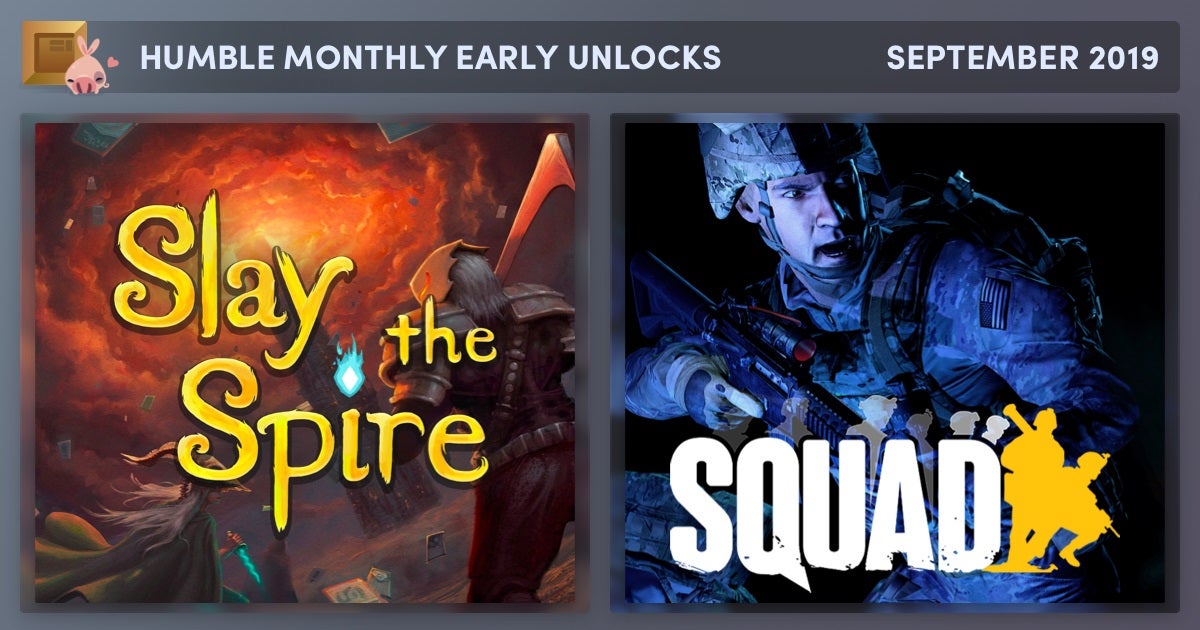 Meanwhile, the announcement of a new bundle means the full list of games from the August bundle are now live too. Joining Kingdom Come: Deliverance and Surviving Mars this month are Rising Storm 2: Vietnam + DLC, Yoku's Island Express, The Adventure Pals, Almost There: The Platformer, Swords and Soldiers 2 Shawarmageddon, and a new Humble Original, Don't Give Up. A nice haul there, especially with delightful pinball platformer Yoku's Island Express thrown in the mix.
Remember, Humble Monthly is a subscription service but you can cancel at any time while keeping all of the games you've acquired from previous bundles. So, you can sign up for the September Humble Monthly bundle for £10/$12 if you just want to get Slay the Spire or Squad and then simply cancel immediately. Commit to a yearly subscription, though, and you'll get one month free!
As a Humble Monthly subscriber, you'll get a host of other benefits including up to 20% off at the Humble Store and access to a large selection of continually updated games in the Humble Trove.
It's a pretty sweet deal. If you're after any more offers, do give us a visit at Jelly Deals where we've gathered up all the cheapest PS Plus deals, the best power banks to buy in 2019 and put together a massive Nintendo Switch Lite pre-order guide.