GAME has a gold Xbox One X for £259
Sale also live on Xbox store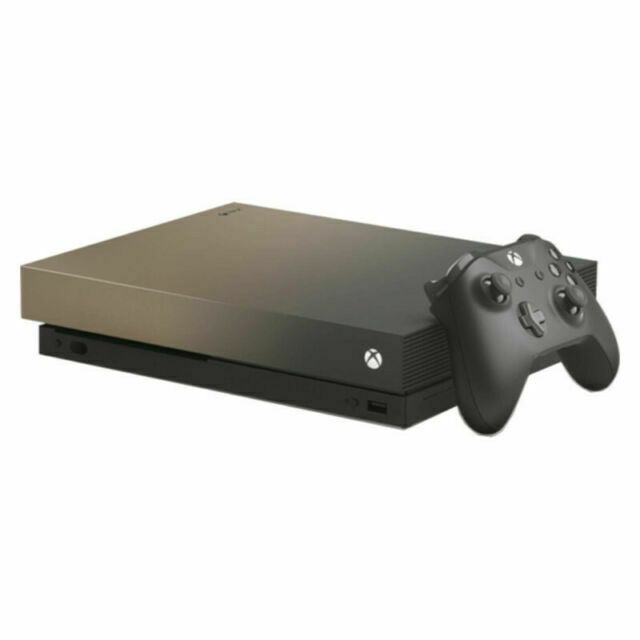 Xbox Series X is still set to launch this holiday but if you're after the most powerful console right now, the Xbox One X is going for £259.
The edition on sale is the Gold Rush Edition, which sports a unique dark grey and gold design, which doesn't look bad at all.
It's worth noting that this is just for the console, which is a shame as this appears to be the new low price point for the console as a bundle. Those bundles have however run out of stock, including at GAME, which had been taking pre-orders for the Cyberpunk 2077 edition for the same price. Nonetheless, you're still off to a good start considering it comes with a 1-month subscription Xbox Game Pass and a 14-day trial of Xbox Live Gold, which is all you need to take advantage of games like Red Dead Redemption 2, Streets of Rage 4 and plenty others on the service, while No Man's Sky also gets added this month.
Better still, the Xbox Deals Unlocked Sale has also started, which runs until 15th June. Big discounts of up to 60% include even the latest big releases such as the following:
DOOM Eternal for £35.74
Resident Evil 3 for £33.49
Call of Duty: Modern Warfare 2 Campaign Remastered for £14.99
Ori and the Will of the Wisps for £19.99
If you're after bigger savings, there's plenty more games going for under a tenner worth snapping up too, some of which we have highlighted below:
A Way Out for £6.24
Burnout Paradise Remastered for £4.99
Inside for £5.27
Rare Replay for £9.99
Dragon Age: Inquisition GOTY Edition for £6.24
Tekken 7 for £9.99
Resident Evil 4 for £6.39
The Evil Within for £7.49
Sea of Solitude for £7.99
RAD for £7.99
Dishonored: Death of the Outsider for £9.99
---
After more Xbox offers? You can find many more over at Jelly Deals. We've got our picks for the best Xbox One external hard drive, a look at where you can find the best Xbox Game Pass Ultimate deal and everything you need to know if you're looking for Xbox Series X/S stock.
---