Forza Horizon 4 gets off to a slow start - but stick with it
Turning the corner.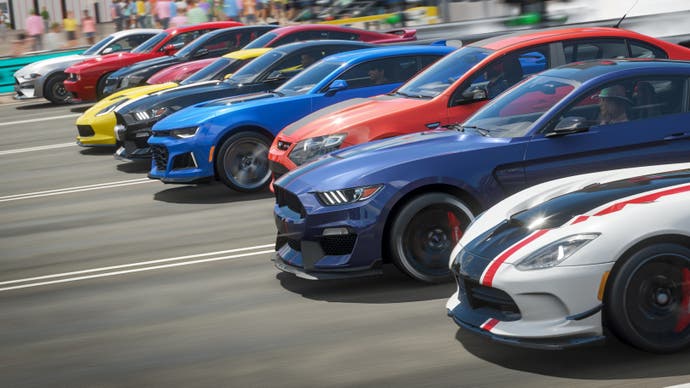 As Forza Horizon 4 is the most online-focused game in this series to date, we'll be publishing our full review next week to give us an opportunity to play the game on more populated servers (early access begins this Friday, 28th September) and to experience a live season change. These early impressions are based on several days' play with a review copy of the game.
If you're looking for a clue to how different Forza Horizon 4 is from its three superb predecessors, the note in italics just up there should give you a clue. Although they've all been highly connected games, we haven't gone so far as to delay the review of a previous Forza Horizon; a private multiplayer session and a working knowledge of popular Forza community features such as the auction house and the Rivals leaderboard system have sufficed. The games' heart has resided in racing solo around their gorgeous open worlds, revelling in the expansive festival career modes.
It's no longer that simple. Forza Horizon 4 is the most ambitious game yet from a developer, Playground Games, that has so far taken a very careful, iterative approach to a formula that was brilliantly realised at the first try and - arguably - perfected at the third, 2016's joyful Ozzie odyssey, Forza Horizon 3.
This one is a bit different - but for the first few hours playing it, you wouldn't know. You might even feel a bit deflated by what appears to be a rote, even lightweight, sequel. If you start to feel Forza Horizon fatigue kicking in, I'm here to tell you to stick with it.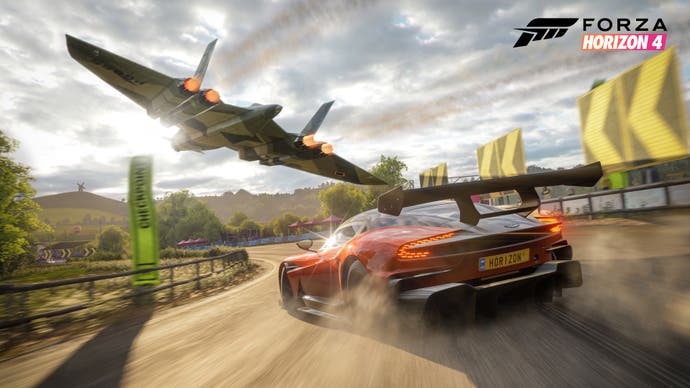 After visiting Colorado, the Mediterranean coast and Australia, Playground Games has brought the Horizon car festival home to Britain. The map, once again, is a gorgeous, heavily condensed motoring paradise of sweeping roads, coiled dirt tracks, rolling hills and stunning views wherever you look. Its quotes and influences run from Oxfordshire to the Scottish Highlands, but its heart definitely lies in the North; the mountainous landscape of the Lake District and the austere, dark-stoned beauty of the Scottish capital city Edinburgh are the dominant themes. (It's a fair bet that creative director Ralph Fulton would have set the whole thing in his native Scotland if he thought he could get away with it.)
I'm sure it's only because I'm a Brit that it doesn't bring quite the exotic thrill that Australia or Colorado did; it's certainly as pretty and welcoming a virtual holiday destination as you could wish for. And the map's atmospheric appeal is quadrupled in Forza Horizon 4 by the introduction of seasons. As you play the game, you'll cycle through spring, summer, autumn and winter, each dramatically changing the look of the landscape as well affecting driving conditions. In spring, wooded areas have a violet carpet of bluebells and there are sudden rain showers; autumn is wet and russet-brown, with a glowering light; winter is muddy and slippery, with many unsalted roads and a beautiful coating of snow. Playground's artists are masters of romantic lighting and epic sky boxes, and they have a native eye for how, in this part of the world, a passing cloud can suddenly seem to suck all the light out of the land. They've chosen not to replicate the dominant weather of this island - flat, airless, grey - but this series has always been about idealism, not realism.
Once you qualify for the Horizon festival proper and join its roster, seasons last a week, are synced up for all players, and bring with them suites of time-limited events and challenges (linked to the Forzathon live event system that was introduced in Forza Horizon 3). But Playground figured players would want to see all the seasons first without having to wait, so the game's prologue has you play through a full 'year' as a rookie driver. On paper this is a smart move, but it turns out to be a rare misstep from Playground, the most accomplished ringmasters of the driving genre.
That's because this rookie episode is lengthy - it takes around five hours to complete - and makes noticeable cutbacks on the full-fat Forza Horizon experience. Whilst progress seems swift and generous at first, the game doling out more new events and prize cars than you can find time for, it's actually holding a lot back. Online features, including the Team Adventure playlists and the default population of your map with online players (as opposed to the AI 'drivatars') are unlocked slowly and parsimoniously. The game feels loose and disorganised, too. There's no sign of Horizon 2's peripatetic road trips or Horizon 3's multiple festival hubs, so there's nothing guiding you around the map. And while the various threads of the gameplay are organised into disciplines with separate levelling paths (road, dirt and off-road racing, drifting, exploration, car collection, speed traps and so on), individual events don't seem to have been curated at all. You can use Lamborghinis in rallying or run a high-speed point-to-point in a Citroën 2CV if you like; the game will change the opposition to suit. It's commendably adaptable, I suppose, but you're often nagged by a worry that you're not experiencing the game as it was meant to be played, and there's a distinct lack of competitive edge. There aren't even any championships. It is still fun, but mildly disappointing - which, from what is perhaps the most consistently high-quality game series in any genre right now, comes as a shock.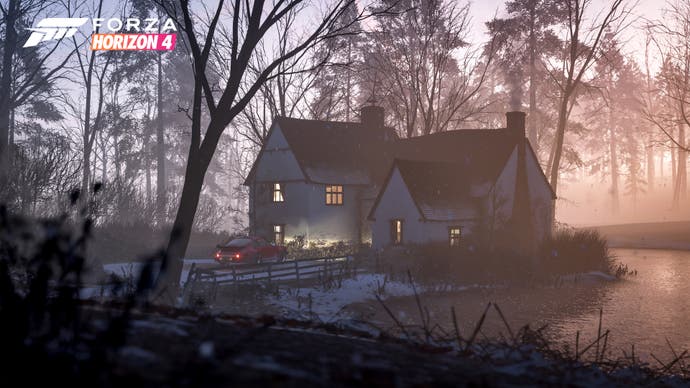 But this is not what Forza Horizon 4 really is, and Playground's big mistake is to wait so long before demonstrating that. Once you reach the festival roster, it's as if the game is suddenly switched on. Not only do you see up to 12 players racing around your map at all times - usefully but disconcertingly, they turn into ghosts when they get near, to limit collisions - but Forzathon Live events pop up every so often, rallying everyone to a blimp that then guides you all to a series of co-op challenges.
The season also turns out to mean much more than a change to the road surfaces and the scenery. In fact, it very quickly becomes apparent that the time-limited seasonal content is the real meat of Forza Horizon 4. This is where Playground starts to curate its wonderfully eclectic and well-informed car list and to sharpen the challenge. Seasonal championships appear, consisting of three to five races, with judiciously selected route lists, vehicle types and performance classes - and they offer special rewards for increasing the difficulty of the AI drivers. In the present autumn season, there are championships for classic rally cars, SUVs, super saloons and an epic, five-race 'trial' for Rally Monsters at the penultimate S1 performance class. The latter is a co-op online championship in which you team up with other players to beat a field of AI drivers at the 'highly skilled' level, and it's the most challenging thing I've found in the game yet. There's also a series of races featuring the 'James Bond Edition' Aston Martin DB5 - complete with hub-spikes, bullet shield and ejector seat - from the first DLC pack. (I don't know if this is open to those who don't own the DLC, as it was gifted with my copy of the game.)
I've loved these seasonal championships, and I appreciate how they also flow into the Forzathon timed challenges, which now reward a special currency which can be exchanged for rare cars and other trinkets (like horn sounds, clothes for your driver, or lucky-dip wheelspins) - once again, all tied into the current season. If Playground can keep up this level of quality, I am hopeful that the game will feel excitingly renewed with every week's season change. It even has the potential to change how I play Forza Horizon: I can see myself dipping in weekly to hoover up the seasonal championships, as opposed to spending a couple of months grinding 70 per cent of the way through a seemingly never-ending solo career before it finally overwhelms me.
There may yet be issues to be ironed out - I will report back in my review next week - but Forza Horizon 4 is a promising and refreshing new game plan for a hugely entertaining series, and it comes along just at the point that series might have tipped over into (not unjustified) complacency. If only Playground had shown us that from the start.