Football Manager player sims English Premier League for a thousand years
In 3015, Sheffield United are the best team ever.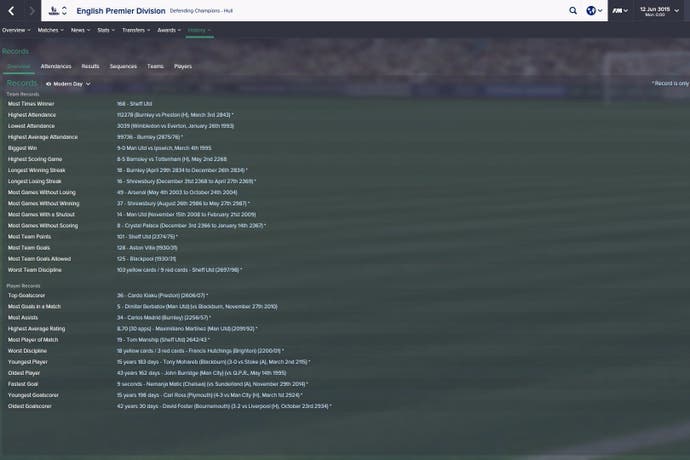 Reckon Chelsea, Man Utd, Man City and Arsenal will compete for the top four places in the English Premier League forever? Not according to Football Manager.
Someone has run a simulation of the English Premier League for 1000 years through Football Manager 2015 - and the results make for interesting reading.
On 4th March this year "Lorf_Yimzo" set Football Manager 2015 powering through 1000 years of English football. It took 58 days of real world time to get to 3015 in the game.
Now, armed with the results of a thousand year's worth of Premier Leagues, FA Cups, League Cups and European tournaments, Lorf_Yimzo took to the Football Manager subreddit to offer us a glimpse into the future.
First, the working out: Lorf_Yimzo used a points system to determine which club was the best all time:
PL 1st Place - 5
PL 2nd Place - 3
PL 3rd Place - 1
FA Cup Win - 5
FA Cup Runner-Up - 2
League Cup Win - 4
League Cup Runner-Up - 1
Champions League Win - 6
Champions League Runner-Up - 3
Europa League Win - 4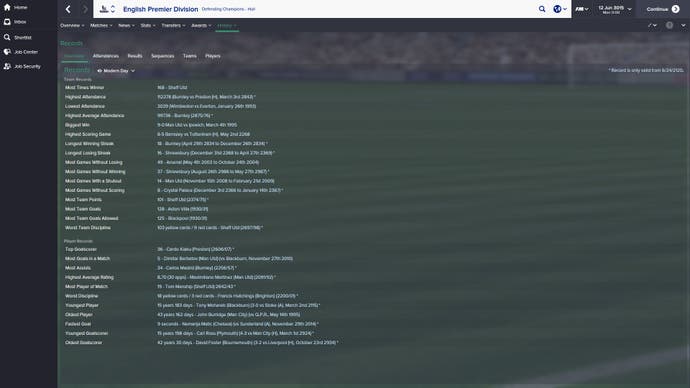 Tallying the results, the most successful club ever is Sheffield United, closely followed by Burnley. Sheffield United, it turns out, win 168 Premier League titles.
Southend and Arsenal end up being enormously successful, too. (There's a joke in there somewhere about Arsenal still being fourth even after 1000 years of trying.) The mighty Barnsley end up being the fifth most successful English team ever, with Rotherham in sixth. Chelsea FC, by far the greatest team the world has ever seen, are in fact nowhere to be seen. Sigh.
There are some wonderful statistics to be had in 3015. Here are a few:
The highest English attendance ever is 112,278, for Burnley's home match against Preston on 3rd March 2843. The Harry Potts Arena, Burnley's future home, has a capacity greater than the population of the actual town. Bet Danny Ings regrets moving to Liverpool already!
The Premier League's oldest goalscorer ever turns out to be Bournemouth's David Foster, who at the age of 42 years and 30 days scored in a 3-2 win versus Liverpool in 2934. Take that, Teddy Sheringham.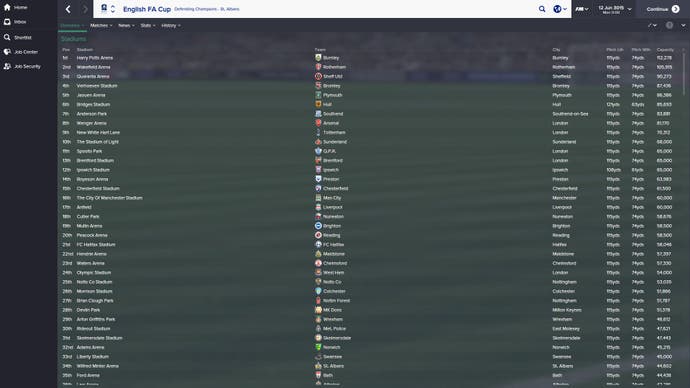 The highest ever transfer fee is an eye-watering $127m for Jeremy Lannoy, who in 2044 went from Bordeaux to... Coventry. Oddly, that record transfer fee stands for nearly 1000 years. Money, eh? No-one really understands it.
Some ancient statistics stand the test of time, however, such as Man Utd's 9-0 win over Ipswich 1995 (biggest win), and Arsenal's Invincibles of 2004 (most games without losing).
Lorf_Yimzo documents the simulation in century chunks.
Here's how it begins:
And here's how it ends:
There you go, Hull. Everything comes to those who wait.
Now, let's put a few bets on, shall we?