Football Manager 2008
Pre-season training.
It's that time of year again, the time when all your dreams for the new footy season are still fresh, the time when you still have an unshakable belief that this will be your team's year. It's that magical time of self-delusion before your head sinks slowly into your clammy palms as your team pathetically capitulates to a collection of part time construction workers and decorators for the fourth week running and sets itself up for another soul-destroying season. If only you'd been the manager things would be different, right? Well, in a few weeks you'll be able to find out when Football Manager 2008 hits the back of the shelves.
Having spent several weeks with the latest code, it appears that FM2008 is on track to be another winner for developer Sports Interactive, with over a hundred new features on show, many of which are small but essential tweaks that won't necessarily instantly leap out at you.
Playing FM08 proved tantamount to driving a high performance sports car - not the crappy soft tops of the upper middle classes but the really expensive ones with gold plated seats - with its myriad fine-tuned adjustments making it purr even more smoothly than last year's version. However, while the countless new additions do appear to further extend both the depth and accessibility of the game, FM2008 often felt more like a confident stride forward than a leap, evolution rather than revolution.
Of course we're quibbling now, as the game is looking in excellent shape and features enough improvements to get even the most hardened cynic moistening at the pits in anticipation. The first thing that struck us was just how much the game's appearance has changed. A streamlined shortcut icon menu makes navigating simplicity itself, while a slick veneer has been applied to the game's overall look, making it far more appealing to the eye than ever before. The game also proved easier to navigate and generally more helpful and informative, such as the in-depth coach report, which instantly highlighted our team's strengths and showed us where we needed to improve.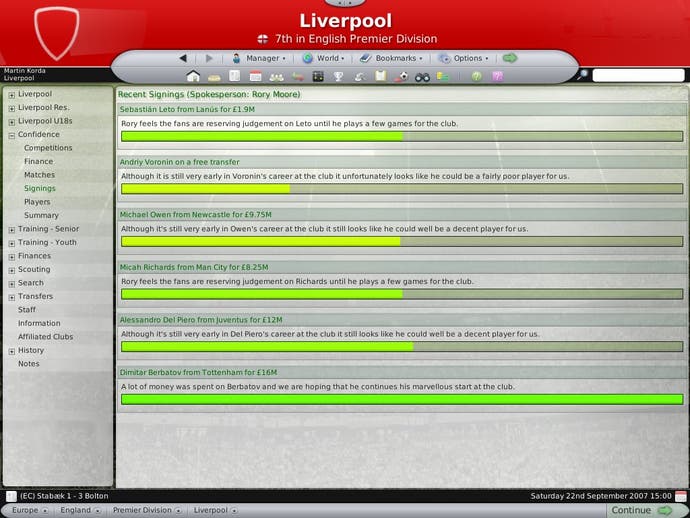 The transfer market appears to have been kept as uncompromisingly realistic as ever, though keeping track of targets and transfer dealings has been made infinitely easier thanks to the new Transfer Centre feature, which not only displayed the status of our current negotiations, but also kept a record of all our past bids. This enabled us to quickly see if a team was unlikely to sell a player and move on to a new target before the transfer window slammed shut.
Controlling our funds also proved far more flexible than before as we were able to move our wage budget to our transfer kitty in order to amass enough cash to secure our number one target. We also found ourselves in charge of setting win bonuses and were constantly updated about the status of season ticket sales and their impact on our coffers.
Board and supporter confidence have both received a makeover, with a new screen displaying their opinions of you, your team and your playing style. You can see the consensus on how you're doing in each competition, your handling of the club's finances, the fans' reaction to every result and the signings you've made. Confidence levels are displayed as an easy to understand colour-coded bar. The more you fill up the bar, the happier the fans and board members are. When our fans or board became disgruntled, this screen enabled us to quickly and easily identify the root of their disquiet and take steps to rectify our team's or management style's shortcomings, rather than incessantly wondering where we were going wrong.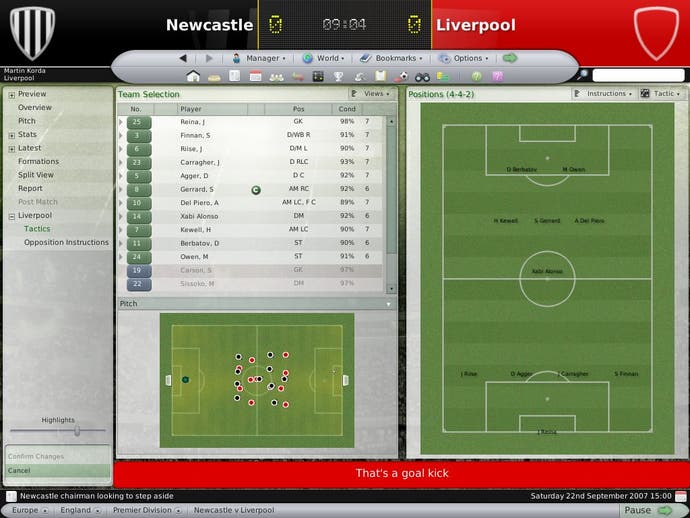 Onto the match engine, then. True to form, it has again been revamped, though Sega's claims that FM2008 sees the biggest changes to match-days since the introduction of the 2D match engine could prove a little misleading. While hardly propelling matches to the next dimension, the changes and additions do appear to have added a greater level of immersion.
From the probing press questions regarding the opposition and in-depth opponent overviews (revealing our next opposition's playing style, key players and weaknesses) to the thrill of watching our tactics take shape during the superbly realistic matches, games proved more involved than ever before. We also found that we could issue new instructions and make substitutions without pausing the match thanks to a new and winning mini-pitch view situated on the tactics screen, which has clearly been added after its successful debut in Football Manager Live.
Sadly, team talks still felt somewhat throwaway and unclear, but a new opposition player instruction menu was a welcome addition - allowing us to issue specific orders to our team regarding each opposition player - while the ability to change the dimensions of our pitch proved another fun new feature.
International management has also received a much-needed revamp. Never quite as involving as we would have liked in previous years, managing our favourite nation felt much more enjoyable thanks to a greater emphasis on media interaction, the addition of players retiring prematurely from international football, refined scouting options and player morale specific to international games.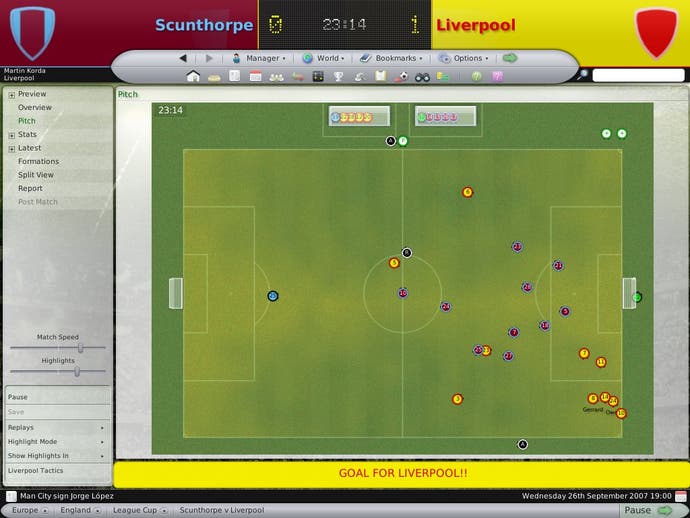 With a month or so remaining before FM2008's release, the game is looking in fine form. The new features seem to have given it even greater strength in depth than before, while the fleshing out of international management is highly welcome and long overdue. Some bugs and glitches still need ironing out - such as a few transfer market anomalies and contradictions, as well as some overly harsh post match analysis discrepancies that have you coming under attack even when your team has trounced its fiercest rival. But, these aside, there's little to suggest that FM2008 won't further raise the bar and, unlike the underachievers that so many of us unquestioningly support in the real world, emerge victorious over its rivals.