First Kingdoms of Amalur story DLC announced
The Legend of Dead Kel due out 20th March.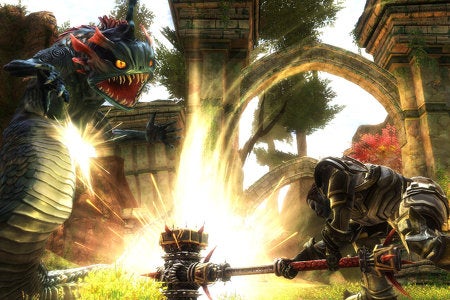 The first major story expansion for action RPG Kingdoms of Amalur: Reckoning arrives on 20th March, publisher EA has announced.
Titled The Legend of Dead Kel, it weaves "a mysterious tale of intrigue, danger and dark magic on the island of Gallows End", according to the the announcement.
Expect new sidequests, enemies and a new dungeon type called Dverga Fastings. The DLC also offers three new Twists of Fate, eight additional armour sets, eight extra shields and 18 new weapons.
You'll also gain access to Gravehal Keep - a huge estate "with multiple buildings and a full retinue of retainers, each with their own back stories, side quests, perks and quirks."
EA claims that the DLC increases the total amount of traversable land in the game by 15 per cent.
A price tag has not yet been announced.
The debut offering from developer 38 Studios launched on PC, PlayStation 3 and Xbox 360 earlier this month to measured acclaim.
"It's an unglamorous kind of success story, admittedly. And perhaps it's worrying for 38 Studios that the bland fantasy world it's hanging its future on is the least enticing aspect of its debut game," read Eurogamer's 8/10 Kingdoms of Amalur review.
"But it's not all elbow grease - Kingdoms of Amalur adds a splash of colour and a lick of polish to the open-world RPG, and they couldn't be more welcome."