A THQ Nordic Kingdoms of Amalur remaster would require the go-ahead from EA
"We know what the burning questions are."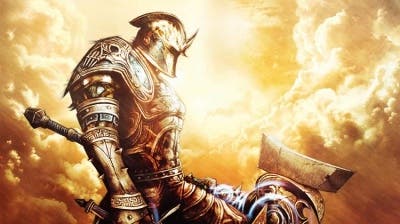 Dormant-brand vacuum THQ Nordic sucked up another surprising IP last week: Kingdoms of Amalur, the accomplished but bland fantasy role-playing game from 2012.
THQ Nordic didn't say what it was going to do with the IP but did mention wanting to get in touch with EA, the original publisher of Kingdoms of Amalur: Reckoning. And now I know why.
"EA still has the publishing rights to Reckoning," THQ Nordic told me in an email. I expect it means any potential remasters or re-releases will depend on getting EA's go-ahead first. "About any other details about the relationship between EA and 38 Studios we can't comment."
THQ Nordic added: "At this stage we 'only' acquired the intellectual property. Given our track record, we know what the burning questions (remaster, remake, port to current-gen systems etc.) are, but we decided do not answer those specifically as we tend to put our heads together first and then do our homework, and only start to talk about anything once we feel confident and very familiar with the franchise."
THQ Nordic bought the Amalur rights from 38 Studios, the company belonging to former baseball pro Curt Schilling, and the company which collapsed after defaulting on loans provided by Rhode Island State. 38 Studios mostly paid for the game, you see - EA Partners, the label the game was released on, was a more of a stood-back publishing operation.
38 Studios' collapse meant pre-production on Kingdoms of Amalur 2 had to be scrapped, as did - more importantly - the considerable work done on Project Copernicus, the Kingdoms of Amalur MMO. Should THQ Nordic wish to resurrect either project, presumably the way will be clear - I can't imagine there being any publishing attachment to EA - but doing so will be expensive and take time.
Whether THQ Nordic intends to bring back Amalur in a big new way, rather than as a remaster, we'll have to wait and see, but the company's ambitions appear to rise with every passing month. Earlier this year, THQ Nordic splashed €121 million acquiring Koch Media/Deep Silver - a deal which included Saints Row developer Volition and the IP; Metro Exodus; the next triple-A game from Dambuster, the Homefront studio; and Dead Island 2, apparently, is alive. In other words, THQ Nordic seems intent on making more than current-gen remasters like Darksiders 2: The Deathfinitive Edition.