First Dragon Quest Heroes gameplay shows Dynasty Warriors influence
And a dragon. And slimes.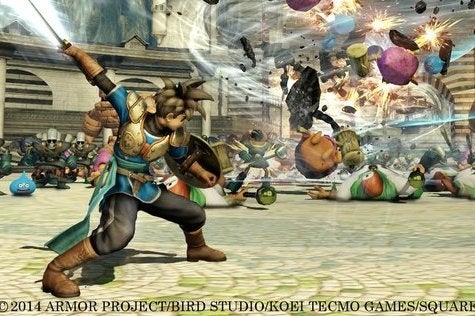 At Tokyo Game Show today Square Enix gave attendees the first look at Dragon Quest Heroes gameplay.
Dragon Quest Heroes sees the series return to PlayStation after nearly a decade away. It's being developed by Omega Force for PlayStation 3 and PlayStation 4 and is due out in Japan next year.
Omega Force is the developer behind Dynasty Warriors, and you can see the influence of the large scale Musou series in the gameplay video, below. It looks like Omega Force is doing to Dragon Quest what it did with Hyrule Warriors for Wii U.
The last Dragon Quest game on Sony hardware was 2004's Dragon Quest 8. Since when the Yuji Horii's series has taken to Nintendo hardware with the DS's Dragon Quest 9 and the Wii's MMO Dragon Quest 10, which sadly never made it outside of Japan.
According to a report by Siliconera, we see Dragon Quest hero Acht take on multiple enemies as well as a large dragon boss, which has weak spots on its tail and face. After the dragon there are golems, dracky and Dragon Quest's famous slimes to content with.
There's no word on a western release yet.