Firewatch now has a Free-Roam Mode
UPDATE: PS4 Pro support detailed.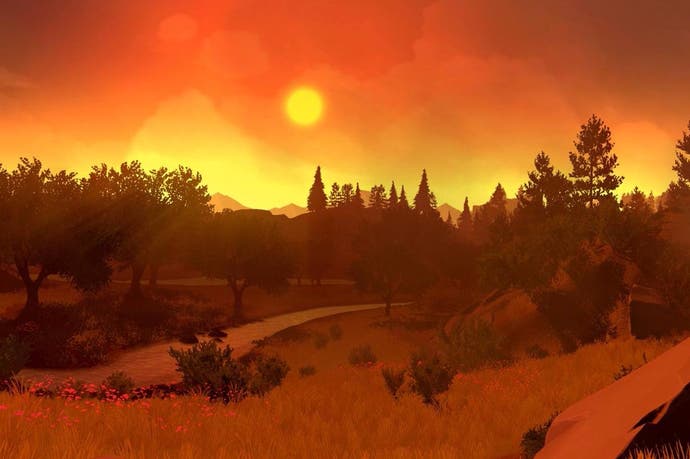 UPDATE 09/11/2016 11.50pm: Firewatch developer Campo Santo has updated the game to include support for the PS4 Pro.
As detailed on the studio's blog, the developer offered the following enhancements based on what type of PS4 and TV you have:
Standard PS4 Customers: no change
PS Pro Customers with a 1080p Display: enhanced detail distance, smoother loads, and much higher quality shadows
PS Pro Customers with a 4K Display: the world is now rendered at WQHD (2560x1440p) and the UI renders at 4KUHD (3840x2160) and you will have enhanced level of detail of a standard PS4
ORIGINAL STORY 09/11/2016 8.20pm: Beautiful narrative adventure Firewatch now has a Free-Roam Mode, allowing players to explore its colourful Wyoming vistas to their leisure.
The new mode, available now via patch on PS4 and Xbox One and arriving today on Steam, allows players to explore the game's wilderness setting to their heart's content with no objectives.
Better yet, there's a 24-hour day/night cycle. Comparatively, going through the main adventure uses time of day and climate conditions to set a mood for whichever act is currently playing out. But in Free-Roam Mode, the vistas dynamically change as you hunt for the perfect screenshot (which can actually be printed and sent to you, should you take them with the in-game disposable camera).
Free-Roam Mode can be accessed under the "special features" section of the game's main menu.