Fire Emblem Warriors' second chunk of character DLC arrives next week
Introducing Navarre, Minerva, and Linde.
Nintendo has revealed that its second DLC drop for the excellent Fire Emblem Warriors on Switch and 3DS will occur on February 15th (and a day earlier in the US).
This second expansion, known as The Shadow Dragon DLC pack, follows on from December's Fates update. Each of the three announced DLC packs is themed around a specific game in Nintendo's long-running Fire Emblem series, with its newest offering introducing characters from 2008's Fire Emblem: Shadow Dragon on DS.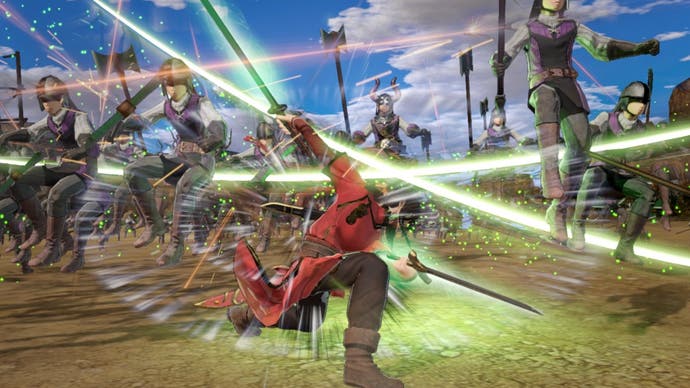 The Shadow Dragon DLC will add fan favourites Navarre, Minerva, and Linde, who specialise in the sword, flying mount axe, and tome respectively. Each new character will feature a special unique unlockable weapon - Caeda gets the Wing Spear, Tiki the Divinestone, and Anna unlocks Anna's Bow - plus the usual costume variants, and new support conversations.
Each new character also receives their own unique History mode map: A Brush in the Teeth (starring Navarre), Knorda Market (featuring Linde), and Princess Minerva (focussed on you can probably guess who). Additionally, it'll be possible to unlock a number of new character costumes - Marth's bridegroom outfit, Caeda's bride outfit, Tiki's Vibrant Dress outfit, and Lyn's Swordmaster outfit - by completing History Mode maps.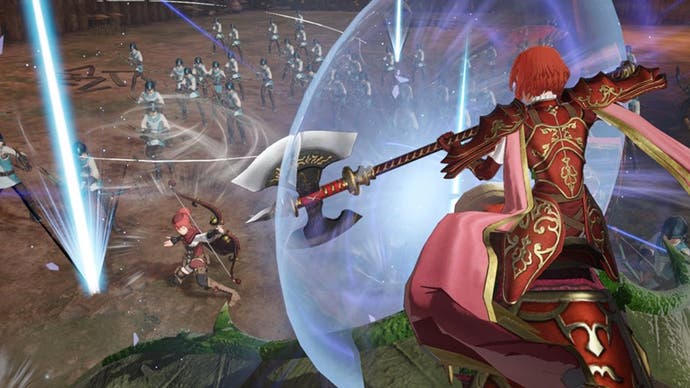 Rounding off the update are new skills, new weapon attributes, plus new Armour Break models (in which it's possible to knock characters' clothes off, down to their undergarments) for Marth, Caeda, Tiki, Navarre, Minerva, Linde, Celica, Lyn, and Anna. The update will also raise the character level cap from 110 to 130.
The Fire Emblem: Shadow Dragon DLC Pack will costs £8.09 when it launches for Switch and 3DS on February 14th, or is available as part of the Fire Emblem Warriors Season Pass for £17.99. More details can be found here.