Finding the voice of The Witcher's Geralt in Horizon: Zero Dawn
See him Rivia own eyes.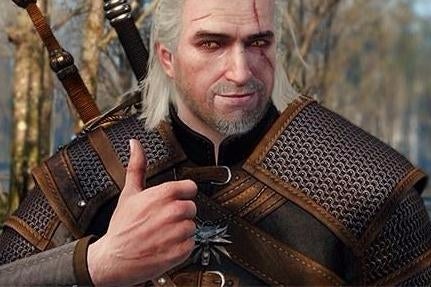 Guess who pops up in Horizon: Zero Dawn? Oh I see, you read the headline. Yes Geralt of Rivia, The Witcher, how about that?
Well it's not actually Geralt but the voice of Geralt, which belongs to actor Doug Cockle. His husky tones are synonymous with the English language Witcher games, have been for a decade. But apparently all he could get in Horizon: Zero Dawn was a bit part.
I was under the impression Cockle had voiced several smaller roles in Horizon. He said as much when I met him - practically hunted him - in December for a profile piece about his life and Witcher voice work.
But when I asked him at the weekend who the characters he voiced were in Horizon, he checked then clarified it was actually only one part: the unforgettable Oseram Male 1. And now he has been found.
I say "he" but it is actually "they", as Cockle's recording has been applied to several characters in the game. This tallies with Cockle telling me he'd recorded different states such as a warrior, drunk, sad and so on. Some of those have been pulled out for separate characters. Mostly it's a merchant type but there was a warrior spotted warming his hands by a fire.
The Horizon-Witcher crossover follows a pair of adorbs tweets by respective game makers Guerrilla Games and CD Projekt Red. It began with a 'Geralt high-fiving Aloy' piece of art by CD Projekt Red, congratulating Guerrilla Games on the Horizon launch.
To which Guerrilla responded in kind, with a picture of Geralt and Aloy back to back, and a thank you to CDPR.
Horizon: Zero Dawn was released last week and is now Sony's best-performing new IP PS4 launch. We called it a "sumptuous, enjoyable yet overly generic new age sci-fi RPG" in our Horizon: Zero Dawn review.
Don't forget we also have a Horizon: Zero Dawn guide to help if you need it.