Final Fantasy 15's £190 Ultimate Collector's Edition doesn't include season pass
And no more will be made - despite delay.
Final Fantasy 15's Ultimate Collector's Edition doesn't include the game's season pass, Square Enix has confirmed.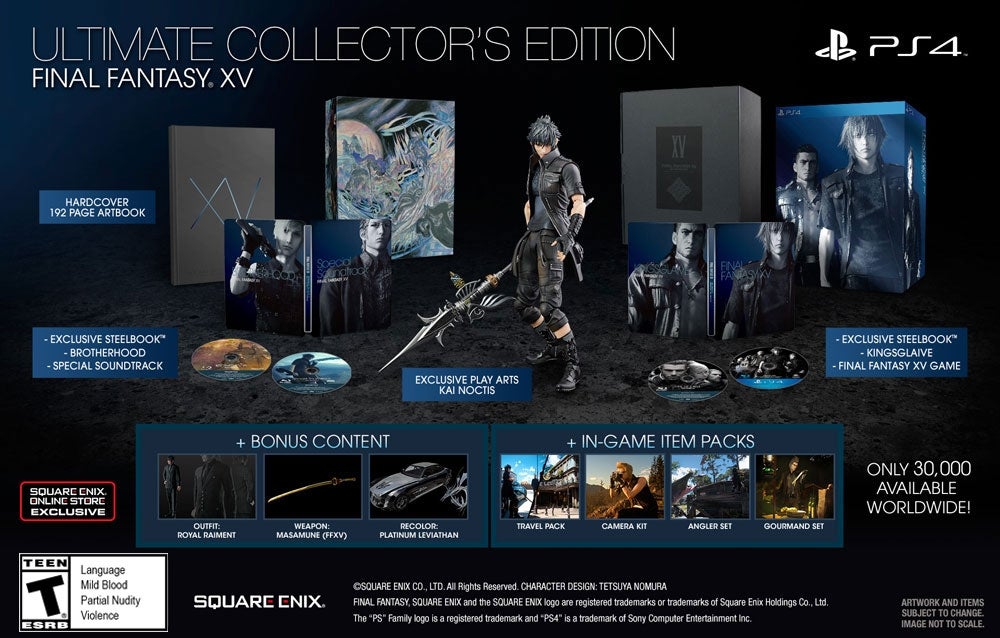 The Ultimate Collector's Edition, which costs £189.99, includes SteelBook, a Kingsglaive: Final Fantasy 15 Blu-ray disc, and even an exclusive Noctis Play Arts Kai Figure among other things - but not the season pass.
There's a lot of attention on Final Fantasy 15's season pass because it looks like it includes significant content: story-based quests that revolve around Noctis' party members.
Meanwhile, Square Enix said it's unable to make more of the Ultimate Editions - despite the delay of the game from September to November.
Back in May, Square Enix released extra stock due to high demand. The Ultimate Collector's Edition originally sold out within minutes when it went on sale in March. Copies of the edition were being sold on eBay for upwards of £400 after its initial stock was put up for sale.
Confirmation comes from a tweet in which development chief Hajime Tabata answered fan questions.
Will the Ultimate collectors edition contain the season pass?
- sadly no & we looked into making more UCE but we were told we still can't.

— FINAL FANTASY XV (@FFXVEN) August 18, 2016
According to Square Enix's official listing for the Deluxe Edition of Final Fantasy 15, which costs £69.99, doesn't include the season pass, either.
Only the £69.99 Digital Premium Edition includes the base game and the season pass. Or, you can pay to upgrade if you've pre-ordered the download version of the game.