Final fantasy 14's Shadowbringers expansion lets you be a Dancer
Or are we human?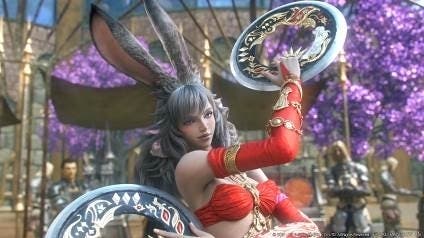 Square Enix has lifted the lid on Final Fantasy 14's new expansion Shadowbringers.
The expansion is set in the First World and the realm of Norvrandt, and marks the first time players will become Warriors of Darkness.
The headline addition is the new job, Dancer. Here's the official blurb:
"This ranged attacker not only unleashes powerful attacks using throwing weapons, but also performs dances to execute abilities and provide beneficial effects to their party."
There's a new player race, too, called Hrothgar:
"The Hrothgar player race compliments the recently announced Viera as the second new playable race in Shadowbringers. The Hrothgar and Viera will both have unique, customisable features specific to their races."
There are a couple of new player cities located in Norvrandt. The Crystarium is a player hub, while the Eulmore is "an affluent city ruled by the elite will play a key role in the Shadowbringers main storyline". Videos previewing both locations are below.
There's a new raid, too, called Eden, which houses a new character designed by Kingdom Hearts director and Final Fantasy veteran Tetsuya Nomura.
Square Enix says Final Fantasy 14 has more than 14 million players globally, so it's no surprise to see the company release new content for the MMO. Shadowbringers comes out 2nd July 2019. Patch 4.56, which adds the finish to the Stormblood main storyline, comes out 26th March.