FIFA 19 Ultimate Team has a new mode called Division Rivals
And a new Player Pick pack type.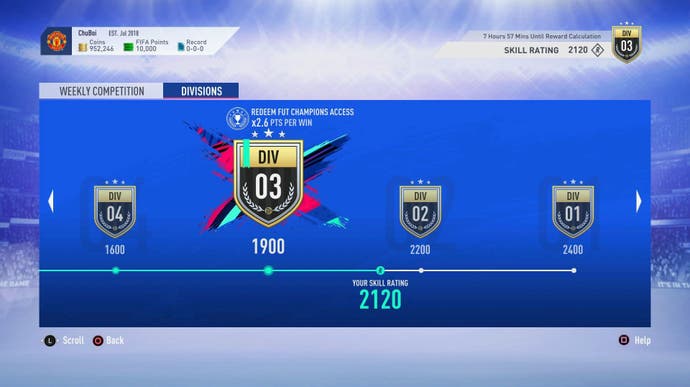 FIFA 19's Ultimate Team has a brand new mode called Division Rivals.
Division Rivals replaces FUT's online seasons mode, and is designed to appeal to a mid-tier level of player, below the hardcore-focused FUT Champions mode and above the casual-focused Squad Battles mode.
Here's how it works: you play a number of placement matches which are used to determine your skill rating. You're then placed into one of 10 divisions, with progression tied to your skill rating (the mode will show you how far away you are from a promotion in terms of skill rating). Here's how it looks in-game: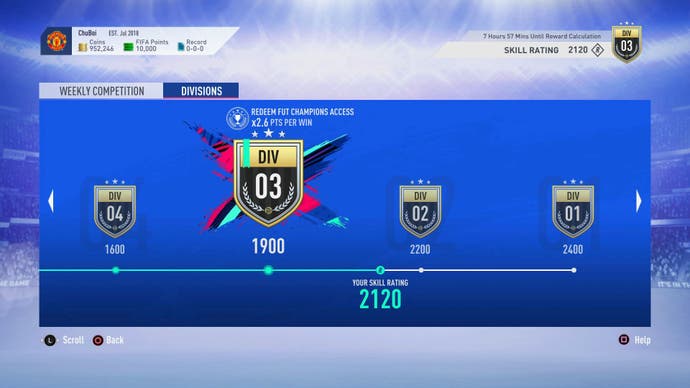 Each week, you compete in a weekly competition against players within your division for ranking and prizes, in a similar fashion to Squad Battles mode. There are five ranks on the ladder, and at the end of each weekly competition you make progress towards the next rank, with your weekly rewards corresponding to where you finish that week. Here's how it looks in-game: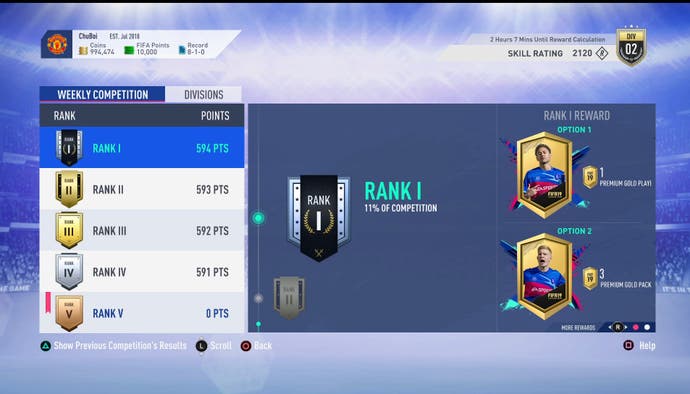 Your weekly competition pool is determined by your overall skill rating, which determines your division. Your rank, which is determined by your weekly score, determines your rewards for that week.
There's more! On top of all this is another set of points you accumulate through Division Rivals, called Champions Points. These Champions Points are used to qualify for the Weekend League (I've reported on FIFA's gruelling ultra hardcore Weekend League before). So, in FUT 19, Rivals replaces the daily knockout tournament from previous FIFA games as the new way to qualify for the Weekend League.
"Based on the feedback we heard from our community, some people found it a bit of a grind to get into the Weekend League," FIFA creative director Matt Prior told Eurogamer.
It's important to note that Champions Points can be banked. So, if you earn enough points to compete in an that week's Weekend League, but for whatever reason you can't actually play FIFA that weekend, you can bank them and use them when you have the time to devote to playing. But you can't stack qualification progress - aka, you can't have two entries into the Weekend League.
In summary, there are three points you progress in Rivals. After each match you get a recap of your weekly score, which is tied to your weekly ranking rewards, your skill rating, which is tied to your Division Rivals division, and your Champions Points, which are tied to your qualification for the Weekend League.
Got all that?
Interestingly, when your rank is determined, you're presented with a number of different rewards to choose from. One of these rewards is extra Champions Points. So, you might have been unable to qualify for the Weekend League that week, but if you redeem those extra points, you'll get in.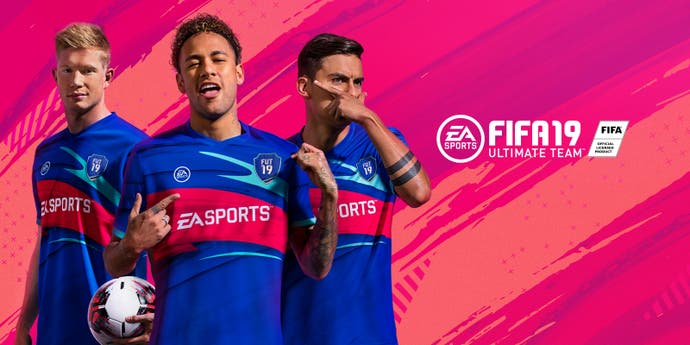 Elsewhere, EA Sports has revamped the FUT Champions hub and, via the Champions Channel, added a way for players to learn from the best players. You can watch replays of matches played by the best FUT Champions players with button inputs displayed, so you can see exactly what they're pressing at certain times. The replay viewer lets you skip to certain key moments from a match, so you can jump to goals, but entire games are there for you to analyse.
Meanwhile, FUT 19 has new pack opening cutscenes, and the addition of Europa and Champions League items that work in the same was as Team of the Week items do. You can sort items quicker, too. You can use the right stick to flick items up to the transfer market or down to quick sell. Click the stick in to send to your club. This new sorting system lets you quickly manage your packs, which is welcome.
FUT 19 has a new Player Pick pack type. This lets you choose a pull from between two and five players. "Neymar might be good for me but not as good for someone else because of, for example, chemistry," Prior said. "The player pick pack type gives players more control over what they get, with a variety of players being surfaced and the player having to make the choice as to which one fits their team."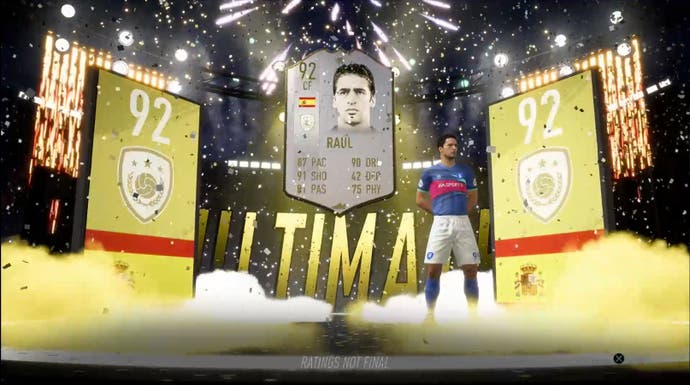 The Player Pick pack type is in addition to the disclosure of pack odds, which is hitting FUT for the first time with FIFA 19. EA has yet to reveal exactly how this will work, but an announcement is expected soon.
And finally, FUT 19 Icons include Rivaldo, Cruyff, Lampard, Eusebio, Seedorf, Raul, Makelele, Gerrard, Klose, Cannavaro. Expect more to be announced.