Football Manager Live
Updated impressions from the evolving beta.
Football Manager Live is a daring proposition for Sports Interactive, there's no doubt about that. The studio that has, for more years than we'd care to remember, notched up annual success with its footy management titles is taking the online plunge and the only nets in sight don't look too safe. At least, they don't in my experience, as yet another shot from an opposition striker I've never heard of thunders past my inept goalkeeper.
The funny thing is, while Football Manager Live might look pretty much like any other Sports Interactive game, the difference between playing AI teams for seasons on end and taking on other human managers is huge - and now that the beta stage of the game is maturing into something that will probably bear more than a passing resemblance to what's released, it's interesting to see how it has changed completely from the early days.
The chaps at SI were always adamant that they wanted a long beta-test, and as they've gradually increased the player base, evolved the functionality, tweaked the economy and added in features completely new to the series, it's easy to see why. The test has been running for about nine months now, and features several active game worlds - in other words, servers that contain an entire FM-like football universe within them. Over that time a whole plethora of adjustments and additions have been made, not the least of which include numerous updates to the match engine, user interface tweaks - even a spangly new downloader complete with patch notes.
But there are a handful of aspects to the game that have changed significantly since our last impressions of the game were posted, and it's these we're going to focus on now.
The root of all evil
In the last few months the servers were completely reset (giving everybody a clean slate) to see how the latest incarnation of the economy would work out - and that's proven an interesting experience.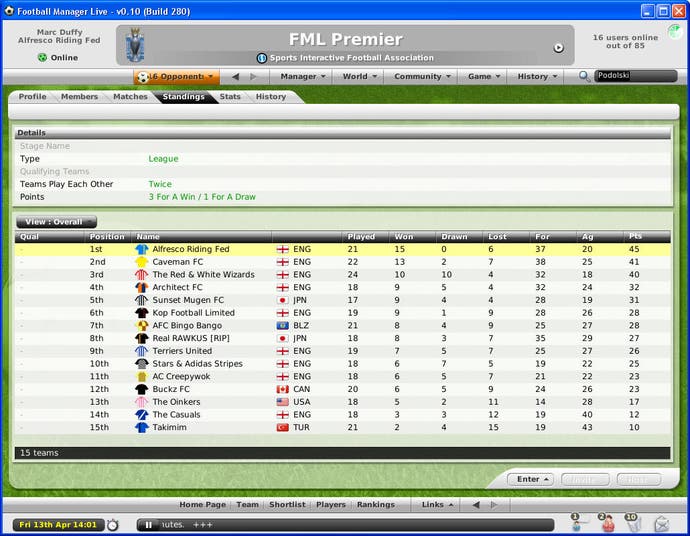 Basically on a daily basis your team has to pay wages to its players and insurance costs, while in return you get a lump sum based on your game world ranking, as well as cash from whichever association you've joined. And while you can't rack up a wage bill of more than GBP 100,000 overall to begin with, once you're out of the initial squad selection process there are no restrictions - apart from those that the bank put in place, that is. Try and sign a player on a four-week contract and it'll calculate your projected bank balance to the end of the month, and if it doesn't like what it sees it'll veto the deal.
On the one hand, while that does effectively prevent the all-too-familiar sight from the previous phase of the beta - where people would overspend, go vastly overdrawn, then bankrupt, and then start over repeatedly - now it can veto perfectly reasonable deals when your balance is nicely in credit.
The other side effect is that with the new, frugal starting budget in place, and acquisition fees charged on all player purchases, it can take some time before the top players even get a sniff at being signed - and some older players may never find a team before retiring. Of course, that's the point of beta tests - to try things out and tweak them, particularly for things like economies which depend on lots of people trying lots of things all at the same time.