Far Cry 5 introduces airplanes, muscle cars and far-right fanatics
Trump towers.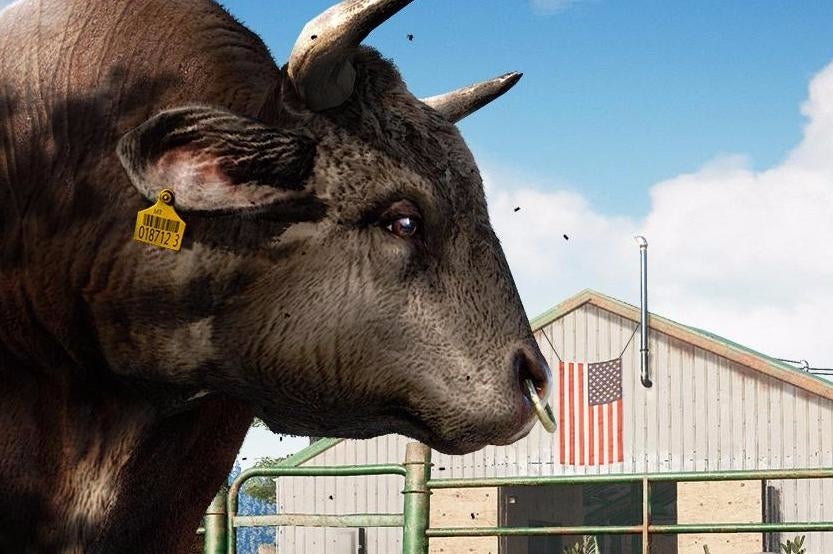 Far Cry 5 will introduce airplanes to the open world shooter series for the first time - as well as an attempt to satirise the rise of the far-right with its representation of fanatics in North West America.
It'll launch for PC, PlayStation 4 and Xbox One ("including Scorpio") on 27th February 2018. The PS4 version will get extra content for free, thanks to the game's marketing deal with Sony.
Montana offers the backdrop, with Far Cry 5 making the most of the picturesque setting that takes in grand national parks and the Rocky Mountains. The area in hand is called Hope County, its small towns and grand vistas presenting a slice of Montana that's now explorable by airplane.
You play as a deputy sheriff who's sent to arrest Joseph, the head of a deeply strange family of religious fanatics who run what's known as Eden's Gate. Joseph's family - - Jacob, John and Faith, known collectively as "The Heralds" - represent some of Far Cry 5's antagonists, while you'll also have friendly NPCs such as Pastor Jerome, a gun-toting man of the cloth, and Mary May, landlord of a bar who's stuffed all her spirit bottles with rags for an impromptu arsenal of molotov cocktails. Each character has their own motivations, and they're said to play a large part in Far Cry 5's campaign.
That whole campaign can be played in co-op. There will also be a map editor. You can play as either a man or woman, and pick your skin colour.
Ubisoft has also released a trio of clips focusing on three main characters:
Far Cry 5 is the first numbered entry in Ubisoft's series since 2014's Far Cry 4 - although we did get spin-off Far Cry Primal last year.
The recently released in-engine trailer remains slim on gameplay details, although it does feature glimpses of fishing, aeroplanes and a taste of the environment. Who's betting Montana's Republican house representative and part-time journalist wrestler Greg Gianforte will feature?