Fanatec's CSL Elite F1 set shows how far racing wheels have come
Turn turn turn.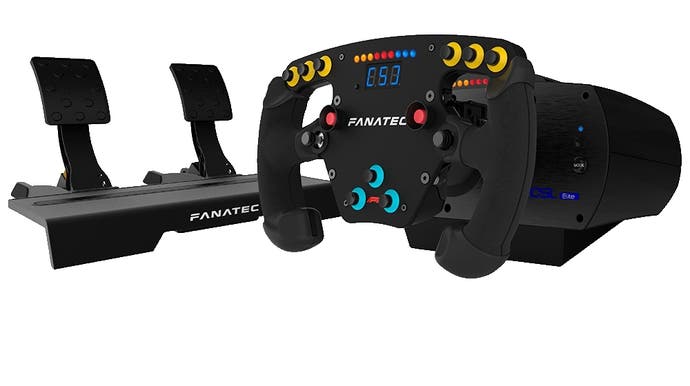 My very first wheel, I guess, would have been the old Fisher Price one stuck to the back of the passenger's seat in an old MG Maestro, so that I could drive along on our frequent jaunts up and down the A40. After that, things got a little more serious: a Jocgon bought alongside Ridge Racer Type 4 in an attempt to divine some of the magic of Namco's over-sized arcade machines in front of the 14-inch TV in my kitchen at home, and then a cheap Microsoft number cabled up to a wheezing PC that was doing its best to run Grand Prix Legends.
Things have moved on since then, if not with my own particular set-up - a primitive Playseat Challenge that is best described as a deckchair with ideas above its station - then with the wider world of racing peripherals. Sim racing is serious business for many people, so it's small wonder there are some serious tools around to help people do the task - full motion rigs, direct drive wheels that will tear your arms out of their sockets as fast as a wookie, all coming in at a cost not too far off the price of a small family car.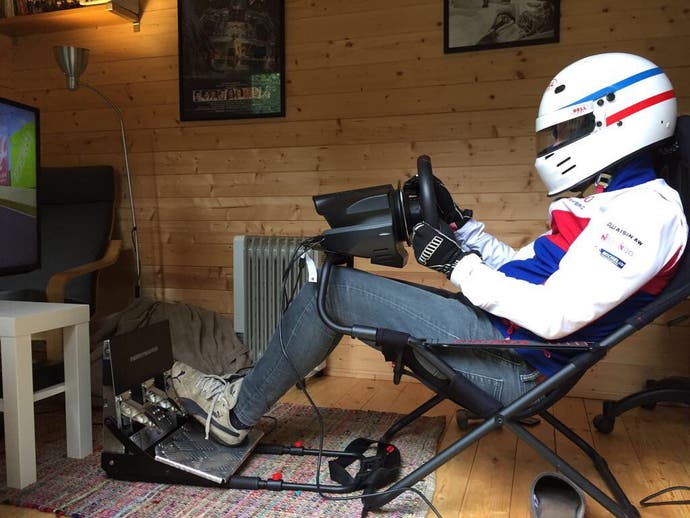 I'm a bit more modest with my own sim-racing, if that foldable deckchair of a rig wasn't already a giveaway, and for the past five years or so have relied on a relatively humble Thrustmaster T500RS. It's not perfect - there's a bulk to the set-up that's a bit of a pain, the feedback can be little grainy and the standard rim, while hardly cheap-looking, doesn't feel spectacular in the hand, but it's done an amazing job of handling everything I've thrown at it, from Euro Truck Simulator to iRacing via console games like Gran Turismo Sport and Codemasters' F1 series.
It's a bit of an eye-opener, then, coming back into the world of racing wheels, where so much has happened, and how much I've missed: most important of which, surely, is the fact there's now a true multiplatform wheel for players on PC, Xbox One or PS4 - something of a holy grail for years (and something there's been obstructions - and workarounds to - in that time). The Fanatec CSL Elite came out over a year ago, but it's only now - thanks to Fanatec, I should say, who sent me a review unit - that I'm trying it out, via the recently released F1 bundle. It's something of a revelation.
First off, it's worth noting that if you do want to go multiplatform with the Fanatec CSL, there is a price. The rim included in the F1 kit works on PC and PS4 only - to play on an Xbox One you'll need another rim, such as the CSL P1, to swap out. It means a bit more expense (on what's already a considerable outlay), but on the flip side it's at least easy to swap wheels out for whatever purpose. Most importantly, the base that's attached to your rig - in the case of the CSL Elite, a surprisingly small unit that's easily packed away - stays the same, as do the pedals (and again, the two-pedal set supplied with the F1 kit are of a high quality, but if you're really serious you might consider going for a load-cell pedal as an optional extra).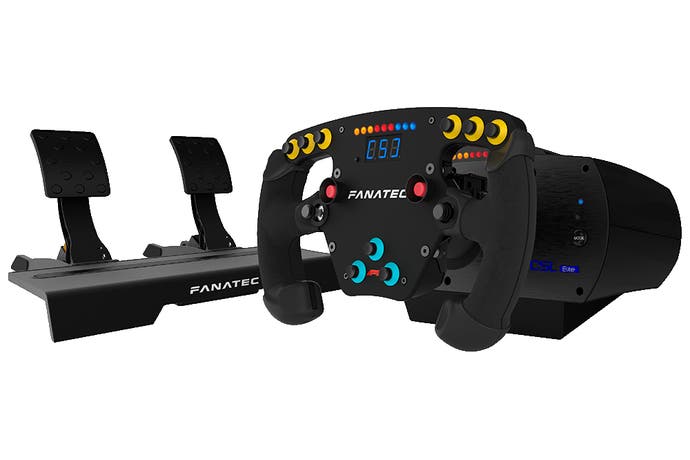 As for the wheel that's included in the F1 kit - well, it's beautiful. So much so that I've taken to detaching it and having it on my desk as an ornament, because it looks as good as the real thing - there are functioning dials and buttons and levers and LED readouts and an alcantara finish on the grips that makes it all feel authentic. If you're a proper idiot like me, you can even whack a Gazoo Racing sticker on it and display it next to your collection of 1:43 LMP1 Toyotas. Yes, I know - I'm awful.
So yes, the F1 rim makes for a lovely paperweight, but what's it like to actually play? Out the box, and matched with Codemasters' F1 2018, the answer - perhaps unsurprisingly, given the official tie-in and how it's the same unit that Brendon Leigh has used to dominate this year's esports championship - is that it plays pretty great. That LED readout supplies your speed, the buttons (which can be customised, brilliantly, via a sheet of pop-out replacements that come supplied with the kit) giving you easy to hand access to the likes of DRS and managing your ERS and adjusting brake balance and fuel mix. The feedback, meanwhile, is surprisingly strong given the size of the unit powering it, and thanks to the brushless servo motor and single belt drive pleasingly smooth - you can read the road surface, the snatching of a brake and those stomach-turning moments when traction slips away from you. It feels made for F1 2018, precisely because it is.
Go beyond that, on PlayStation 4 at least, and it's not perhaps quite as convincing. Gran Turismo Sport feels fine when first plugged in, though the road surface never spoke to me with quite as much clarity as it had on a T500. Again, that's probably to be expected given Gran Turismo's partnership with Thrustmaster, but at least you can dial in a better feeling on the CSL Elite with relative ease, a series of adjustments available that can be made on the fly - from sensitivity and force feedback to spring and damper rates, and you can assign your parameters to five different setups that can then be selected for each game.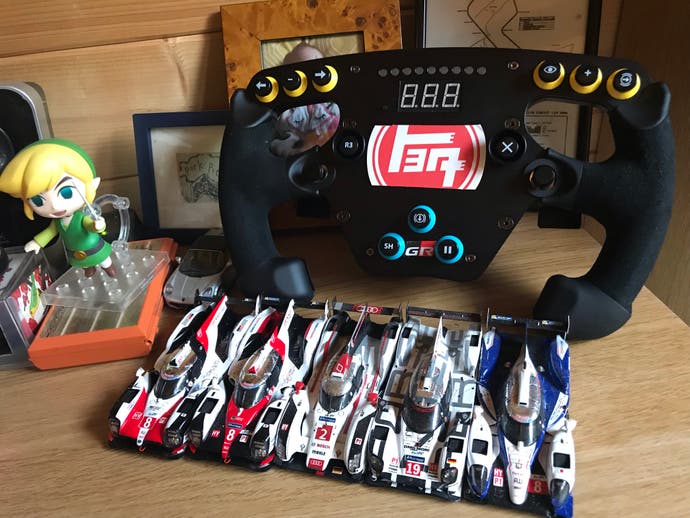 It's a great accompaniment to iRacing, Assetto Corsa and any other PC sim you care to throw at it too. Those different setups you can tinker with can be a real boon here, too - you can setup the rotation so it's more befitting of something like a BMW M3 E30 when you're drifting it around the Nordschleife, even if does feel somewhat wrong spinning around the small diameter F1 rim when doing so. Maybe it's time to invest in another one of Fanatec's rims to do justice to one of Munich's finest...
That's the thrill of the Fanatec, really - it's perfectly moddable, whether that means placing button icons so they're just so, sticking silly stickers on it or properly investing in new rims, shifters or handbrakes to complement the experience. None of it's cheap, really (well, okay those stickers only cost me a couple of quid), but serious sim-racing really isn't anymore. The CSL Elite is a mid-range wheel, though I still reckon that a price-tag a few cents short of 600 Euros for the F1 kit feels plenty premium to me, even if that does get you all that you'll need to get going and a rim that feels absolutely sublime.
It's all relative, of course. The CSL Elite F1 kit isn't cheap, but it's pretty much as good as it gets when it comes to mid-range wheels, and a good sight cheaper than going all the way with a direct drive unit and a rig that'll power and house it setting you back about the same as it'll cost you to go racing in a Citroen C1. Of course, Fanatec's own direct drive model comes out next April with the range-topping Podium, but if you're looking for something a bit more manageable - and a lot more affordable - then the F1 kit is a seriously good option.