F2P action RPG MMO Marvel Heroes out spring 2013 on PC
Founders Program grants early access.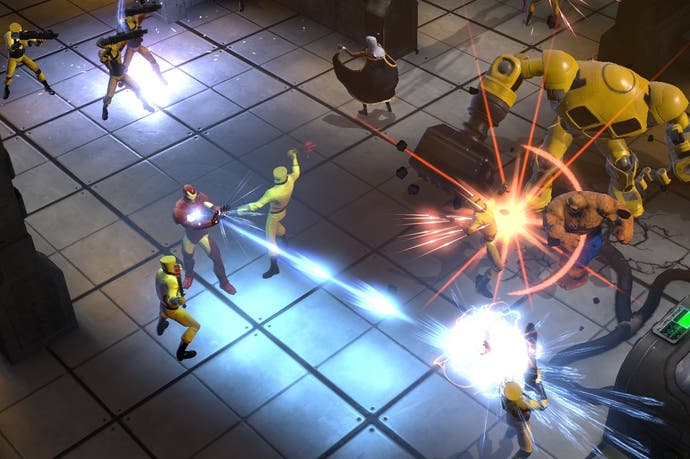 Marvel Heroes, the free-to-play action role-playing MMO made by one of the creators of Diablo and Diablo 2, launches this spring on PC.
Gazillion, headed up by Blizzard North co-founder David Brevik, said a Mac version will follow.
Meanwhile, the developer announced the Founders Program for the game, which includes a Starter, Premium and Ultimate Founders pack.
Here's what you get for each pack and how much they cost:
Starter: There are 16 different Starter Packs available. Each pack includes one of 16 Super Heroes to play at launch, one bonus costume for the chosen hero, £6 of in-game currency and two days head start prior to launch. Each Starter Pack will be available for £12.99.
Premium: There are seven different Premium Packs available that will come equipped with a team of four heroes from across the Marvel Universe, including X-Force, Uncanny X-Men, Marvel Knights, Avengers, Marvel NOW, Marvel Classic and a special Deadpool pack. Players will also receive four bonus costumes for their team, £20 in-game currency and four days head start prior to launch. The Premium Pack is available for £39.99.
Ultimate: The optimal value of the Founders Program, the Ultimate Pack includes access to all heroes available in Marvel Heroes at launch, all launch costumes plus four Ultimate Pack exclusive costumes (Maestro Hulk, Wolverine Weapon X, Spider-Man Symbiote and the Iron Man 3 Movie Armour), £32 in-game currency, seven days head start prior to launch, a permanent 5% experience boost, a permanent 5 per cent item find boost, and more. The Ultimate Pack is available for £129.99.
Brevik said: "Our team is hard at work to make sure Marvel Heroes is true to hardcore players, Marvel fans and the most casual of gamers through deep, MMO action-RPG gameplay, an expansive interactive storyline and easy-to-play experience.
"We've built Marvel Heroes from the ground up to be a free-to-play game where players can find and collect nearly every hero and costume in the game just by playing. The Founders Program gives players the opportunity to play as their favourite hero from the day we launch in addition to enough in-game currency to buy more heroes and costumes as we release new content."