Eurogamer's best of E3 2018
Our Editors' Choice awards revealed.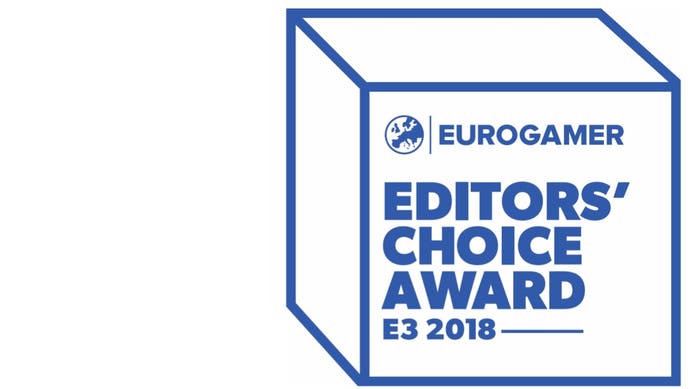 In all honesty, we weren't expecting much from E3 this year. Ahead of time, it bore all the hallmarks of an E3 the year before people start talking about new consoles. With the platform holders manoeuvring behind the scenes and the biggest games in development quietly readjusting their schedules as production managers try to suss out the logistics of going cross-gen or even fully next-gen, the big press conferences become exercises in misdirection. We knew Sony would have nothing new, we suspected Microsoft would have little and we knew Nintendo was focused on Smash Bros. and Pokémon.
And yet still, E3 2018 delivered. We can partly thank Microsoft for its unusual candour in owning up to the next generation of consoles, and its brisk showcase stuffed to bursting with colourful and enticing games. It certainly set the tone, and the reliably straight-talking CD Projekt followed up with a cheeky admission that Cyberpunk 2077 was due out on the current-gen consoles "at the moment", which was refreshing, even if it did take the fun of out the old "which of these games is actually next-gen" guessing game. (It was that one.)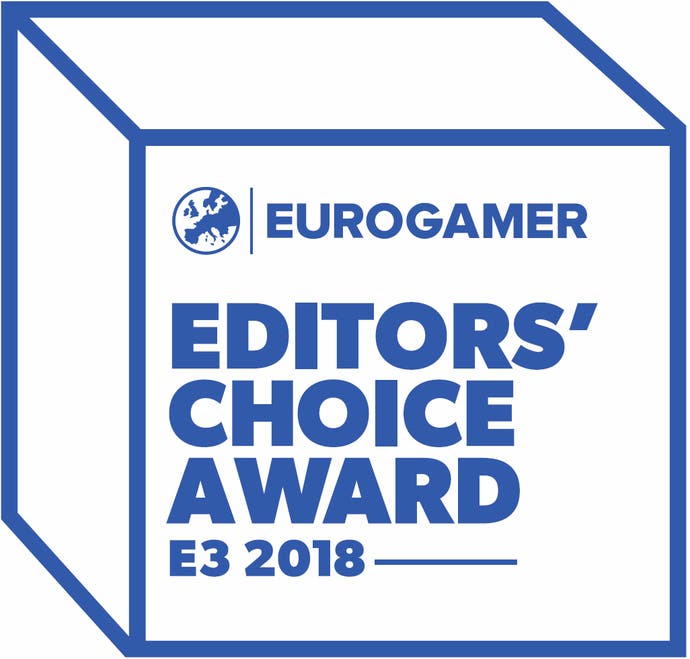 Perhaps we had also forgotten the great thing about the late period of a console generation - it usually means lots of good games. Most of the big publishers turned up with something genuinely and uncynically great in their line-up, there was hardly a loot box in sight, and there were only a couple of hastily tacked-on battle royale modes. Well done everyone.
So to our choices. Once again, we're keeping it simple: five games receive our E3 2018 Editors' Choice award - except this year we picked six because we really couldn't choose. Sue us, it's our website. The games are not ranked, not divided by genre, and not separated by any other category of achievement. In order to be eligible, games must have been available to watch or play in a live gameplay demonstration, so no CGI trailers or canned gameplay reveals. Hands-on time isn't a must, although it helps.
Games that were non-eligible due to the lack of a live gameplay demo included Fallout 76, Death Stranding and Devil May Cry 5. Oh, and at one point, we saw into a meeting room we weren't supposed to see into and caught a glimpse of what appeared to be playable Red Dead Redemption 2 - on the face of it, this year's most notable absentee - but it seemed very hush-hush and neither we nor anyone we know was allowed anywhere near it. So don't tell anyone, OK?
---
Assassin's Creed Odyssey
We were a little concerned when we learned that Assassin's Creed was moving straight back to a yearly release schedule - after all, the two-year hiatus seemed to have done last year's Origins so much good. But on the strength of its E3 showing and an opportunity to play Odyssey in a slightly more relaxed setting before the show, those concerns melted away. Set in Ancient Greece - before the Assassins, oddly - this looks to be a gorgeous and playful episode in the series which takes it even further towards being a full role-playing game, strongly influenced by The Witcher and BioWare's work. There are compelling lead characters, especially if you pick the woman, Kassandra, and Ubisoft promises a grand, tragic storyline. There's just something about that setting, as well - the azure sea, the shining bronze, the tumbling whitewashed villages, the annoying philosophers gabbing away. Could Socrates be the new Da Vinci, or is that too weird to say?
---
Cyberpunk 2077
The undisputed hype king of E3 2018, mostly because CD Projekt Red took the unusually old-school route of only showing its extensive live demo behind closed doors and not releasing any video footage beyond the trailer that graced the end of Microsoft's conference. Perhaps the Polish team was wary of setting expectations too high, after the Witcher 3 downgrade furore, but the result was that Cyberpunk 2077 became the must-have appointment at the show - and for those of us at home, it was an exciting and nostalgic kind of torture to have to construct the game in our imaginations from what we were being told. Attendees, including our own E3 team, were blown away. We will have to take their word for it, and should perhaps sound a note of caution that the game is a long way off (we reckon 2020, and cross-gen or next-gen) and the vertical slice demo may not be exactly representative. But given the breathtaking scope and quality of The Witcher 3, we think our faith is justified. There are no better world-builders out there than CDPR, and no developer so able to make big games with humanity.
---
Forza Horizon 4
We expect excellence from Playground's open-world driving series; every game has been a joyful collision of esoteric car culture, gorgeous exploration and credible but above all fun racing, and every one has pushed the young studio's art a little further. As brilliant as the games are, it's not the sort of iterative sequel-making that usually makes it into this roundup, but we just know that this is going to be hands-down one of the prettiest and most enjoyable games of the year. Moreover, this fourth Horizon will be the biggest step forward for the series yet, with new features including dynamic seasons, a 60 frames per second mode on Xbox One X, and a shared-world online infrastructure that populates the roads with other players and stages Destiny-style public events. Cannot wait.
---
Resident Evil 2 remake
A remake might seem an even odder choice for a forward-looking E3 award, but Resident Evil 2, from the resurgent and confident Capcom, is not your usual remake. It doesn't even bear comparison with this year's Shadow of the Colossus, which recreated the exact same experience as the original game with the latest technology. Instead, Capcom has gutted and rebuilt its much loved yet never rereleased PlayStation horror classic in a new style, with an over-the-shoulder camera reminiscent of Resident Evil 4, changes to the flow to keep us on our toes, and the intense, dark and foreboding atmosphere of the early games, mercilessly stripped of the camp factor they have acquired with age. It's terrifying.
---
Sekiro: Shadows Die Twice
Samurai were very much in vogue this year, and though Sony and Sucker Punch's Ghosts of Tsushima stole the limelight with its sumptuous historical style and smooth gameplay, we were always going to pick Sekiro over it for one simple reason: game director Hidetaka Miyazaki, the genius behind From Software's Demon's Souls, Dark Souls and Bloodborne. His latest action game has its roots in the Tenchu series - the rights to which Sekiro's publisher, Activision, sold to From a while back - but Miyazaki ultimately decided to recast it as something new, a darkly fantastical spin on samurai action which aims to open out the oppressive tangle of his previous games without loosening their ferocious grip on the player. We've played the game and talked to Miyazaki and were suitably impressed - we'll bring you more soon.
---
Skull & Bones
Yeah, that's right, we're throwing our weight behind another multiplayer pirate game. But Skull & Bones is a very different proposition to Sea of Thieves. Rare's game was all about the emergent comic chaos of trying to crew a ship, whereas Ubisoft's presents a very different, much more direct take on naval combat, with one player in full command of each vessel. And does it ever pack a punch! Although it's fast-paced, the combat is surprisingly substantial and tactical, with very distinctive ship builds, and it's an audiovisual spectacle too - we couldn't get enough of letting those cannon broadsides go. Johnny giggled helplessly all the way through his demo; om sheer moment-to-moment fun factor, Skull & Bones pretty much won E3 for us. That is not something we would have predicted a week ago, but it goes to show that there are limits to how predictable E3 can get. Roll on next year.