EU PlayStation Store update 7th December
BF3: Back to Karkand! Mortal Kombat! Ratchet for £49.99!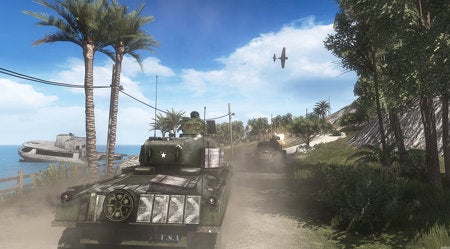 Long-delayed Mortal Kombat Arcade Kollection has finally launched on the EU PlayStation Store this week. The compilation contains 2D classics Mortal Kombat, Mortal Kombat 2 and Ultimate Mortal Kombat 3 in one bundle.
The game had originally been due for an August launch alongside its Xbox Live Arcade counterpart, but continually failed to appear, something Sony blamed on a "technical issue".
Back to Karkand, the first Battlefield 3 expansion, went live earlier this week and contains four maps from previous Battlefield instalments. PlayStation 3 gamers get it a week before their PC and Xbox 360 friends.
Resistance 3 adds a horde mode via the new Brutality Pack, while LittleBigPlanet gets some Christmassy beards.
Modern Warfare 2 and Dragon Age 2 become available to download for £19.99 each - not cheap, but less pricey than Disney Universe (£39.99) or Ratchet & Clank All 4 One (£49.99).
Meanwhile, PlayStation Plus subscribers get Lara Croft adventure Tomb Raider: Underworld completely free, and receive a half-off discount on enjoyable arcade racer Split/Second.
The full listing, courtesy of the EU PlayStation blog, lies below:
PlayStation Plus discounts:
Tomb Raider: Underworld - 100% off
Cool Boarders (PSone Classic) - 100% off
Sneezies (minis) - 100% off
Orbit (minis) - 100% off
Call of Duty: Modern Warfare 2 - 20% off until December 14th
Split/Second: Velocity - 50% off
Split/Second: Velocity - Deadline DLC Pack - 100% off
Disney's Bolt: The Game - 50% off
4 Elements HD - 40% off
Rocket Knight - 50% off
GoldenEye 007: Reloaded - One week early access demo until December 14th
PS3 Games:
Call Of Duty: Modern Warfare 2 (£19.99/€29.99)
Carnival Island (£19.99/€29.99)
Dragon Age 2 (£19.99/€29.99)
Disney Universe (£39.99/€49.99)
Just Cause 2 (£19.99/€24.99)
Mortal Kombat Arkade Kollection (£7.19/€8.99)
Ratchet & Clank All 4 One (£49.99/€69.99)
Sonic Generations (£31.99/€39.99)
The Sly Trilogy (£19.99/€24.99)
Sly Raccoon (£7.99/€9.99)
Sly 2: Band Of Theives (£7.99/€9.99)
Sly 3: Honour Among Theives (£7.99/€9.99)
Wizardry: Labyrinth Of Lost Souls (£7.99/€9.99)
PS3 Demos:
PSP Games:
Lego Harry Potter: Years 5-7 (£23.99/€29.99)
The Mystery Team (£11.99/€16.99)
PS3 Add-Ons:
Battlefield 3 - Back To Karkand (£11.99/€14.99)
Agarest: Generations of War Zero - Unlock Expressions (£7.99/€9.99), Unlock Movie Gallery (£4.99/€6.19), Unlock Voices (£3.99/€4.99)
Castle Crashers - Pink Knight Pack (£1.59/€1.99)
Castlevania: Harmony of Dispair - Bgm 2 (£1.59/€1.99), Character 'Getsu Fuma' (£1.59/€1.99), Level 'Chapter 11' The Legend Of Fuma (£2.39/€2.99)
DC Universe Online - Lightning Strikes (£7.99/€9.99), 10-Sided Die (£3.19/€3.99), 12-Sided Die (£3.19/€3.99), 20-Sided Die (£3.19/€3.99), 4-Sided Die (£3.19/€3.99) , 6-Sided Die (£3.19/€3.99), Dandy Hat (£1.59/€1.99), Fractal Skin (£3.19/€3.99), Guise: Small Robot (£3.99/€4.99), Plaid Skin (£3.19/€3.99), Rhino Head (£1.59/€1.99), Tall Top Hat (£1.59/€1.99)
LBP - Santa Hat & Beard Costume (Re-Release - Until 31/12) (Free), Santa Hat & Boots Costume (Re-Release - Until 31/12) (Free), Festive Goodies Level Kit (Re-Release - Until 31/12) (Free), The Muppets' Costume Pack (£4.79/€5.99) (Includes the following content, also available separately) Kermit The Frog Costume (£1.59/€1.99), Fozzie Bear (£1.59/€1.99), Dr Bunsen Honeydew Costume (£1.59/€1.99), Beaker Costume (£1.59/€1.99)
LBP 2 - Oddworld Munch Costume (£1.59/€1.99)
Resistance 3 - Brutality Pack (£3.19/€3.99)
Saints Row: The Third - Explosive Combat Pack (£1.19/€1.49), Z Style Pack (£1.19/€1.49)
Ultimate Marvel Vs. Capcom 3 - The Evil Twins Pack (£3.19/€3.99)
Warhammer 40000: Space Marine - Space Marine Emperor's Pack (£1.99/€2.49), Space Marine Golden Bolter (£1.99/€2.49), Space Marine Golden Chainsword (£1.99/€2.49), Space Marine Traitor Legions Pack (£1.99/€2.49)
Rock Band:
Rock Band Network - All Signs Point To Lauderdal - A Day to Remember (£0.99/€1.49), Last Breath - Attack Attack!(£0.99/€1.49), Space Unicorn - Parry Gripp (£0.59/€0.79), The Elevator - I Am Empire (£0.99/€1.49), The Entertainer (Joplin) - Thomas Walker (£0.59/€0.79)
Rock Band 3 - Bicycle Race - Queen (£0.99/€1.49), Don'T Stop Me Now - Queen (£0.99/€1.49), I'M In Love With My Car - Queen (£0.99/€1.49), Long Away - Queen (£0.99/€1.49)Radio Ga Ga - Queen (£0.99/€1.49), Seven Seas Of Rhye - Queen (£0.99/€1.49), Stone Cold Crazy - Queen (£0.99/€1.49), The Show Must Go On - Queen (£0.99/€1.49), You'Re My Best Friend - Queen (£0.99/€1.49)