EU PlayStation Store update 2nd November
Payday! Hydrophobia!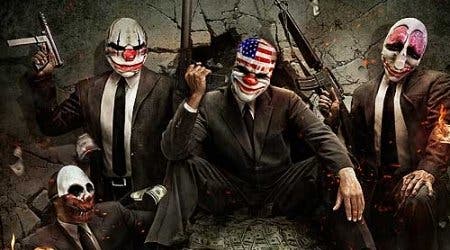 PlayStation 3 gamers can at last download bank holdup shooter Payday: The Heist today.
It arrives a few weeks late priced £12.99, or comes free if you bought the four titles in Sony's PlayStation Network Play offer. It's worth a blast - Payday: The Heist stole an 8/10 from Eurogamer's Rich Stanton earlier this week.
The PS3 gets a late Halloween-themed sale with reductions for Ghostbusters: Sanctum of Slime, Telltale's Sam & Max: The Devil's Playhouse and critically lauded adventure Limbo.
Aquatic 4/10 Xbox Live adventure Hydrophobia Prophecy gets a PSN port, while Saints Row: The Third deploys Initiation Station - a character creation demo.
PS3 gamers can also nab Batman: Arkham City's Nightwing levels, as well as new bits and pieces for WRC2, LBP2 and Dead Rising 2: Off the Record.
There's still no sign of Mortal Kombat: Arcade Kollection.
PS3 Sale (offers ends 9th November)
Limbo (was £9.99/€12.99 - now £7.99/€9.99)
Sam & Max: The Devil's Playhouse (was £19.99/€24.99 - now £9.99/€12.99)
Prince of Persia Trilogy (was £31.99/€39.99 - now £15.99/€19.99)
Ghostbusters: Sanctum of Slime (was £7.19/€8.99 - now £4.39/€5.49)
Protoype (was £31.99/€39.99 - now £15.99/€19.99)
PS3 Games
Cars 2 (£31.99/€39.99)
Hydrophobia Prophecy (£6.29/€7.99)
Payday: The Heist (£12.99/€16.99)
Toy Story 3 (£23.99/€29.99)
PS3 Demos
Disney Universe
Saints Row: The Third Initiation Station
Happy Feet 2
PSP Games
Geronimo Stilton in the Kingdom of Fantasy (£11.99/€16.99)
PSone (PS3 and PSP)
PS3 Add-Ons
Batman Arkham City - Nightwing Bundle Pack (£5.49/€6.99)
Cars 2 - Boost (£0.79/€0.99), Chick Hicks (£0.79/€0.99), Dj (£0.79/€0.99), Flo (£0.79/€0.99), Ramone (£0.79/€0.99), Sherriff (£0.79/€0.99), Snotrod (£0.79/€0.99), Wingo (£0.79/€0.99), Road Hazards Pack Bundle (£2.39/€2.99), Radiator Springs Pack (£2.39/€2.99)
Dead Rising 2: Off The Record - Skill Pack: BBQ Chef (£1.59/€1.99)
Eyepet - Lucky Dip Styling Pack - Headwear 2 (free)
LittleBigPlanet - Birthday Cake Costume (free)
LittleBigPlanet 2 - Uncharted 3 Drake Costume (£1.59/€1.99)
MotorStorm Apocalypse - Day of the Dead Livery Pack (free)
SOCOM: Special Forces - Co-op Evac Pack (£3.99/€4.99)
WRC2 FIA World Rally Championship - Game Station (£0.79/€0.99), Gamestop (free), Micromania (free), Saturn (free)
Uncharted 3 - Network Pass (£7.99/€9.99)
Rock Band
Rock Band Network - Better Life - Conditions (£0.99/€1.49), Madness - Myrath (£0.99/€1.49), Scissors - Emery (£0.99/€1.49), Toast (Live) - Heywood Banks (£0.59/€0.79), You Only Live Once - Suicide Silence (£0.99/€1.49)
Rock Band 3 - Breaking Benjamin Pack 02 (£2.49/€3.99), (Includes the following songs, also available separately), Breath - Breaking Benjamin (£0.99/€1.49), Sooner Or Later - Breaking Benjamin (£0.99/€1.49), Until The End - Breaking Benjamin (£0.99/€1.49), Viva La Vida - Coldplay (£0.99/€1.49), Forever - Papa Roach (£0.99/€1.49)