Sony announces Summer of Arcade rival
Meet PlayStation Network Play.
Sony has just announced a rival to Microsoft's Summer of Arcade promotion, called PlayStation Network Play.
Similar to the XBLA offer, it contains four games released on Wednesdays at weekly intervals. Buying all four nets you a fifth, free.
Play begins on 24th August with the launch of Street Fighter III Third Strike Online Edition. 31st August brings DeathSpank threequel The Baconing.
7th September's game is Majesco's 2D platformer BloodRayne: Betrayal, while September 14th concludes the offer with Sega's Renegade Ops.
Gamers who grab all four before 20th September get co-operative FPS PayDay: The Heist free when it launches on 5th October.
Unlike Summer of Arcade games, PlayStation Network Play games are not platform exclusives. Instead, you'll get a free piece of DLC for each.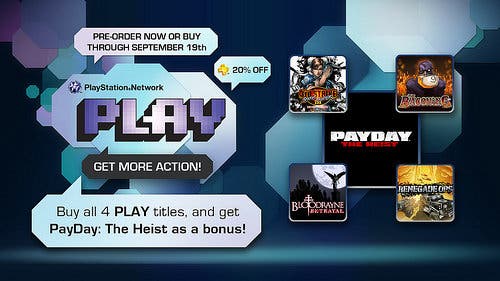 Street Fighter III comes with the ability to unlock character Gill without having to complete the game. The Baconing comes with co-op character Roesha. BloodRayne: Betrayal's DLC is an avatar item for PlayStation Home, while Renegade Ops owners get a Vehicle and Character Pack.
The bonuses grow if you put down your money early. PlayStation Network Play titles can be pre-ordered and doing so unlocks a new PS3 desktop theme in addition to the DLC.
Pre-orders for the four Play titles open on 10th August and close on the Thursday before the game launches.
PlayStation Plus members get 20 per cent off each Play title until 20th September.
Microsoft's Summer of Arcade is already in full swing. This year's games include enchanting role-player Bastion, the intriguing God game From Dust, stylish 2D platformer Insanely Twisted Shadow Planet, Fruit Ninja Kinect and Toy Soldiers sequel Cold War. Buy all five and you'll get Crimson Alliance free.