EU PlayStation Store update 12th October
Castlevania! DA2! Space Marine for £50!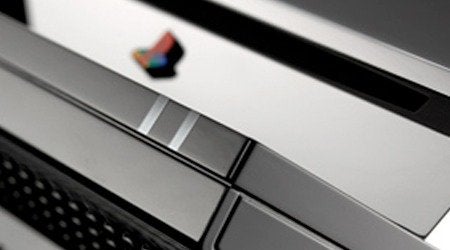 This week's EU PlayStation Store update is a threadbare affair, headlined by the delayed 2D side-scroller Castlevania: Harmony of Despair.
Castlevania: HOD was first released last August as part of the Xbox 360's annual Summer of Arcade season, when it scored a frightful 4/10 from Eurogamer's John Teti.
There's still no sign of Mortal Kombat: Arcade Kollection however. Sony previously blamed the six week delay on a "technical issue" with the game.
For those with looser purse strings and who don't like walking to the shops, Warhammer 40K: Space Marine is available to download for a whopping £49.99.
Elsewhere, The Guild actress Felicia Day dons elf ears for new Dragon Age 2 DLC Mark of the Assassin, priced £7.99, while a mixture of free and paid-for Ace Combat Assault Horizon add-ons also arrive.
PlayStation Plus subscribers meanwhile get Resident Evil 5 at 25 per cent off, while everyone can save a couple of quid on Call of Duty add-on content, including DLC for Modern Warfare 2.
The full listing, courtesy of the EU PlayStation blog lies below.
PlayStation Plus offers & COD content sale (until 19th October 2011):
Call of Duty Classic (Was £11.99/€14.99 - Now £6.29/€7.99)
Call of Duty 4 Variety - Map Pack (Was £7.99/€9.99 - Now £3.99/€4.99)
Call of Duty: World at War - Map Pack 1 (Was £7.99/€9.99 - Now £3.99/€4.99)
Call of Duty: World at War - Map Pack 2 (Was £7.99/€9.99 - Now £3.99/€4.99)
Call of Duty: World at War - Map Pack 3 (Was £7.99/€9.99 - Now £3.99/€4.99)
Call of Duty: World at War - Map Pack Bundle (Was £19.99/€24.99 - Now £9.99/€12.99)
Call of Duty: Modern Warfare 2 - Stimulus Package (Was £10.99/€13.99 - Now £5.49/€6.99)
Call of Duty: Modern Warfare 2 - Resurgence Package (Was £10.99/€13.99 - Now £5.49/€6.99)
PS Plus: 20% off all new Studio themes
PS Plus: 25% off Resident Evil 5 Gold Edition for one week only
PS Plus: 20% off Renegade Ops for two weeks only
PS3 Games:
Castlevania: Harmony Of Despair (Trial & Unlock, £11.99/€14.99)
Real Steel (Trial & Unlock, £7.99/€6.29)
Sideway: New York Trial (Trial & Unlock, £7.99/€9.99)
Bolt (£11.99/€14.99)
Resident Evil 5 Gold Edition (£15.99/€19.99)
Warhammer 40,000: Space Marine (£49.99/€69.99)
PS3 Demos:
DanceStar Party Demo (free)
PS3 and PSP minis:
PS3 Add-ons:
Ace Combat Assault Horizon - Acah F-4E (Limited Edition) (free), Compatibility Pack 1 (free), Skill Pack 1 - Mg Cool Down+ (£1.59/€1.99), Skill Pack 2 - Enhanced Dfm+ (£1.59/€1.99), Skill Pack 3 - Enhanced Asm+ (£1.59/€1.99)
Champion Jockey: G1 Jockey & Gallop Racer - Special Pack (£1.99/€2.49)
Dragon Age 2 - Mark of the Assassin (£7.99/€9.99)
Dynasty Warriors 7 - Costume Pack 4 (£0.79/€0.99), New Stage & Bgm Pack 3 (£2.39/€2.99), Stage Pack 4 (£3.19/€3.99)
Duke Nukem Forever - Hail to the Icons Parody Pack (£6.29/€7.99)
LittleBigPlanet2 - Weekend Pursuits Costume Kit (£2.39/€2.99) - includes the following content, also available separately: Skier Costume (£0.79/€0.99), Angler Costume (£0.79/€0.99), Caver Costume (£0.79/€0.99), Golfer Costume (£0.79/€0.99)
Resistance 3 - Survival Pack (£3.19/€3.99)
Rock Band Network - Alaska (2X Bass Pedal) - Between the Buried and Me (£0.99/€1.49), City Of Corruption (2X Bass Pedal) - Amberian Dawn (£0.99/€1.49), City Of Corruption - Amberian Dawn (£0.99/€1.49), Doppelgänger - Freezepop (£0.59/€0.79), Morte Et Dabo (2X Bass Pedal) - Asking Alexandria (£0.99/€1.49), Soy Bomb - Honest Bob and the Factory-to-Dealer Incentives (£0.59/€0.79), The Space For This (2X Bass Pedal) - Cynic (£0.99/€1.49), The Space For This - Cynic (£0.99/€1.49), Your Troubles Will Cease And Fortune Will Smile Upon You - After the Burial (£0.99/€1.49), Your Troubles Will Cease And Fortune Will Smile Upon You (2X Bass Pedal) - After the Burial (£0.99/€1.49)