Epic blames Apple for the closure of Fortnite Save the World on Mac
Refunds are now available.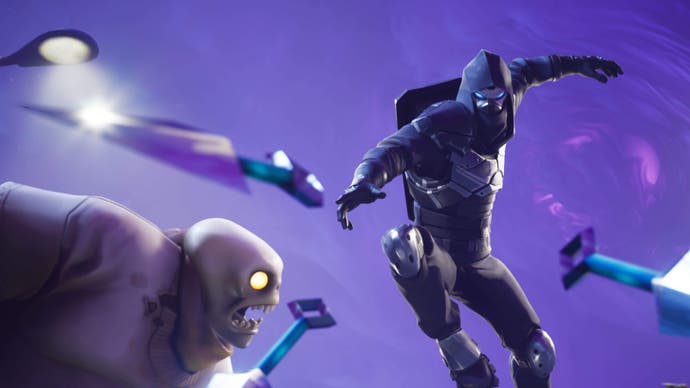 Epic Games has stated that because Apple is blocking it from releasing patches and fixes for its games on Apple products, it will be shutting down Fortnite: Save the World on Mac on 23rd September, 2020.
In the latest instalment of Apple and Epic's regrettably public spat, Epic Games released a statement saying that because Apple won't let it release games or patches, it's no longer able to update the game.
"Apple is preventing Epic from signing games and patches for distribution on Mac, which ends our ability to develop and offer Fortnite: Save the World for the platform," Epic said (thanks, The Verge). "Specifically, our upcoming v14.20 release will cause bugs for players on v13.40, resulting in a very poor experience. Since we are no longer able to sign updates and release fixes for these issues, beginning September 23, 2020, Fortnite: Save the World will no longer be playable on macOS."
For those of you who might have recently spent your hard-earned money on Save the World's packs, Epic says it is issuing a refund for all players who purchased any Save the World Founder's or Starter Packs (including Upgrades) providing they played the game between 17th September, 2019 and 17th September, 2020.
"Additionally, any purchased V-Bucks spent on Llamas on macOS in this period will also be refunded," Epic added. "As of September 17, 2020, Save the World Starter Packs will no longer be available for purchase on macOS."
In case you were wondering, there's no such problems for Fortnite's infinitely more successful alternate mode, Fortnite: Battle Royale. However, although Epic did confirm that updates for that are no longer being deployed on Mac right now, either.
"Fortnite: Battle Royale remains playable for Mac users at this time on the v13.40 build, but is no longer receiving version updates due to Apple's actions."
It's the latest development in the two megacorps' public falling out that ignited when Apple blocked Fortnite from the App Store after Epic Games circumvented Apple's (and Google's) systems to retain 100% of the funds generated by its in-app microstransactions.
The legal dispute is expected to drag on for months, yet we've recently heard an astonishing claim from Apple that suggests Epic only started the lawsuit to bolster waning interest in Fortnite.