Elite Dangerous is free next week on the Epic Games Store
Milky wahey.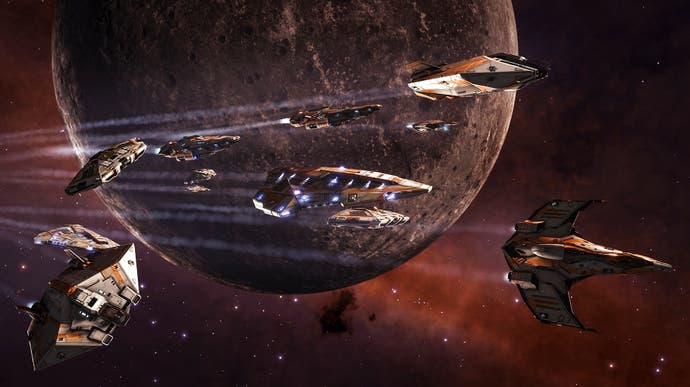 Big things are happening in developer Frontier's long-running space sim Elite Dangerous next year - big leg-related things - and if you'd like to get in on the intergalactic jet-setting action well in advance, you can grab the game for free next week, courtesy of the Epic Store.
Elite Dangerous is, of course, the latest instalment in Frontier's long-running space sim series - the original having launched all the way back in 1984 - and sets wannabe spacefarers loose in a massively multiplayer version of our very own Milky Way, complete with a shifting economy, warring factions, and even the odd alien menace.
The goal, such as it is in Frontier's galaxy spanning sandbox, is to start with a small ship and a smattering of credits, then work your way to the big time - forging a name for yourself and racking up the cash to purchase ever-more exotic (and fully customisable) ships - through the likes of trading, battling, piracy, exploration, mining, and, yes, relentless grind.
Elite Dangerous has expanded immensely since its launch in 2014, most recently ushering in its long-awaited fleet carriers, and as of last month, all players have access to everything included in 2015's Horizons season pass, which introduced the likes of planetary landings and ground vehicles, weapons and module engineering, ship-launched fighters, passenger transportation ships and missions, customisable avatars, multi-crew co-op play, and Thargoids.
Elite Dangerous is set to expand once more early next year, with the arrival of its much-hyped Odyssey paid expansion - which will, for the first time, enable Commanders to leave their ships and roam around planets and space stations on foot, socialising, scanning vegetation, and even indulging in the occasional bouts of first-person combat.
Those that fancy embarking on their space careers early to see what all the fuss is about can add Elite Dangerous to their Epic Games Store library for free starting next Thursday, 19th November. The offer will conclude exactly one week later, on 26h November.