Elite Dangerous getting on-foot traversal and atmospheric landings early next year
As part of major Odyssey expansion.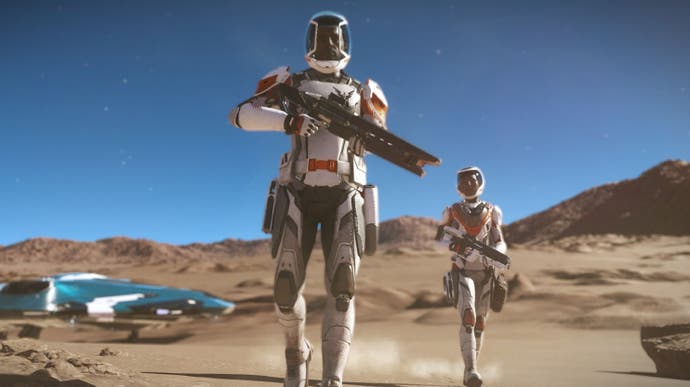 Frontier Developments has shared first details on Elite Dangerous' major new expansion, Odyssey, which will bring the likes of atmospheric landings and on-foot traversal to the space sim when it launches early next year.
The developer initially teased its Odyssey expansion last May, telling fans it was working on a mysterious "major milestone" update that was set to be a "defining moment in the history of the game". Since that early reveal, Frontier has more frequently referred to the project as its Next Era update, announcing last month that it would no longer meet its originally planned December launch window and would instead release in 2021.
As of today, however, the Next Era update is now formally known as Odyssey, and Frontier has given an early glimpse of the features it will bring, sharing details on the Elite Dangerous forums along with a flashy cinematic trailer reveal.
The big additions, and ones that've been on the wish lists of Elite Dangerous players for years, are atmospheric landings and on-foot traversal, more commonly referred to as Space Legs. Come Odyssey's arrival, says Frontier, players will be able to "touch down on breathtaking planets powered by stunning new tech, soak in suns rising over unforgettable vistas, discover outposts and settlements, and explore with unrestricted freedom."
There's also promise of "intense first-person combat", with players able to don gear, equip weapons, and team up with fellow space adventurers in a bid to "master a multi-layered, deep, tactical environment where Commanders, SRVs and Starships converge."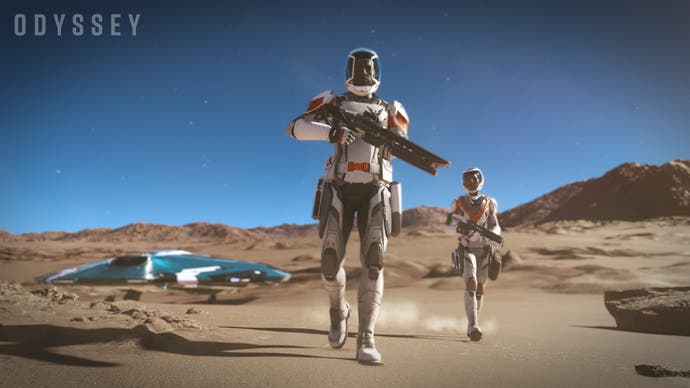 Joining forces with other players should be made a little easier courtesy of Odyssey's new social hubs, which Frontier is referring to as public outposts. Not only will these provide facilities for purchasing and upgrading the aforementioned weapons and gear, they'll enable Commanders to "form alliances, procure services, and even find expert support in highly coveted Engineers."
Frontier's final bullet point for the time being is a little more nebulous, pledging to deliver "a wide variety of contracts...from diplomacy and commerce to lethal stealth and all-out combat." Whether these will offer anything significantly beyond Elite's current fist of procedurally generated missions is unclear, but the developer says to expect "diverse settings, objectives, and NPCs [that] offer endless mission variety and a near infinite amount of content to enjoy."
Elite Dangerous: Odyssey will arrive early next year (it now has its own page on Steam), and more details, developer diaries, and trailers are promised as development continues.